Last summer, I was hiking up famous Colorado 14ers, Grays, and Torreys when I saw a woman carrying her gear in a single-use plastic shopping bag.
I was baffled, and for an immeasurable moment, reconsidered the 34L pack that I was carrying. This isn't the first time I encountered hikers that were less than prepared for the treks they set out on.
But it poses the question: Do you have to have a hiking backpack?
The short answer? No, you don't HAVE to have a hiking backpack. There are times where a hiking pack might be overkill such as an easy stroll in the park or a regular backpack might do the job.
However, if you want to dive into some serious hiking, a hiking backpack will not only make your life easier but ensure you are well equipped for a day out on the trail.
What Is the Purpose of a Hiking Backpack
Imagine this. you are out on a 10-mile hike but you have to carry all of your hiking gear in your hands. This includes the 10 essentials and luxury items like your camera. This is where a hiking backpack is useful.
Not only is a hiking backpack necessary for carrying your gear but it is important for safety and comfort.
Hiking Gear
Your hands and pockets are limited in size so they can only carry so much. A casual school backpack is also limited in size and features.
Having a hiking backpack on a hike allows you to carry all of the essential gear you need for a day out on the trail, and has features that allow for specialized storage of gear such as trekking poles or an ice axe.
Safety
As with all outdoor pursuits, hiking has inherent risk which is why having a hiking backpack is important when out recreating because it can increase safety.
Not only does a hiking pack help keep your hands free while hiking but can help ensure that you can bring all of your essentials such as a first aid kit, water, food, extra layers, etc. A pack also has features you can't find in a regular backpack not made for hiking and camping.
After this article, make sure to check out our Ultimate Guide to Choosing the Right Hiking Backpack.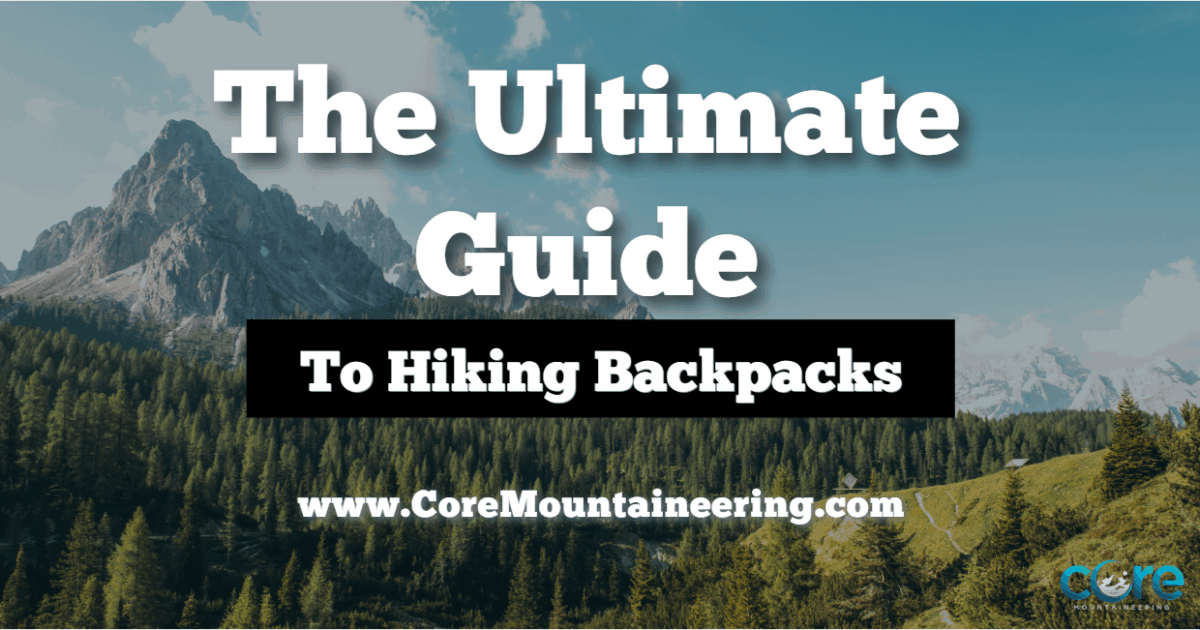 A Hiking Backpack vs a Regular Backpack
The main difference between a hiking backpack and a regular backpack is the features that hiking backpacks are fitted with.
Hip Belt
The adjustable hip belt helps to evenly distribute weight across your shoulders, hips, and back. While this feature is designed for carrying heavyweight, a hip belt also keeps your pack from shifting too much.
Sternum Strap
Hiking, especially on uneven terrain, can cause your backpack to shift around. That is where a sternum strap comes in handy as it helps keep your pack from moving around too much. Some but not all regular backpacks have a sternum strap.
Sternum straps need to fit properly. This is a good guide from Out Side Online on how to fit a hiking backpack the right way.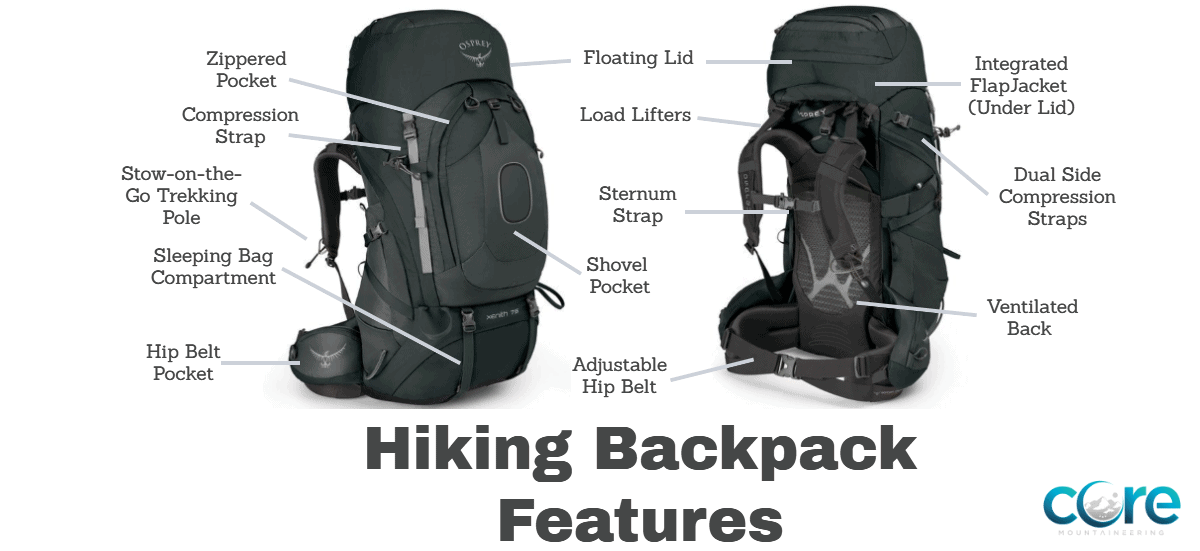 Hydration Reservoir Compatibility
A hydration pack makes it a lot easier to access water which is why many hiking backpacks come with a hydration reservoir sleeve. There is a hole situated near the top of the pack so the hose can be strung through and sit near your mouth for easy access.
While a regular backpack can hold a hydration pack, there is typically not a separate compartment, and you will have to leave part of the compartment unzipped to accommodate the hose.
Pockets
Hiking backpacks have pockets galore. From mesh water bottle pockets to soft cloth pockets that hold your sunglasses and your rain jacket, hiking backpacks are made to store and organize your gear.
Regular backpacks mainly have a large main compartment, front compartment, and maybe mesh pockets for a water bottle.
Compression Straps
Another feature of hiking backpacks is compression straps. Compression straps help with stability by adjusting the volume of your pack so your gear doesn't shift around inside and throw you off balance.
Gear Loops and Straps
Another feature that hiking backpacks have that regular backpacks don't are gear loops and straps. Gear loops and straps make it easier to store and access gear.
For example, many hiking backpacks come equipped with trekking pole attachments so you can put your poles away in hands-free situations.
How Much Does a Hiking Backpack Cost
With extra features comes an extra cost. A regular backpack will cost anywhere between $20 to $80 while a day hiking backpack can cost anywhere from $40 to $200 depending on capacity and features.
Hikers usually end up with a few different packs. Every pack will service a different purpose depending on where and how long they are backpacking.
Here's a small guide to help you choose what size backpack you'll need.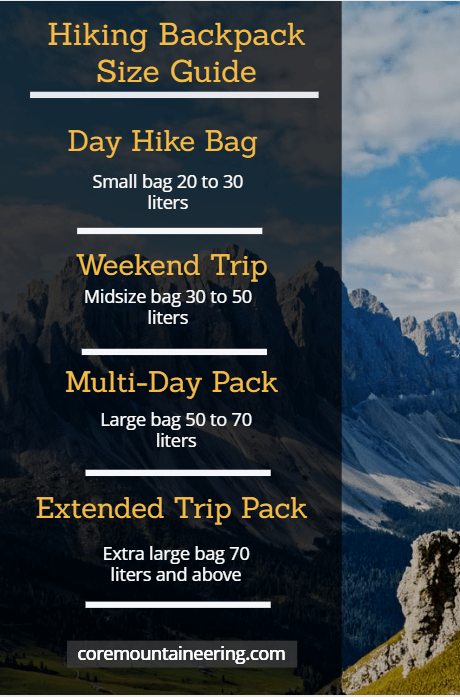 When you choose a pack you'll want to make sure that it's waterproof. How do you know? We go over it in our article, Are Hiking Backpacks Waterproof?
What Hiking Backpacking Should I Buy
Choosing a hiking pack can seem like a daunting task but it doesn't have to be. Choosing a hiking backpack all depends on the kinds of hiking you plan on doing and the gear you will need.
For short day hikes, the Osprey Tempest (W)/Talon (M) is a great option. At 20/22 liters, it can carry your essentials and is lightweight. If you're doing anything longer or that requires technical gear, then you will want to consider getting a larger backpack.
Hiking Packs That Can Double as Stylish Backpacks
There are hiking backpacks that also double as stylish backpacks. These might be a good fit for you if you do a lot of short hikes or travel often.
Osprey Daylite
The Osprey Daylite is a tried and true hiking pack that can also double as a regular backpack. Its lightweight, simple, and durable design is the reason it is well-loved. The Daylite is also capable of being attached to a variety of other packs.
Burton Tinder 2.0 30 L
A blend of a minimalist rucksack and bright modern features, this pack will keep you looking stylish on the trail or your daily commute. This pack features a laptop sleeve so you can stay connected or compression straps to secure your hiking gear.
Cotopazi Luzon del Dia
Perfect for spontaneous adventure, the Cotopazi Luzon del Dia is a lightweight, colorful option. Made from a lightweight ripstop nylon shell, it features mesh shoulder straps, a hydration sleeve, and top drawstring closure.
LL Bean Stowaway Daypack
The LL Bean Stowaway Daypack is a pack you can carry all day. Weighing just 14 oz and capable of carrying a whopping 100 pounds, this pack will take you from trail to bar with no problem.
Wrapping Up
So there you have it. You can use a regular school backpack or any backpack if you absolutely have to. It's better to get out on the trail and hike and have an adventure than regret staying at home.
Don't forget you can always buy a used hiking backpack or even ask around to see if a coworker or someone else isn't using theirs anymore.
We have a great article comparing internal and external frame hiking backpacks.