These are the two most common styles of backpacks you'll see on the trail. External frame backpacks are old school, but there are some great reasons why they're still around, and we'll go over all of it. As well as looking at the benefits of internal frames and the reasons they have skyrocketed in popularity.
So which backpack is better? It's going to come down to your needs and the purpose of your hiking trip. Theirs some surprising pros and cons to each. We'll go over each type to find the best style for your needs.
If you'd like to dive deeper into backpacks after reading this, you can find our Ultimate Guide to Choosing the Right Hiking Backpack here.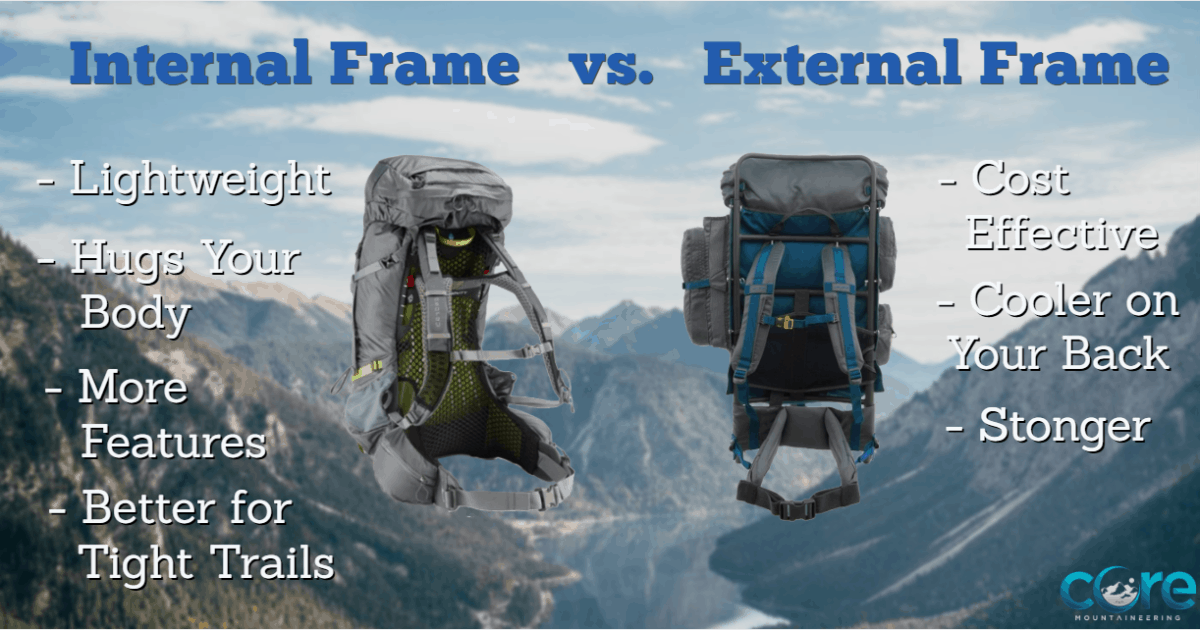 Internal Frame Hiking Backpack
These are the most common out on the trail. Just about everyone has one going up and down the mountain. It wasn't always this way, but due to advancements in fabric and materials, they took over on the trail.
Style plays a significant role in the reason they're so popular. They look sleeker and hug your back better, but that's not the only reason.
An internal frame hiking backpack is more comfortable than an external frame
Internal frame backpacks have a better balance, hugging your back as you move around the hiking trail. This is noticeable on tight trails. There's no frame sticking out, grabbing tree branches, and getting stuck on things.
Part of the freedom of movement is due in large part to the lighter weight. The thin, lightweight frame is tucked inside. The frame is still durable, but no external pieces of camping and hunting gear are going to be attached directly to it. So manufacturers don't need to make the internal frames as strong as external frame backpack.
Pros and Cons of Internal Frame Hiking Backpacks
Pros: Let's take a look at what makes these so accessible.
Lightweight: If weight is the most significant factor and you're not ready to go full-blown ultralight no frame, then an internal frame backpack is for you. Comparing the two types of packs of the same capacity, an internal frame is going to one or two pounds lighter.
Comfort: No way around this with one caveat. An internal frame will be more comfortable while wearing and walking while hiking, but they get less airflow on your back. This might turn you off if you plan on hiking and camping during sweltering months.
More Features and Choices: Manufactures know mountaineers love internal frame packs, so that's where their focus is. External frame packs come second to them. You can browse any manufacturer's website, and you'll see a plethora of internal frame backpacks. With this focus of internal frame bags, there are tons of options and features, from a floating lid, trekking pole holders, to an adjustable length torso. There's a backpack with the right elements to meet anyone's needs.
Better for Tight Trails: If all the straps and belts are used correctly, it can make for a very tight and balanced load on your back. This is great for tight trails or going off where there's no trail at all. Your backpack feels like an extension of you instead of weight floating on your back.
Cons: As great as they are, everything comes with some downsides.
More Expensive: Theirs a wide range of prices for internal frame backpacks, but a high-quality one that will last many years comes at a premium price. Don't shy away for cheaper ones, though. Great value can be found if you're on the lookout, waiting for sales, buying used, or renting gear first before you buy.
Less Airflow: Keep in mind that having a backpack hugging your body, making it easy to maneuver, comes at the cost of less airflow on your back. I've used these kinds of backpacks my whole life, and it's something I've noticed while going for long camping and hiking trips. During the heat of summer, it's just something you'll have to deal with. In cold fall or spring, it's less of an issue.
Fewer Areas to Attach Gear: This one is obvious just by looking at the two styles next to each other. This is a significant win for external frame backpacks, especially if you're a hunter that needs to carry tons of gear on the trail.
Why You Would Want an Internal Frame Backpack
It comes down to a sleek and form-fitting hiking backpack. There are some cons, but overall I think they are minor in light of all the pros that were listed. Style and looks all come down to personal choice. While I do like the looks of both types of backpacks, the slimmer profile of an internal frame looks modern to me.
Our recommended best all-around internal frame backpack is the Osprey Atmos AG 65.
Osprey Atmos AG 65
This is a tremendous multi-day hiking backpack that's recommended for anyone looking into high quality but won't break the bank type of pack.
While there are cheaper backpacks like the Amazon basic brand hiking backpack, the materials are inexpensive to cut down on cost, among other things. The Amazon basic brand is a great starting backpack but you might end up with a high-quality brand anyways.
Osprey makes high quilty outdoor gear, and I see their backpacks all the time while hiking. You can check availability for the Osprey Almos on Amazon here.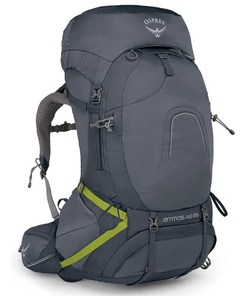 External Frame Hiking Backpack
While not as commonplace as they use to be, they can still be an excellent choice for any backpacker. External frames are going to heavier than its counterpart, but with the extra weight, they have the advantage of carrying a more massive load.
With the more robust frame hanging out, it's easy to strap on just about anything you'd ever need outdoors. This is one of the major reasons this style has stuck around for so long.
Not everyone needs or wants tons of little bells and whistles. External frame packs are simpler backpacks that excel in a few things
Ventilation between you and the pack is also an excellent reason for choosing this backpack. They are made for riding up high against your back, so theirs always space between you and the backpack. Making for some gentle airflow during the summertime.
Pros and Cons of External Frame Hiking Backpacks
Pros: Let's take a look at why these style backpacks have stuck around for so many years.
Cost-Effective: Comparing the price of the same size and quality of external and internal frame backpack, you'll get more bang for your buck.
Durability: With their robust structure and ability to carry larger loads, they have to be durable. Another reason is the way they sit down on the ground. The frame sticks out touching the ground, so they are less likely to rip.
Cooler: The way external packs are constructed, they don't hug your back as well as internal. This is an advantage during hot weather hiking because it allows airflow over your back, keeping you more relaxed.
Back Posture: The stiff frame keeps your back straight, always upright, thus preventing you from leaning forward, no matter the load weight. This increases endurance for longer hikes and improves posture.
Simple and Straightforward: Not everyone needs tons of little compartments and bells and whistles while mountaineering. These are more straightforward backpacks that excel in a few things.
Cons: As great as they are lifting heavy loads, these packs come with some downsides.
Fewer Features: You're going to have fewer features than an internal frame. Less small compartments to stay organized. They're not as adjustable (some models adjust) for your back length due to the ridged sturdy frame.
Tricky Maneuvering: I've mentioned this a few times above, but it's also one of the biggest complaints to external frames. When moving around on the trail, these packs tend to float on your back instead of staying tight on you.
Heavy Weight: They're just heavyweights in the hiking world. They are built like tanks and come at the cost of weight. Usually a pound more.
Clumsier to Transport: Due to the frame sticking out, it can feel like it's smacking and clanging on everything. This is noticeable when lowering or lifting your backpack out of a car trunk.
Back Problems: It's a general rule of thumb to stay away from external frame backpacks if you have back problems. Your posture changes forcing you to conform to the backpack, instead of the other way around.
Why You Would Want an External Frame Backpack
You'll want one of these backpacks if you plan on carrying a hefty load. Hunters that are packing out meat can easily have an extra eighty pounds heading back to camp.
Another excellent reason for choosing this pack is if you enjoy summer hiking and don't mind the backpack moving around a little. If you know the terrain and understand the limitations, an external frame backpack will be perfect.
ALPS Mountaineering Zion External Frame
ALPS Mountaineering has been around for about 30 years, and I've recommended their tents before. This backpack will perform like other external frames, but it also has an adjustable telescoping frame.
This will adjust 17" to 24" allowing weight to be appropriately distributed on your back. Check availability for the ALPS Mountaineering Zion External Frame on Amazon here.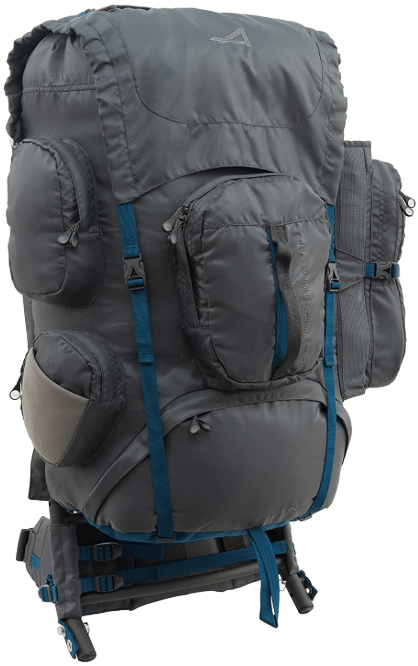 Conclusion
So, what backpack is worthy of being on the trail? They both have their pros and cons, so there's no definitive answer here, but I like to pick a side on a topic. If I knew I was going to spend most of my time hiking on tight trails during cooler months, internal frames are the way to go.
If I had a few planned hunting trips every year that called for a backpack that could take a heavy load, then I'd go external frame.
The reality is that most people that love the outdoors are going to have multiple redundant pieces of gear. You can't go wrong with either as long as it meets your needs.
FAQ – Internal vs External Frame Hiking Backpacks
How Much Weight Can I Carry Backpacking?
External frame backpacks can carry much more weight than internal frames. This is one of the many advantages they have. An external frame can take a load of 150lbs or more, but it will be difficult for you to hike with that load depending on your size.
What Are the Advantages of an Internal Frame Pack?
Lightweight when compared to external frames, comfort, more Features and choices, and better for tight trails.
What Are the Advantages of an External Frame Pack?
Cost-Effective, durable, cooler on your back, back posture, and simple and straightforward among other advantages.
Internal vs External Frame for a Hunting Pack?
Go for an external frame backpack like the ALPS Mountaineering Zion backpack.