When you think of hiking boots, you may immediately think bulky, sturdy, and stiff; these aren't the best qualities you traditionally seek in a shoe. However, it's important to understand why they are designed that way.
For starters, the stiffness of hiking boots protects your feet in various types of terrain. Whether you are ascending or descending, stiff soles prevent your feet from twisting or sustaining an unwanted injury.
The Need for Hiking Boots
When hiking or exploring any kind of outdoor activity, it is often customary to borrow a tent, cookware, or even a sleeping mat. One thing you don't want to borrow is a good reliable pair of hiking boots.
Hiking trips take a toll on your feet, and the first line of protection is what you wear on your feet.
Footwear is a necessity for the outdoors, and you'll want to make sure you invest appropriately.
Hiking boots may even be a misnomer with the number of options out there. For example, there are hiking sandals, light hiking shoes, heavy-duty hiking boots, but we'll continue to call them hiking boots for simplicity's sake.
Before picking hiking boots, you should have a general idea of what kind of hiking you will be completing with these boots. They can be an excellent asset and make hiking feel that much more enjoyable.
However, if research isn't prepared ahead of time, you might find yourself getting frustrated at your purchase. Whether it be the bulkiness, the stiffness, or the weight, you'll want to find the appropriate fit for you.
Choosing Your Perfect Hiking Boots
For those that are a little slower paced and just want them to be used for day hiking, then light hiking shoes may be all you need.
If you are getting involved with more intense trips such as traversing mountains or rock climbing, mountaineering boots will work best.
If you're somewhere in the middle or are planning on hitting a wide array of different terrains, then trail, or backpacking boots, should fit the mold.
This is just a general starting point as there are many things to keep in mind, including how high or low you want them cut. You'll need to understand which type of material you'd like and which you think works best for you.
There is a multitude of options, including split-grain leather, full-grain leather, and synthetic materials. If you want to dive deeper in hiking boot material Camotrek made a great guide.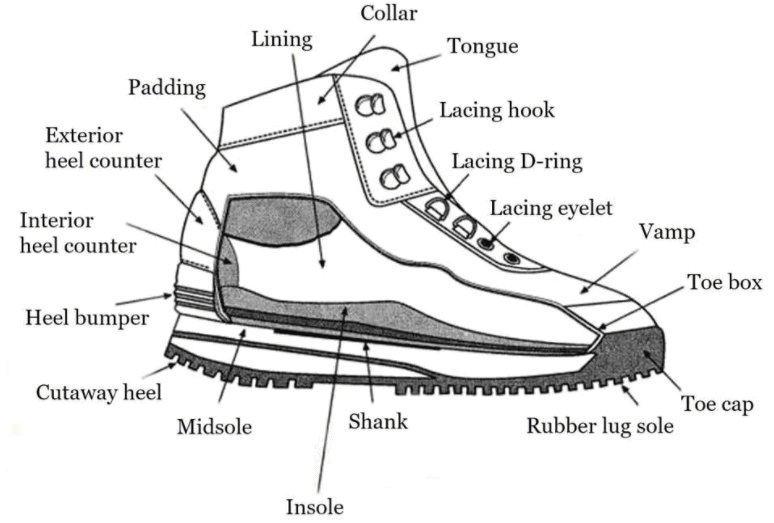 Also, as with most footwear, different brands matched with the fact that this may be your first "hiking boot" purchase, will have you wondering which size is most appropriate.
Hiking Boot Size
My best advice would be to try them on for size, feel them out, and walk-in them as much as possible. Even if you are ordering them online, I would strongly encourage you to try on the same pair, if possible, to ensure you know what you are paying for.
When wearing the shoes, try to simulate the size of your foot before trying them on, including wearing the socks you will be hiking in. Keep in mind that your foot changes in size throughout the day.
Try to test out the new pair later in the afternoon or evening, if possible. Start to be particular about your interests so that you can tier them to fit your needs.
Benefits of Hiking Boots
Generally speaking, hiking boots provide a lot of benefits for experienced and novice hikers alike. With a robust investment in hiking boots, you will realize the advantages that they truly offer.
Not only do they prevent you from twisting an ankle, but there are so many more advantages.
Your feet are doing the bulk of the work on any outdoor activity, and they will desperately need some assistance.
Sturdiness: Hiking boots typically offer a more sturdy feel for additional protection
under the elements.
Traction: Hiking boots provide better traction than most other footwear options securing
you from slipping and sliding on uneven or wet ground.
Stability: They offer stability and security when the terrain can be very unpredictable, or
predictably unstable.
Durability: They will most likely be the longest lasting shoe in your closet while helping
you reminisce all of the nearly impossible adventures you went on.
Versatile: As soon as they are broken in, you'll feel comfortable using these on so many
different types of hikes, including those with rocks, mud, snow, and even water.
A functional boot will provide you with comfort, support, and shock absorption to help reach your best performance levels.
Benefits and Need for Stiff Hiking Boots
Many people think that high-top hiking boots are the essential preventative feature of an ankle sprain. In fact, the boot's stiffness is the main reason your ankle is being supported to prevent an injury.
The longer and more complicated a climb, the stiffer you'll want your boots to be for supplemental stability and superlative comfort.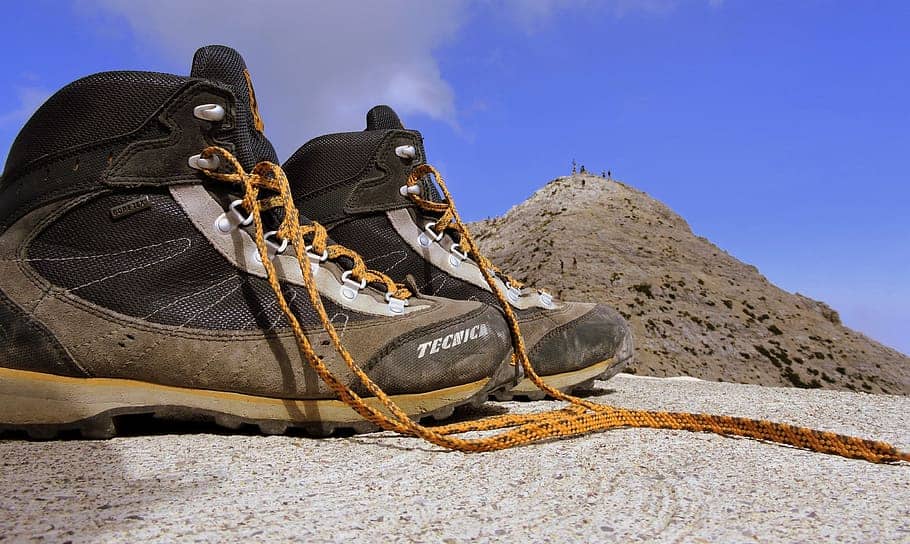 When you are hiking, there are a lot of additional factors that may not immediately come to mind when you are trying on or purchasing a pair. For example, if backpacking or mountaineering, you'll have a lot of additional weight attached to you in the form of your backpack.
When you're carrying heavy loads matched with uneven and rocky terrain, you'll want to have a stiff and rigid sole.
How Stiff Should Hiking Boots be?
Stiffness is a quintessential element in hiking and mountaineering boots. It's easy to tell that particular boots are stiffer than others.
Boots are graded on their stiffness level from B0 to B3.
The lower the grade, the softer the sole, meaning it is made for flatter surfaces. For instance, B3 grades are made for steeper climbs and can easily attach "crampons, (Wikipedia)" an attachment needed for ice and snow climbing.
The midsole, or the layer between the insole and outer layer of a shoe, is the most significant determinant of how stiff your hiking boot is.
It gives your foot the strength and endurance to last on longer hikes without feeling much pain. There are varying types of midsoles, just as there are different materials for the outer layer of a hiking boot. Two of the more conventional midsoles include ethylene-vinyl acetate (EVA) and polyurethane (PU).
EVA provides more cushion and will traditionally be lighter and more affordable, while PU is more firm and durable. EVA material typically takes a shorter time to break-in and can provide a soft, comfortable feel for lighter hiking experiences.
If you are opting for more of a backpacking experience or tougher hikes in general, try to have the hiking boots with PU as the midsole. They tend to be denser and weigh more but will provide you with a longer-lasting hiking boot built for difficult circumstances.
Drawbacks of Stiff Hiking Boots
They're stiff! Stiffness, along with a lot of these "drawbacks" can also be seen as benefits, depending on what you seek.
Generally speaking, hiking boots tend to be bulkier, warmer, and can be pretty expensive. Hiking boots come with the added drawback of having a heavier weight and less breathability.
Sure, there are plenty of options that offer breathability and lightweight, but if you are selecting the most rugged pair, prepare for them to be a little heavier with less breathability for your feet.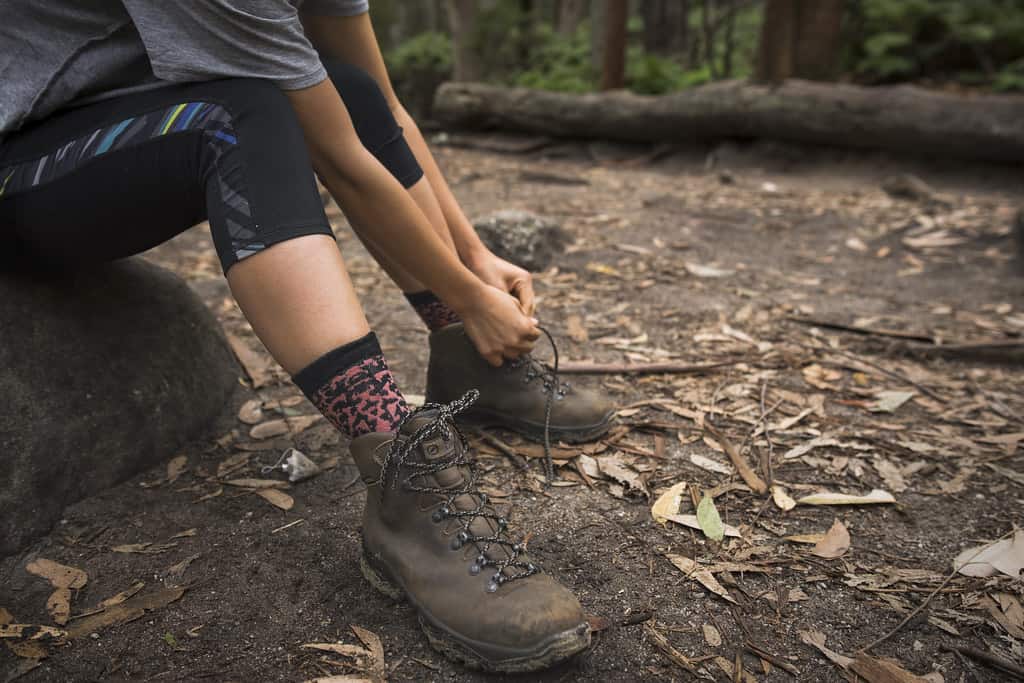 To combat these drawbacks, there are specific measures you can take, including adding the appropriate hiking socks and sock liners to your wardrobe. They can provide you with the comfort that you may be missing with the more bulky hiking boots.
I wrote a guide on how to prevent blisters with hiking sock liners, with some surprising benefits.
Also, they tend to be bulkier which means you will have to spend some time breaking them in. If you haven't done so, don't count them out after simply wearing them on one hike. The more they are broken in, the more comfortable they will feel.
How Should Hiking Boots Fit?
Again, this depends on the kind of hiking you will be doing, and only you will be able to decide what works best. With that, the more stiff a hiking boot, the more protected and sturdy it can be.
They should feel somewhat snug after you've tried them on later in the afternoon and with the appropriate socks that you'll be using when on the hike itself. If you notice that your shoes are quickly shifting forward and backwards within the boot, then you may need to get an alternative size.
Most shoes are sized to fit your foot's build, commonly referred to as the "last." Try to know the "last" of your foot so you can find custom-sized features geared towards your feet. If you have any kind of doubts, then don't go forward with it.
This means giving yourself plenty of time to shop around instead of waiting a week before your first hike. The last thing you want to do is rush to buy a pair of hiking boots and feel uncomfortable when you're out on the trail. How to Break in Your Hiking Boots
Hiking boots may seem to have a drawback in that they are very stiff and sturdy, but rest assured that there is a way to break them in. Like any other shoe, the more you wear them around the house, the more broken in they will feel.
Take a brisk little walk around the block or neighborhood. It wouldn't even hurt to test it out on a short-trail to fully grasp how comfortable they are and give them a legitimate test trial.
Wrapping Up Stiff Boots
Hiking boots are a crucial necessity for any experienced outdoor traveler. The more experienced and difficult terrains you encounter, the more you'll tend to rely on those rugged, sturdy, and stiff hiking boots.
Never did I think I'd be telling people to invest in a heavier, bulkier, and more stiff footwear, but with loads of experience, you'll find that this investment is one worth marking. Ultimately, everything will come down to your needs, so find what works best for you, and enjoy the trails!