A tent is the epitome of camping, hiking, or any type of backpacking trip, traditionally. However, hammock camping has made strides in popularity due to its lightweight, comfort, and overall convenience.
Instead of finding a spacious campsite to stay for the night, you'll find a much easier time searching for two trees to strap your hammock. It might be time to start thinking alternatives to make any outdoor experience that much more amazing.
What if you get cold though? Since you won't have the insulation from a sleeping pad cold nights can bite hard. Let's go into how you're camping trip can be warm and comfortable!
How Cold Can You Sleep in a Hammock
The most important thing to keep in mind before you start adding weight to your backpack in the form of a quilt is to be aware of the weather. Before any camping, hiking, or backpacking trip, the weather can be the deciding factor for how much you enjoy the adventure itself.
Trust me; you don't want to find out about the weather while you're already out there
It may cause you to cancel the entire trip altogether if things get that bad.
Ultimately, it does come down to personal preference, so the more you experience it, the more you will realize what works best. In the beginning stages, it is best to play it safe for the sake of your comfort.
60-degree weather may be ideal when sleeping in a tent with a sleeping bag, but in a traditional nylon hammock, the quintessential temperature will immediately change.
When the temperature reaches about 65-70 degrees, expect to feel pretty cold at night when sleeping. A traditional hammock will not be enough as you should at least be using a sleeping bag with a sleeping pad, that is, if the wind isn't too rough.
When the temperature reaches 50 degrees, an underquilt is almost a requirement. At these temperatures, and anything lower, you will be smart to follow as many tips for staying warm as you possibly can.
If hiking in conditions below freezing, hammock camping is not recommended unless you are a heavily experienced camper.
Tips for Staying Warm While Hammock Camping
Use more layers and warm clothing. The more layers the better and with some more insulating material such as merino wool, you won't catch yourself waking up in the middle of the night because of the cold. Don't shy away from wearing a hat or gloves if the situation calls for it.

Purchase an underquilt or overquilt: This cannot be overstated as they will be the difference-maker between a comfortable night's rest and one that can lead to hypothermia.

Still pack a sleeping bag: A sleeping bag is always a must as the nylon material from a hammock won't be enough to keep you warm even in moderate conditions.

Use Sleeping bag pod: A sleeping bag pod is very similar to a traditional sleeping bag, but it can be paired with a hammock to surround the entire thing, adding a layer of warmth. It can be crucial in colder temperatures.

Sleep with a pillow: A pillow may not seem necessary when sleeping with a hammock, but it can add some additional comfort while adding a supplementary layer between you and the nylon.

Invest in a Tarp: A tarp may be the reason you truly stay warm if there is any kind of a chance for rain. There are very few tips for staying warm if rain is involved so it's better to be prepared with a tarp to keep that away. It can also help prevent heavy winds from reaching you.

Choose your spot wisely: The most important tip here is to choose the best location, and I'm not talking about a good view. You want to keep the wind direction in mind, which means finding a natural windbreaker, whether it be a big boulder or a densely packed forested area.
Underquilts
By preparing your hammock camping ahead of time, you can factor in the wind and invest in an insulating material made to keep you warm, such as an underquilt.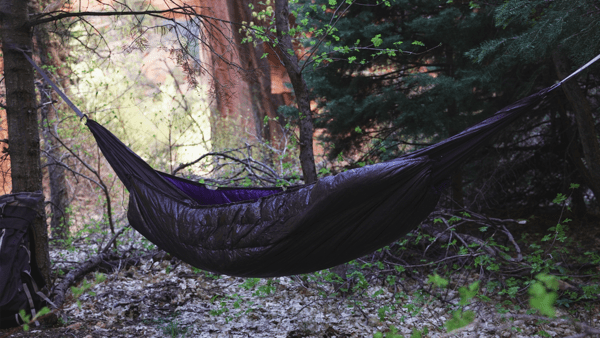 With the purchase of a hammock for camping purposes, most people purchase a sleeping pad, a bug net, and a rain tarp. An underquilt is another essential item that should be paired with a hammock in most conditions.
An underquilt is exactly what it sounds like; a quilt made to go underneath your hammock. When setting up an underquilt, there should be an air gap between your nylon hammock and the under quilt itself.
Underquilts create the additional benefit as that air gap will get filled with heat from your body and keep you that much more comfortable
Many of these are included in a combination deal when purchasing a hammock. For milder-cold conditions, don't overlook the importance of an underquilt.
There are also overquilts, or topquilts, that you can purchase if you are going into even colder conditions. Furthermore, there are "pod-like" quilts that will serve to surround you, acting as both an underquilt and an overquilt.
If it is large enough and comes with a zipper closing, an under quilt can be the only purchase necessary. You'll simply have to cover yourself over the top and zipper it up for that "pod-like" experience. Therefore, for a traditional camping trip with fair conditions, an underquilt will be all you need and keep your backpack lightweight.
Best Underquilt I've Found
I'm not going to give a "top 10" list of underquilts because there are quality underquilts that will keep you warm. Then there is a lot of thin, cheap ones out there. Most of the ones available won't do much for you in cold weather. The best one I've found is from Outdoor Vitals.
They have a few different ones rated for multiple temperatures. Outdoor Vitals uses high-quality goose down in these as well as there sleeping bags. You can find custom made underquilts but you'll be comfortable in this one.
The biggest downside is the price. They're not cheap, they know they make a great underquilt with 800 plus fill power. See current price and if it's still available on Amazon here. 
If you want to learn more about goose down fill power and how to whole process works, from cleaning and weighing the down we have a full article about that here. What Is the Best Insulation Fill for a Sleeping Bag?
Perfect Position for Wind Protection
I want to get back to "choosing your spot wisely" from the list above. There is definitely room for expansion as newcomers might feel completely lost when trying to find the "perfect" position.
Trust that you are not alone, as there are so many factors that may lead even the most experienced of campers a bit confused.
First, as stated previously, you'll want to avoid the openings as much as possible. Don't get sucked into the beautiful scenery.
It may be a picturesque sleeping spot, but the farthest thing from a comfortable night's rest. Second, try to find a natural windbreaker to protect from any added winds.
Moreover, the perfect positioning may be for your overhead tarp more than the hammock itself. A tarp in a great position as a windbreaker can protect you under 40, even 50 mph winds.
Benefits of Using a Hammock
Camping with a hammock draws a lot of advantages and has become a popular option for campers. It offers benefits due to its lightweight, easy-to-set-up, and comfort.
It's also tough to outdo a beautiful higher vantage point, making every outdoor scenery appear captivating. Many people have found this option to be much more enjoyable even though most people still traditionally opt to "rough" it out in a tent. Comparing a tent to a hammock comes down to personal preferences.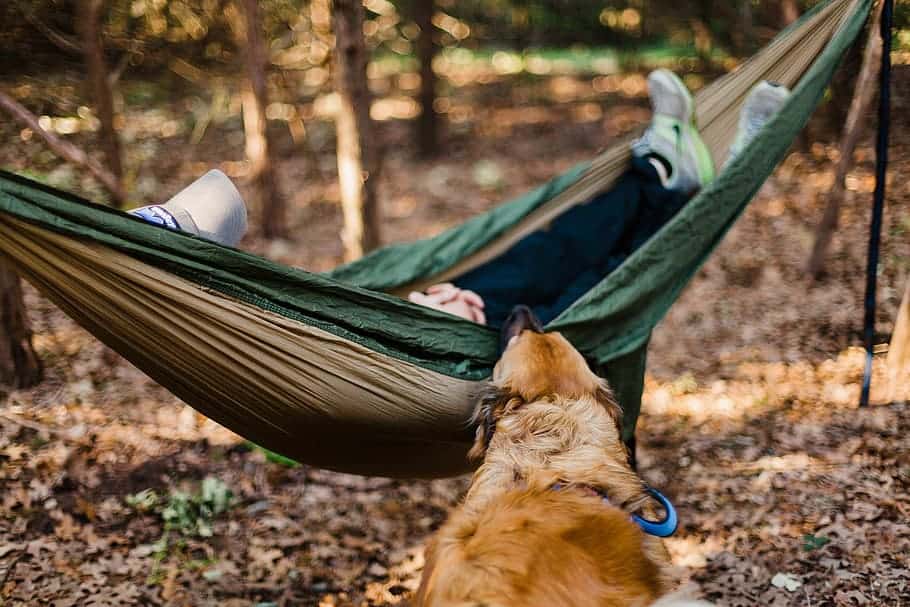 If you've ever woken up from sleeping in a tent and were immediately missing your bed at home, you'll be astounded at how you feel after sleeping in a hammock. The ground can be unforgiving. With a hammock, you sleep better.
In some cases, much better. Not to mention, hammocks tend to cost less than a tent and won't take as much time to set up. It seems too good to be true, and in some cases, it very well might be. If some of the drawbacks aren't accounted for and taken seriously, then hammock camping may not be as desirable as it may seem.
Drawbacks of Hammock Camping
There are a variety of challenges that hammock camping offers that require a bit of a learning curve. For starters, it isn't optimal for multiple people.
Through hammock camping, everyone basically needs to fend for themselves. It's easy to share a tent, but not necessarily a hammock, so if you're out trekking with others, especially with pets or children, have that in mind.
Also, it requires the right temperature and location for optimal experience. The colder the weather, the more you'll need to prepare. You will need to find an area with moderate wind levels, as that can affect your camping comfort level.
Wind isn't impossible to get around, but it would require you to be more particular about finding a campsite with a natural wind resistor to prevent colder conditions at night.
This can be challenging in some areas, so even if you enjoy hammock camping, make sure that the next identified location has the appropriate amenities, like an abundance of trees. In general, be prepared to do your research before assuming that hammock camping is the best option.
Challenges of Staying Warm in a Hammock
It won't be tough to find a place with trees, so let's focus on the issue that really causes difficulty for campers, the weather. At night, temperatures can drop in even some of the warmest of climates so you'll have to be prepared to get warm in other ways.
Camping hammocks are typically made of nylon material. Nylon is excellent for comfort, weight, and ideal temperatures. Unfortunately, it's not suited for cold weather or even a windy night.
The moment a breeze blows through, it will suck away any heat created from your body, leaving you colder than usual. Not to mention, you are going to be more prone to winds since you are already raised above the ground.
Wind will surround you from all cylinders, leaving you colder than you would've been had you stayed on the ground. Regardless of how thick the hammock is, the wind will most likely get to you. This is a significant factor, but not impossible to overcome.
Wrapping Up on How to Stay Warm in a Hammock
Hopefully, this doesn't scare you away from hammock camping as it can be a great holistic experience. For warmer conditions, the hammock is truly as lovely as you can imagine.
It is just as magnificent in the cold, but it takes a little added preparation. Never sell yourself short of a beautiful experience outdoors. Once you've mastered hammock camping, you'll wonder why you hadn't started doing this from the start; it's that addicting.