The most important thing to keep in mind when purchasing hiking boots is finding the best fit. It doesn't matter how expensive or high-grade the material is as that all is for naught if it doesn't fit appropriately.
This question strongly gets ignored when people are first purchasing their hiking boots, as many believe they know their size already. In reality, this is a very crucial question to understanding how to get the quintessential boots for hiking.
Hiking boots should feel a bit snug around your foot while also providing a small amount of wiggle room for your toes.
Your toes should be able to stretch freely within your footwear, but not necessarily enough room to where your entire foot is shifting. Sure, there is room for them to break-in, but don't rely on this to make them all of a sudden feel comfortable.
As much as you should break them in, they should be fitting upon initially purchasing them.
Specifically, your heel should be locked into the heel of the boot, which helps reduce friction. The less resistance you create, the fewer blisters you will get. I also wrote an entire article about finding the best hiking socks to prevent blisters and some surprising tips.  
When descending or going downhill, your toes should not hit the front of the boot. If this does happen, you increase your chance of getting a blackened toenail.
In essence, the proper fit is the difference between having an enjoyable trip and a miserable one filled with blisters and blackened toenails. This is not intended to scare you, but it is supposed to incentivize you to value the process of conducting research to get the best hiking boots for you.
Types of Hiking Boots
Before the purchase of any hiking boots, a good starting point is to know that there are a variety of different types of hiking boots.
Backpacking boots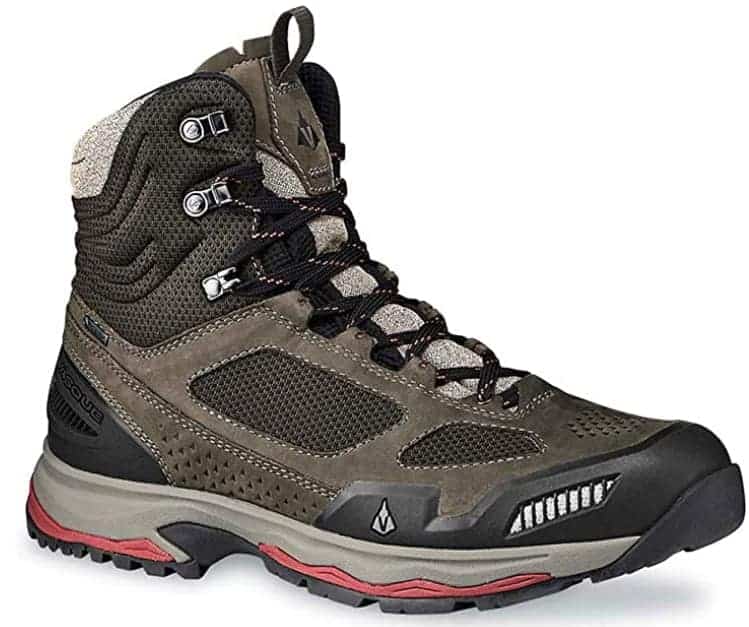 Backpacking boots are traditionally high-cut boots with stiffer midsoles designed to carry heavier loads and travel farther distances.
The Vasque Breeze AT Mid GTX is a lightweight and flexible hiking boot. While lightweight it's still rugged and durable. They added a TPU shank that runs the length of the boot. This make sit rigid for heavy hiking loads.
Check availability of the Vasque Breeze on Amazon here. 
light-hiking boots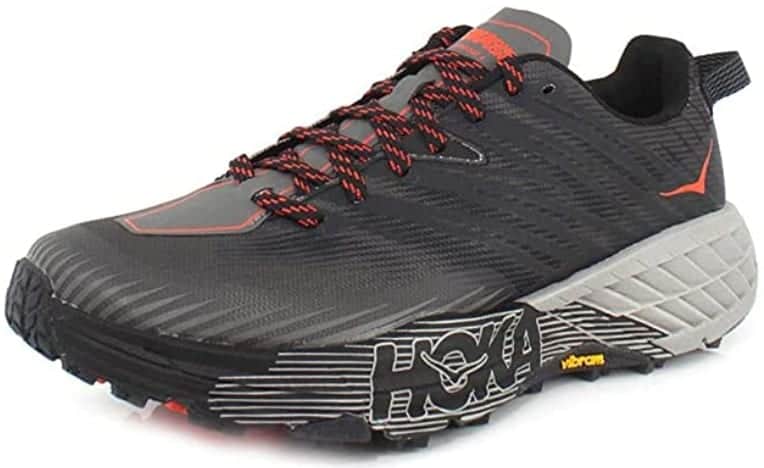 These are typically low-cut with a flexible midsole made for light day hikes and trails. 
The HOKA ONE Speedgoat Mid 2 GTX is a very lightweight backpacking boot. This is made for people that don't have a heavy load and want to hike fast. See the current price on Amazon here. 
Mountaineering boots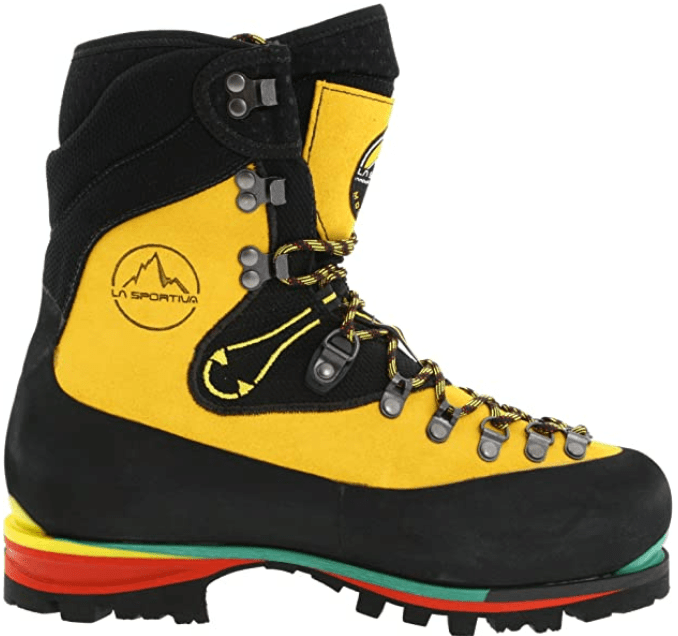 Mountaineering boots are the heaviest of them all with very stiff midsoles for high altitude climbing and crampon attachments for ice hiking.
Within these boots, there is a multitude of manufacturing companies that all have their own unique brand which may slightly adjust the size. Regardless of if you've purchased hiking boots in the past, it is worth trying them on for size.
Check out all the features of this mountaineering boot on Amazon here. 
Try Boots On for Size
If you're seeking the perfect fit, then you'll have to try them on for size. Try to avoid blindly purchasing shoes online, because these are a crucial part of any enjoyable outdoor experience.
Always try both shoes on, and give them some reasonable time walking around. If there are small uphill slopes, make sure to walk on those to simulate different levels.
Stand on your toes and go back on your heels, try to reproduce any kind of varying movement for comfort and tightness to match your preference.
Rule of Thumb for the Perfect Fit
When they are unlaced, slide your foot to the front until your toes touch the inside layer of the front of the shoe. Then, have a friend or a salesperson check the space between your heel and the back end of the boot.
A good fit should allow for one-two fingers, or between half a full thumb's width of space. If you find that there is too much or too little room, then try on a different size or shoe altogether until you find the ideal size.
It also wouldn't hurt to ask a salesperson to measure both of your feet, width and length.
When you lace up your hiking boots, first feel the width of the shoe all around. Remember that you want it to feel snug, but not necessarily too tight.
If your outside toes feel too compressed, then this may not be a good fit. Try to find an expanded front end or just a different boot altogether. On the flip side, if there is a lot of wiggle room left-to-right, then you'll want to find a pair that feels a bit more compact.
Stand on your toes, or tap your toes firmly on the ground to shift your foot forward. Be aware of how much room there is between the heel and the back end of the shoe again.
A small amount of movement is reasonable, but anything bigger than a quarter-inch may be too much. A good rule of thumb is to allow a full thumb's width of space or one-to-two fingers.
Depending on the size of a finger, there is a little bit of wiggle room between them but think as average as possible. If the fingers or thumb, move too easily between the space, then they are most likely too big. If you can't even fit the thumb or fingers, then they're probably too small.
Shop at the Right Time
This may sound a little odd, but your feet are actually a bit larger and swollen as the day carries on.
After walking around and participating in different activities, your feet naturally swell up a bit. For this reason, you'll want to try on the boots a little later in the afternoon or evening. If not, you might have a different feel for the hiking boots when you use them in practice.
Room for Hiking Socks
When trying the shoes on, an important thing to remember is that you'll want to try the shoes on as if you were going on a hike, socks included.
Don't wear your casual socks to try on hiking boots as they won't provide you with an accurate telling of how the boot will fit. Pop-out your hiking socks whether it be the wool socks, synthetic blends, or your double-layer walking socks.
Also, if you wear sock liners, then it'd be a good idea to wear those too. Although you may feel like they are thin, as they are, everything counts when you're trying to find the perfect fit.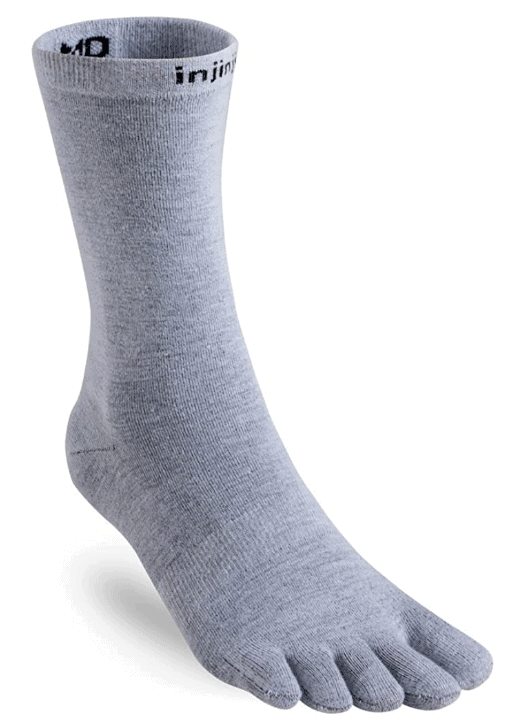 When you have the hiking socks, then you can try on the hiking boots, laced and unlaced, and feel out how much room you have from the toes to the front. The more you move around in them, the better feel you will get for how they should fit.
It's also important to note the width of your foot and how much room there is between then. If you still have room after wearing the socks, then it may be best to get a more compact feeling hiking boot.
Drawbacks of ill-fitted Boots
The worst thing you can do is continue to wear ill-fitted boots for an extended period. This is why it is crucial to put in a lot of time when purchasing your hiking boots.
They can be very durable and long-lasting so the perfect size means all the difference. If you do get ill-fitted shoes, take a break from hiking for a bit and replace them!
The long-lasting side effects of continuing to wear ill-fitted boots can be disastrous for your feet.
In the short-term, they will also make your hike a bit more disturbing with some of the following effects being more common:
Poor for walking downhill: When trying them on, try to utilize a ramp or a downward slope to get a feel for how they fit when descending.

Bruised toenails: Yikes! In worse cases, this can lead to toenail loss, needless to say, this is definitely something you want to prevent, if possible.

More prone to hotspots and blisters: Not many things are more annoying and frustrating than a blister when you are on the trail.

Long-term foot and leg pains: Footwear is supposed to protect and secure your feet, so do them a favor and buy a snug pair of shoes to help you hike as long as possible.
By neglecting to care about how snug a hiking boot should feel, you are increasing the chance of injuries, sores, and overall discomfort.
These issues can last for weeks, in some cases can even become chronic issues. There are other solutions to some of the problems including replacing the insoles, but the
Conclusion – Room for your Hiking Boots
This may feel like a lot of instructions and directions to follow just for the right hiking boots, but it the importance of this cannot be stressed enough.
As always, the decision is ultimately yours, so if you have any preferences, then don't ignore those. Naturally, you will look at the type of shoe and the price, but the size is just as important, if not, more so.
Your feet do a majority of the work when you are hiking, backpacking, and climbing so you'll want to ensure their protection as much as possible.
If you flip it around and look at the bright side, some hiking boots can help you last over 1,000 miles depending on the level of trails you hike.
All of that time with comfortable, protective, breathable, and durable footwear! This will end up becoming the last thing on your mind, and you can simply enjoy the outdoors as it was intended.