The most dangerous thing while backpacking isn't wild animals or other people. It's the weather. A bear attack is rare, but a fast-moving cold front with torrential downpour is common. Not being prepared for inclement weather is what gets people in trouble. Consider carrying an emergency shelter even when day hiking for your best chance of survival.  
What are bivy bags
These are also called bivvy bags or bivy sacks which is short for "bivouac sack." They were first made for climbers that got caught in server weather and needed emergency shelter. In the early days, they were little more than waterproof bags that went over sleeping bags to keep the weather out. While they can be used for regular camping, they are perfect for emergencies. 
A bivy sack with provides extra warms while keeping you dry. They are in two categories, the regular bivy bag and the bivy shelter.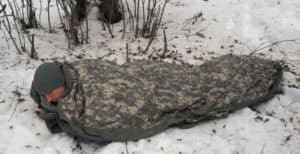 Bivy Bag Shelters

–
1.26 lbs
The bottom is made of robust and durable nylon. It's going to be waterproof and be strong enough to resist small punctures from rocks and sticks. If you feel the bottom of your tent it's going to be a lot like that material. 
The top is also going to be waterproof but made from lighter material. This material is made to be durable while also breathable. 
Emergency Bivvy Bag Shelters

–
4.1 oz
Go Time Gear makes a popular emergency bivy. It's ultralightweight at only 4.1 ounces. This isn't like the traditional bivy bags as it's only made for an emergency, not regular camping use. It's made from lightweight nylon with a reflective surface on the inside to trap in body heat.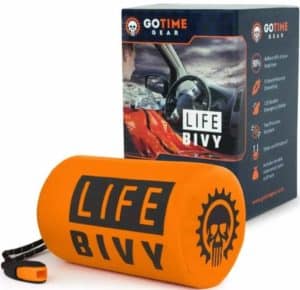 This is perfect for keeping in your day hiking backpack. Its small size can fit in a pouch and kind of be forgotten about until you need it. Check out the current price of the Go Time Gear emergency Bivvy on Amazon here. 
Another option for an emergency bivy is the Blizard Survival Sleeping Bag. This bag comes vacuumed sealed to cut down on bulk inside your hiking backpack. The most significant criticism with this bag is loud crinkly noise it makes when moving around. You can see all the features of the bag and the current price on Amazon here. 
Bivy Bag Shelters

–
2.8 lbs
A bivy sack shelter is going to be made from the same material as a traditional bivy sack. The difference is there's some breathing room over your face. It's basically a low rise tent. I wouldn't call these kinds of bivy sacks emergency shelters due to the extra weight. They are much lighter than a tent but, this isn't something to carry in a hiking backpack for emergencies. This bivvy bag shelter pictured is from Rhino Valley; you can see the current price for it on Amazon here. 

Cons of a Bivy Bag
Using them as an emergency shelter is great for surviving, but when inside for a long time, it can be claustrophobic.  Climbing into and closing up a bivy to stay warm is a pretty isolating. You'll be feeling this especially if things are going sideways. You can lay down unlike a bothy bag, but mentally and physically you're cut off from whomever you're with.
What is a Bothy Bag
– 21 oz
I recently learned about Bothy shelters. They are from the UK and used in areas with little tree cover and bad weather. They are an emergency shelter that can be pulled over yourself and others. Smaller bags are comfortable for two people with larger sizes up to eight. Think of a large waterproof bag made of ripstop nylon. 
A bothy bag will keep rain and snow while also keeping some body heat in the bag. Due to its small size, a group of people inside will have their combined body heat to keep the party warm.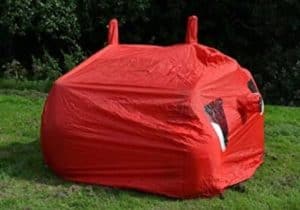 This doesn't have to be used for emergencies. They usually include two small windows. A group of people might want to use it for a lunch break of map reading to keep warm before continuing hiking. Your Bothy can be 20 degrees warmer inside. This is depending on weather conditions; it makes a nice regrouping area as well. 
While a bothy bag is excellent for keeping the rain out moister will build up inside. After using it instead of stuffing it back into its sack, you'll have to let it air out a bit. While they are bulky, they are still lightweight. See the current price of  The Terra Nova bothy bag on Amazon here. 
Cons of a Bothy Bag
They are not made to lay down inside. Bothy bags are better suited for taking breaks, not staying overnight in them. If you're with a few other people, your bodies need to lean on the side walls to hold it up. Condensation is another downside due to the lack of ventilation.
The Bothy pictured above does have some ventilation but not much of a crossflow of air. If the weather is terrible and you need a bothy bag, it's a gamble to wait for the weather to pass. Maybe you should push a few more miles and get back to camp, where a better shelter remains for you.
Emergency Blanket
– 2 oz
These are also known as Space Blankets. Ultralightweight and low-bulk emergency blanket made of heat-reflective thin plastic sheeting. They are recommended to keep in any backpack you have when hiking. 
A company called Don't Die in The Woods makes a better quilty space blanket than the standard cheap ones you'll find in stores. This is made to be able to use over and over again. While it's a little thicker than the standard ones, they weight about the same at 2.2 oz. You can check out the World's Toughest Emergency Blanket on Amazon here. A small percentage of their sells goes towards The Planet, The Conservation Alliance.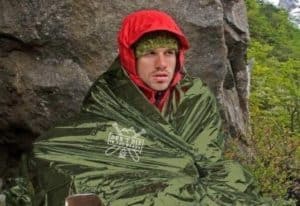 Emergency blankets are so cheap and easy to carry theirs no excuse not to have one. Cheap emergency blankets weigh next to nothing. While there's a few of them available I'd recommend a few for spares or to give to other people you'll be hiking with. 
Sunshade Space Blanket
Use a space blanket to keep the sun off of you. You might find ourself slowing down and in need of some shade. A space blanket will come in handy when hiking in the desert with little to no shade from trees. If you want to hike and camp in dry areas with little to no water sources, check out this article I wrote here. 
The article has a lot of useful information when it comes to planning your hiking trips. It covers how to caching water and how much to carry for how many hours you'll be hiking.
Cons of Space Blankets
As already mentioned, these are thin and lightweight, so ripping is a concern. Leaking heat is another concern. You can try and wrap yourself in the blanket, but an emergency bivy is going to do a better job because it's a sack. Such as the emergency bivy from Go Time Gear here.
How Warm Will an Emergency Blanket Keep You
NASA first developed the space blanket for the Hubble Space Telescope. They still use it today along with China and Russa for space probes. You can further read more about the development of the space blanket on NASA's website. The US Marines use this thin, shiny reflective material. For its effectiveness to keep soldiers warm in an emergency. I've also seen them used by people at the end of marathons. 
Emergency blanket manufacturers often advertised as reflecting up to 90% of your body heat, and that generally holds. Remember, they are made for survival, not comfort. If you do have a concern for comfort and retaining most of your body heat, I'd invest in a better space blanket. Such as the one mentioned above made by Don't Die in The Woods.
Emergency Shelter for Day Hikers
Day hikers are the most vulnerable in survival situations. When I learned this, I was a little surprised, but it makes sense. They are underprepared for spending the night in the outdoors. Many day hikers push a little too far and get lost in the woods when the sun goes down. With no flashlight, tent and little food, the chance of survival dramatically drops the longer they are lost. 
Check out the National Geographic article on why dry hikers are the most vulnerable. 
Lean-To Shelter for Day Hikers
Day hikers don't typically carry tents, so this will be great if you're caught out in the woods without any shelter. Build this shelter next to a down tree or trees. This is an excellent way of keeping a few people warm enough to survive the night.
Find some downed trees and larger branches.
Position the branches in a 45-degree angle against the trunk of the tree.
Find about five or six more branches and create a grid frame.
You're going to weave flexible leafed branches (non-dried out branches) between the sticks. Next, waterproof it with leafy branches and wide bark.
This method is only recommended if you have nothing else. It's going to take some effort, so start working on it before the sun goes down. It will be easier to find what you need while it's still light outside.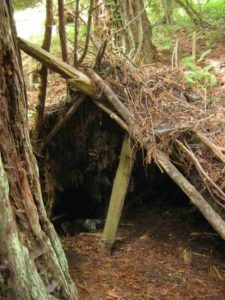 What's the Best Survival Tent
– 8.8 oz
We covered emergency shelters such as bivvy bags and blankets, but a tent is going to be the best survival shelter in the outdoors. A backpacking tent is going to keep you warm, dry, and safe from the elements. There are many types of tents. From ones that are made to only keep bugs out to full-blown high altitude tents made for violent winds.  
If you're set on a tent, there are a few survival tents on the market. Go Time Gear sells the most popular one used by hikers. It's tear and rip-proof to hold up to snow and wind. It comes in at only 8.8 oz, and they include the 20 ft paracord. If there are no trees around to tie the ropes for the tent, it can also be used as an emergency sleeping bag. See the current price of this survival tent on Amazon here. 
Choose the Best Area to Place the Tent
Standard camping tent placement applies here, not only for emergencies. You'll want a flat area not too close to water, next to some trees to tie a tarp for a windbreak. This is if you have a tarp, an insulated tarp will be better but use what you have.
Think about natural windbreaks as well. Use bushes, rocks, or a fallen tree. If there's snow on the ground, pile it upwind of your tent as a natural windbreak. This will be a bit of work, but it's well worth it at night time.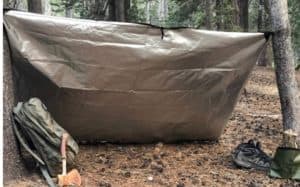 If there's not too much snow on the ground, consider removing it out from the area before pitching the tent. The snow will melt as you sleep and might refreeze, making for some uncomfortable hard lumps.  Dry leaves are fine on the ground, as long as you remove sticks and rocks, so they don't puncture your tent.
3-Season Tents
3 Season tents are the bread and butter of the camping world. Made to be lightweight, while being able to stand up to some snow and light winds. Three season tents have thin walls, and floor materials provide less bulk and weight.
Even the aluminum frame and sleeveless pole construction cut down on weight. While remaining secure, for most mild weather. They are not suitable for extreme conditions with heavy snow and violent winds.
4-Season Winter Tents
Winter or four-season tents are designed to withstand severe weather. They stand up to heavy snowfalls, hail, ice, and fierce winds. While they are called four-season, people usually only use them in the wintertime. This is because of their extra weight from having thick walls and generally made from better, more viscous material. 
The ideal four-season tent should be double-walled, free-standing, and have proper crossflow ventilation. While it would be great if a tent-like this could also be lightweight, unfortunately well made four-season tents are heavy.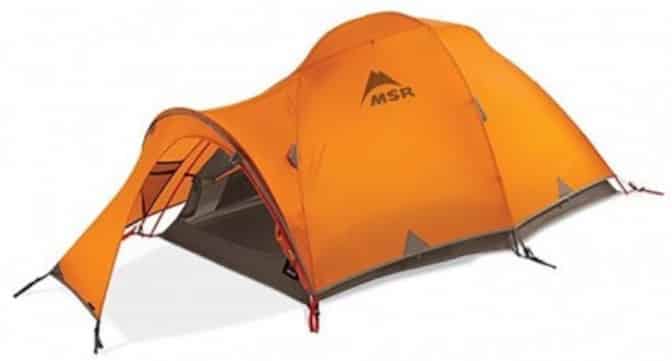 While most tents are not insulated, any tent can be made to handle cold environments better. I wrote a detailed article about winterizing any tent here. This article also has tips on the better placement of your tent to block the wind, for safety from harsh weather.
Survival Insulated Tarps
– 1 lb
A tarp can be used for many things while camping. Not only can you wrap yourself in it to keep warm, but it can also be used as a windbreak. An insulated tarp isn't like a regular tarp; they are thick and robust. Insulated tarps are made with using them as a windbreak in mind, so they need to be sturdy.
I recommend the Arcturus Heavy Duty Survival Blanket Tarp. You can see the features and current price on Amazon here. This one is 60″ by 82″ and comes with a waterproof bag as well. The aluminum side reflects up to 90% of body heat. This tarp/blanket weighs only 1 lb, measuring 5′ x 7′ when fully open. They have an extra-large survival tarp/blanket that weighs only 3.6 lbs and measures 8.5′ x 12′ when fully open.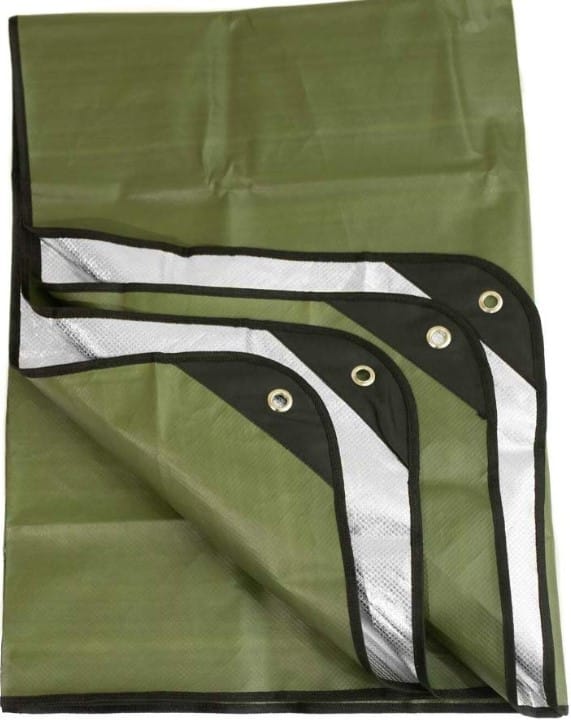 The best way to survive safely outdoors is to be prepared. Having a plan and letting people know where you're going and when you'll be back is crucial. It is just as important as having an emergency shelter on you.
I hope this guide has been helpful. If you have any other ideas on making a shelter or survival tips let me know down in the comments.