You're going to need a way of boiling water and warming up food while mountaineering. A great way to do this is with a wood burning stove. The main advantage of these wood stoves is saving weight because theirs no need to carry fuel and its container. Many wood burning camping stoves fold flat and fit inside a bag to carry in your backpack.
Let's go through the advantages and disadvantages of using a wood burning stove over isobutane canister or alcohol stoves. There are a few different types and we'll go into full detail. We'll break down the best way of using them and how to choose one that will fit your needs on the trail.
Why Use a Camping Wood Burning Stove
Weight is critical while hiking. Alleviating the need to carry fuel every step we take on the trail is the most significant advantage to wood stoves. Every other stove beside a wood burning one will force you to bring extra fuel. You don't want to run out, so you'll take extra canisters.
It's challenging to determine precisely how much fuel is needed; so we end up bring unused fuel home with us. This with the isobutane canister or alcohol bottle to hold the fuel is just wasted weight that wood stove campers don't have to deal with.
As long as you're going to be at a place with dry wood in an area that allows open flames without a shutoff valve, a hiking wood burning stove is a great choice.
A controlled fire is just nice to have while camping. A large campfire is ideal, but due to its size, a stove will have less impact on the area.
Disadvantage of Wood Burning Stove
Collecting kindling: It can be a pain to find dry wood in some areas. Remember though, you're not building a massive bond fire. A small amount of wood will be able to warm up food or boil a few cups of water.
Park restrictions & high altitude: Look in the area you'll be hiking to see if they allow small wood burning stoves. Some places don't allow "open fires" during fire season because they don't have a shutoff valve. You can check out the National Park Service website for fire safety.
Difficult to light: Damp wood and high winds will make the initial light off difficult.
Longer to boil water: Backpacking wood stoves will not perform like alcohol, canister, or liquid fuel.
Check out our guide comparing liquid fuel to canister fuel backpacking stoves.
Types of Wood Burning Stoves
For backpacking, these stoves fall into two categories; can stoves or folding flat stoves. They both have their advantages. Let's look at what wood gas is before diving deep into can wood burners. This is the significant difference between the two wood stove categories.
What is Wood Gas
Wood gas is produced when any organic material, not necessarily just wood, is heated but not allowed enough oxygen to catch on fire. The heat causes the chemical bonds that are in the organic material to break so that you end up with methane and hydrogen and all of these volatile compounds escaping as gas.
Can Wood Burning Backpacking Stoves
These can stoves will be in two or three pieces. They are double-walled cans that flow wood gas from the inside can to the top of the outer canister. This is where the wood gas can be burned as fuel, making wood can stoves more efficient than flat wood stoves.
Cons: A major downside of can stoves is they take up more space in your pack. They aren't made to pack flat. They don't have an open side area to keep adding wood to the fire.
Depending on the size of the pot you're using, there might be a small gap at the top to add sticks. This makes it cumbersome because a pot or pan will have to be removed for a moment to refuel the fire.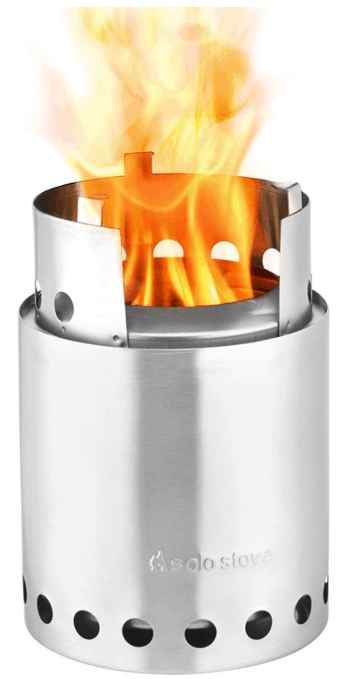 Flat or Box Wood Burning Backpacking Stoves
Most folding style wood stoves can be packed flat when not in use. This is nice because if you're worried about getting gear dirty from soot or dirt, a flat stove can easily slide into a dry bag. Since they lay flat for transport, they will need to be assembled before use. After using the same flat stove a few times, they will be easy to put together, like your camping tent.
Besides the space-saving, another advantage they have over can stoves is cutouts for adding wood continuously. There is no need to remove a pot or pan to add wood. They are better for group cooking and cooking for a long time.
You can feed a longer piece of wood into the refueling cutout and just push more in, as the other end is burned away. No need to cut or break up a branch into smaller pieces with this method.
Cons: Since these are not as efficient as can stoves, it's going to take longer to cook food or boil water. A can wood burning stove will usually boiler the same amount of water at the same outside temperature, twice as fast. It might take ten minutes instead of five.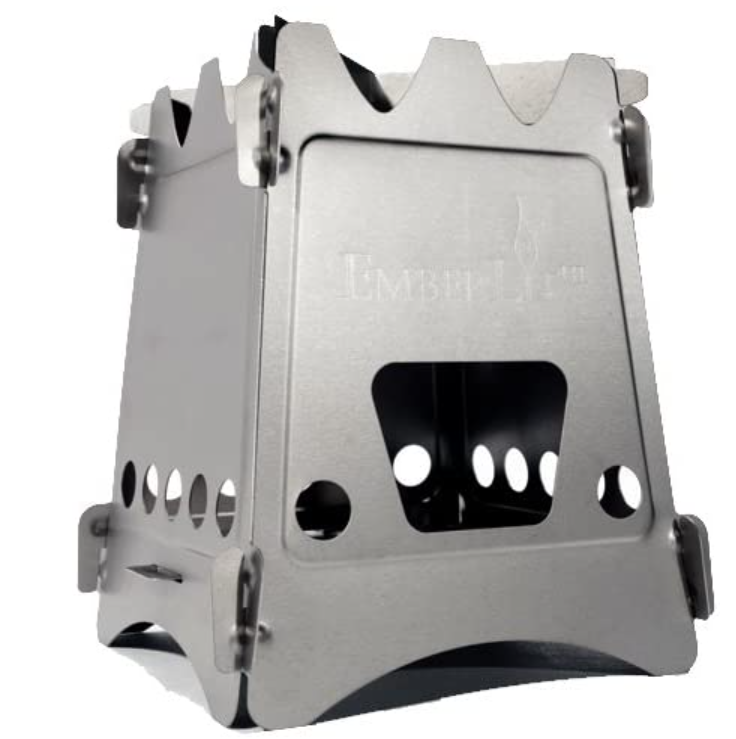 If you're concerned about fast boiling time, nothing beats a Jetboil. The ten minutes it takes a flat wood burning stove to boil a few cups of water, a Jetboil will do in two.
What if It Rains and Wood Is Wet
This is always a concern when deciding on using a wood burning stove exclusivity. When you're in an area that could possibly get rain, bring along some Esbit smokeless solid fuel tablets. These can be used by themselves or as a fire starter. Each tablet only weighs 4 grams. Use them inside the wood burning stove; which will double as a windshield.
Esbit smokeless solid fuel tablets are virtually smokeless and residue-free. These solid fuel tablets are ideal for starting campfires or using for emergencies. It doesn't matter if you're at high altitudes and sub-zero temperatures.
The tables ignite with a match or lighter. Be aware that each small 4 grams tables only burns for about 5-minutes. It helps to get the fuel tablet closer to the pot of water that needs to boil. Set the fuel tablet on top of some twigs to prop it up.
Small Wood Burning Backpacking Stoves
While wood stoves are typically small for backpacking, let's look at some lightweight stoves that are even more compact. You can also call these emergency stoves due to their size, but they can work just as well for the solo hiker. One of these I carry with me even if I have my Jetboil along on the trail.
Take note that small stoves will have a smaller "Hot Spot" on larger pans, which could make it more challenging to cook with.
Quickstove small wood backpacking stove –
12.6oz
This is a small and lightweight, ingenious little stove. It's easy to use with no assembly and can cook in three different positions. This way, it should be able to fit any size pan or pot you have. You can flip the stove upside down and grill straight on the bottom plate.
It will also take many different types of fuel, such as wood sticks, charcoal, Sterno, alcohol burner, and Esbit fuel. They sell for a very reasonable price too. Check availability of this Quickstove on Amazon here.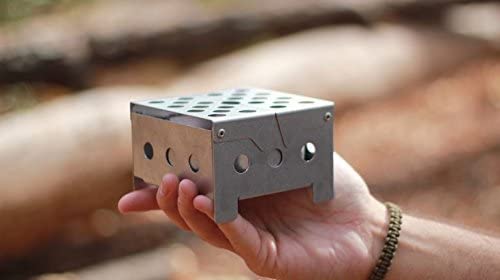 Lixada Folding Wood Stove

– 6.7oz
This is another neat small stove. All the sides are hinged together, so assembly is rapid. After folding the sides, one pin needs to be put through the last hinge. When you are done using it, pull the pin, and the stove folds flat. An alcohol burner is also included with this wood stove. Check availability of the Lixada folding wood stove on Amazon here.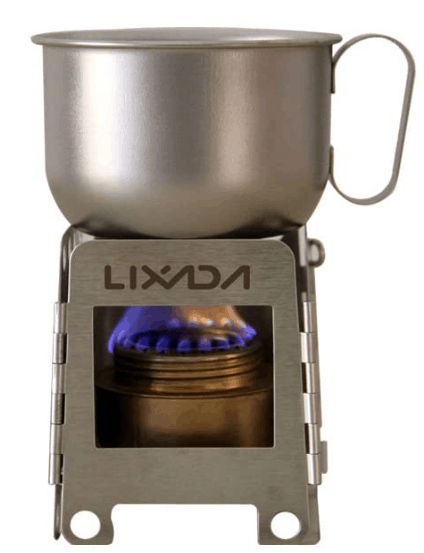 Firebox Ultralight Titanium Nano Stove G2

-7oz
The unique thing about this little stove is the case that it comes in is also used as a stand. This stand provides extra stability while cooking. As you're cooking the case is also used as an ash catcher. This will make it easier to leave no trace at the campsite or on the trail. Check availability of the Firebox Nano on Amazon here.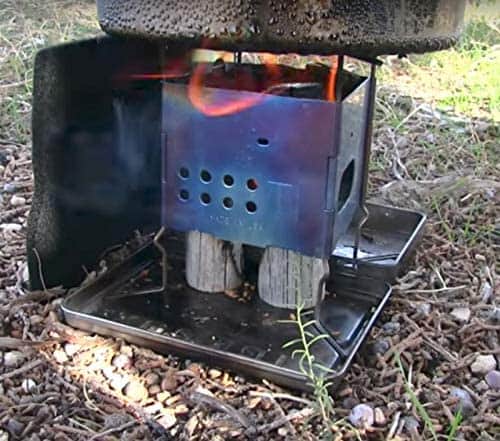 Check out our Ultimate Guide to Choosing the Right Hiking Backpack
Large Wood Burning Camping Stoves
These are great for group or car camping. Due to their size, they are also a great way of having a contained camping fire. They are much larger than backpacking stoves so don't expect much portability.
EcoZoom Versa Camping Stove

– 16 lbs
This large wood burning stove goes great with backyard camping. At 16 lbs you would never take this backpacking but it should meet all the needs of a group of RV campers. It has a large door on the side for feeding in wood, and it also comes with a tray that attaches to the door. This makes feeding long pieces of wood much more manageable. No need to break up long branches.
The stove features a fully insulated vertical combustion chamber that forces wood gas to mix with the flames. The side has an air damper system. The door can be closed to starve the fire of oxygen, slowing the burn. Check availability of the EcoZoom Vera camping stove on Amazon here.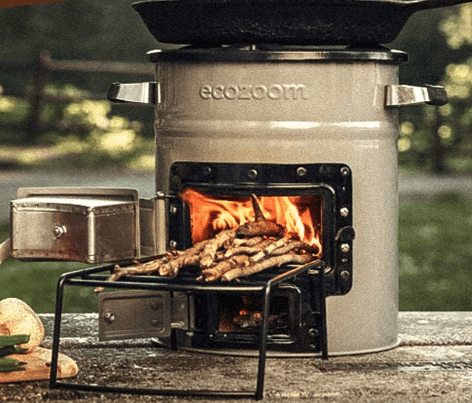 HellFire Heavy Duty Portable Rocket Stove

– 11lbs
Another large heavy-duty stove that's excellent for the backyard. At 11lbs it's constructed from heavy-duty 2mm thick steel for durability and is built to last a lifetime. The wood-feeding area is angled so the wood will slide down as it's being consumed. If you do feel the need to take it hiking or for storage, it does disassemble and folds flat. Check availability of the HellFire Rocket on Amazon here.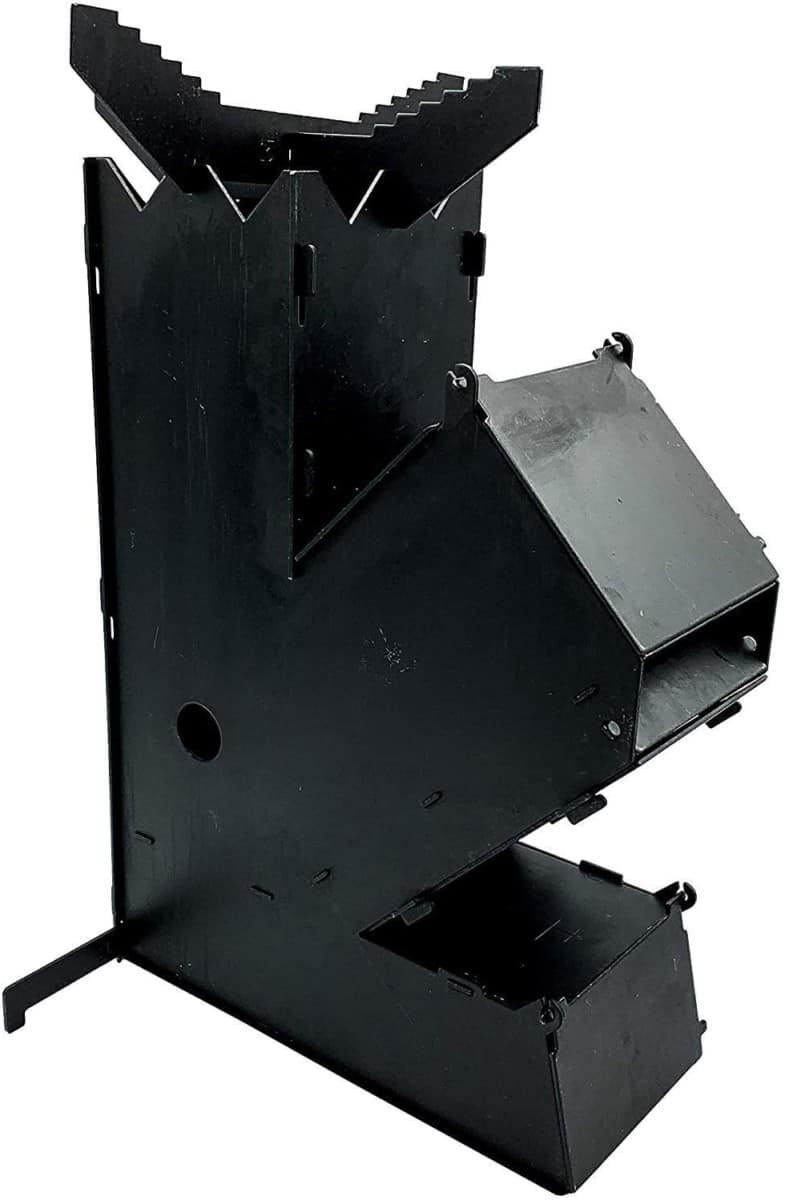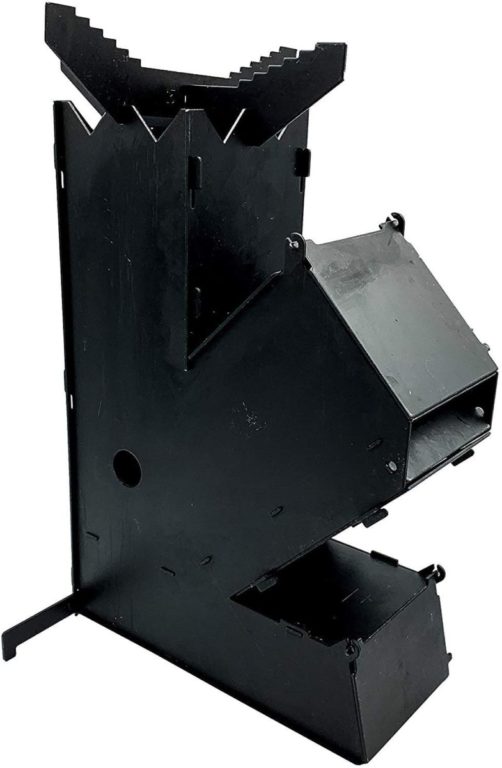 Best Can Wood Burning Stoves
The Solo Stove Titan (16.5oz) is the best can stove available. There's nothing that I can find wrong with it. Made from lightweight, stainless steel construction with a patented design. The one pictured is 8 inches tall, but they also sell a smaller lighter version of the same design that's only 4.2 inches tall and weighing 9oz. Pair this with their stove pot, and you have a great outdoor cooking kit. Check availability of the Solo Stove Titan on Amazon here.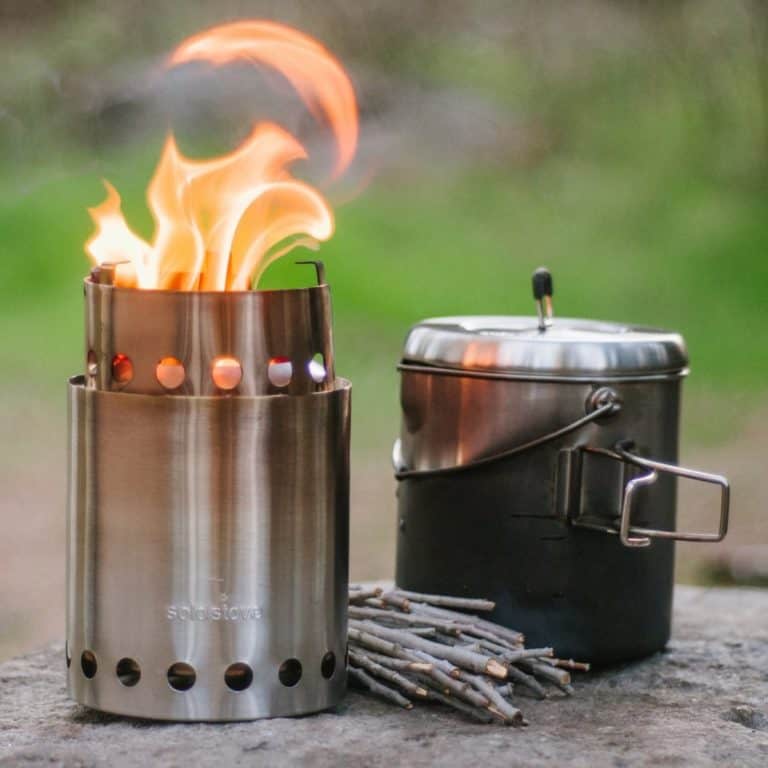 If you're looking for a more economical stove than the Solo Stove check out the Ohuhu Stainless Steel Camping Backpacking Stove (14.2oz). This stove compacts to a small size and features three arms on top. The arms can be folded in or out for small or large cooking pots. Check availability of the Ohuhu Stainless Steel Backpacking Wood Stove on Amazon here.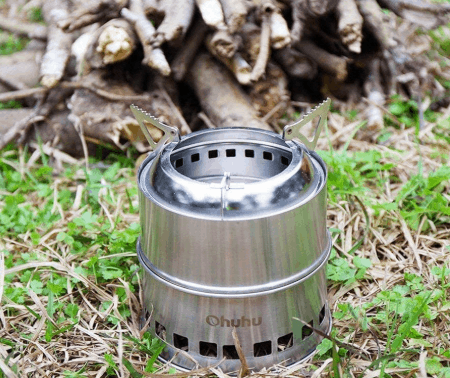 BioLite Campstove 2 Wood Burning Electricity Generating

– 2.06 lbs
I thought this stove was gimmicky at first, but the more I look into it and the reason people are purchasing it I understand. I already bring a foldable solar charger hiking, and this stove would eliminate that. It's also not that much heavier if you were to bring this stove instead of an external battery pack.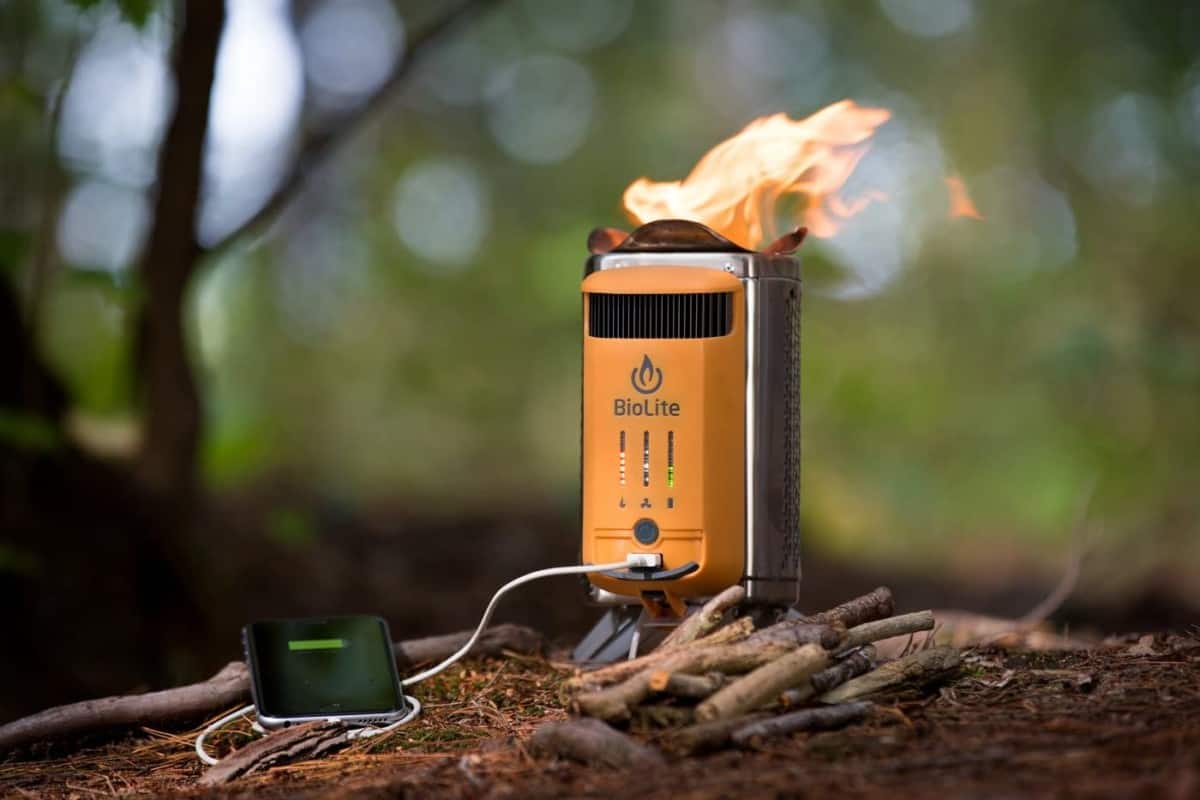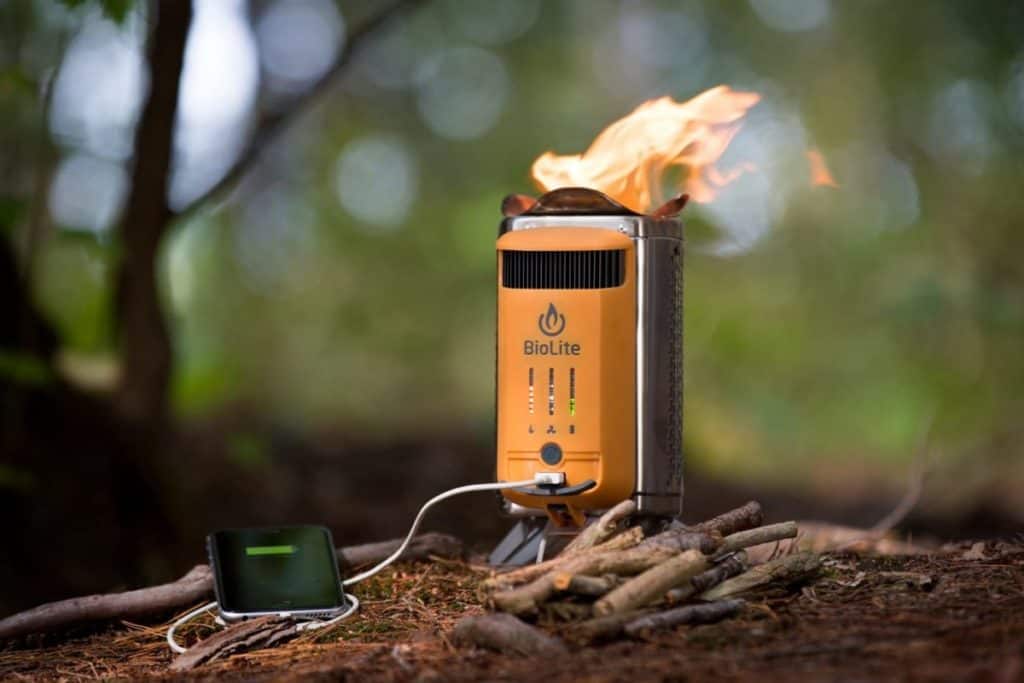 The BioLite Campstove 2 produces electricity to charge your electronics with a thermocouple. So while cooking food, the stove is also charging its batteries. The unit is also a portable battery pack for your phone. The stove has an internal fan that injects air back into the burn chamber, dramatically improving combustion and creating a cleaner, more efficient burn. Check availability of the BioLite Campstove 2 on Amazon here.
Best Folding Wood Burning Stoves
The Emberlit Titanium UL Compact (5.8oz) is made in the USA and is the best folding wood stove we've found. This stove is unique and lightweight because it's constructed out of pure titanium. The Emberlit-UL is just as durable and impervious to corrosion as its stainless steel brother but at half the weight. Check availability of the Emberlit Titanium UL on Amazon here.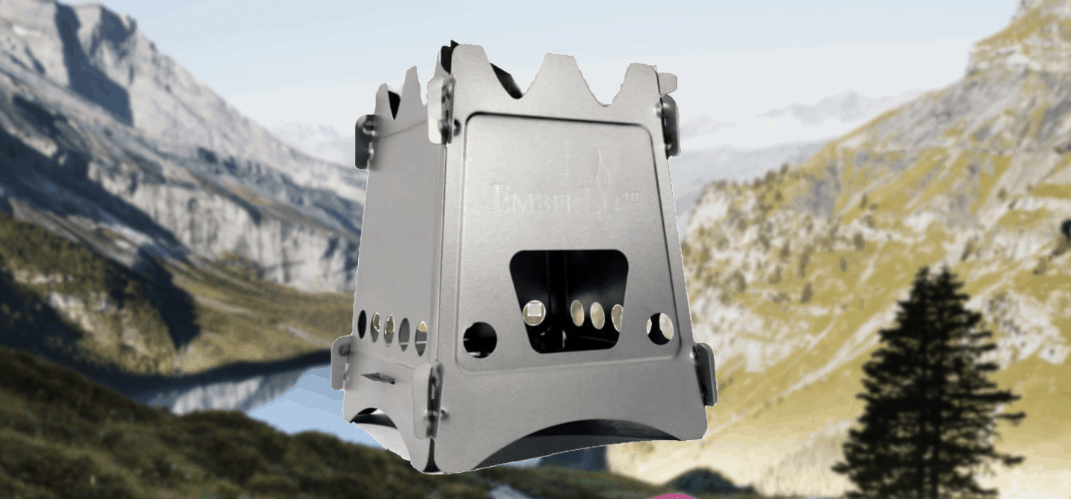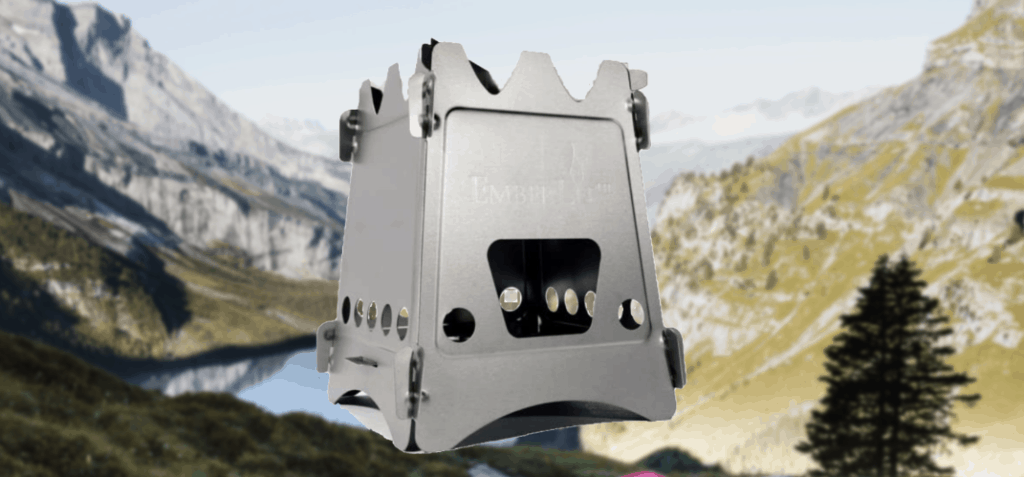 If you're interested in the Emberlit stainless steel variant, you could check it out on Amazon here.
A backpacking wood stove is an excellent way of reducing fuel consumption as well as lighting your load. There's a ton of great options, so I hope I have helped in your quest to find the best one. If you have a favorite wood stove that you'd like me to check out just leave a comment below.
If you're interested in how to keep all your camping cookware clean check out our guide on cleaning and maintaining backpacking cookware.
FAQ – Best Small & Large Wood Burning Backpacking Stoves
Can You Put a Wood Stove in a Tent?
You can but the tent will typically need to be canvas or polycotton and have a chimney. We have an article dedicated to using a stove inside your tent.
How Much Does a Camping Wood Burning Stove Cost?
On the low range about $30. On the upper range for a great wood camping stove around $100.
What Is the Best Small Wood Burning Stove?
For its small size and ease of use, everyone will be happy with the Lixada folding wood stove.
Why Use a Wood Stove Over Gas?
You save a ton of weight by not using gas canisters or bottles. You'll never have to guess again on how much fuel to bring.