Dry Bags or Dry Sacks can be broken down into two categories, thin and light or thick and durable. Durable dry bags are typically made from PCV Tarpaulin for strong durability, and thin and light dry bags are made from nylon. There are a few other factors depending on what you're going to be using the dry bag for.
So, Where Do We Start?
You hop on Amazon, search "dry bag," and you're greeted with thousands of different sizes and colors to choose from. Prices range from a few dollars to a few hundred dollars. First, let's make sure we are getting the right dry bag for your camping, hiking, or kayaking needs. If you need a waterproof bag for boating, we'll cover duffel and larger bags too. I use a dry sack for fishing, but it's less common then for camping and hiking.
Light Weight Dry Bag vs Durable Dry Bag?
Some dry bags are heavy, but they're built like tanks. Take a look at a dry bag made from 500D PCV Tarpaulin for durability. It's tough, but it comes at the price of being very heavy and inflexible. This kind of dry bags are usually recommended as "best value" because they last for years, and they can take a beating.
Lightweight dry bags are on the other end. They are thin, flexible, and lightweight but at the cost of durability and are on the upper end of the price. When hiking, every ounce counts, so a nylon dry bags are a good fit. They are also more flexible, so storing an empty nylon dry bag can fit in more places. If they come with a shoulder strap, they are nice for a day hike with too.
What Features Should Be On Dry Bags?
Zippers, handles, clear plastic windows, or a little valve to let the air out. Is it added bulk and cost, or are these nice creature comforts? It's going to come down to your needs, but out in the woods or on the lake, fewer things to go wrong, the better. When closing a dry bag, the top forms a natural handle. A valve to let the air out is also not necessary if closed the way we covered in our article "How to Properly Close a Roll Top Dry Bag."  Although, if you're using a large dry bag backpack, an air valve can be useful. A window is nice, but also it creates another area to leak water in. It's up to you!
Different Size Dry Bags
Dry bags are typically measured in liters. Sometimes the size is displayed on the outside of the bag, but every manufacturer should have a wide range of sizes and colors available. From 1 liter up to 30 liters with a shoulder strap is a good range for dry bags before the need for a full-on waterproof backpack or duffel bag. Anything 30 liters or larger a waterproof backpack or duffel bag is more appropriate. They do make 100-liter dry bags, but those are more at home on top of an SUV than on your shoulder.


How Much Stuff Can You Fit Inside Each Size Dry Bag?
Remember, from the "How to Properly Close a Roll Top Dry Bag" article, we need to leave space to roll the top down for a proper waterproof seal. So we "can" fit more gear in but better to air on the side of caution than end up with a dry sack full of water.
The 2-liter dry bag is useful for carrying a few things and some stuff you need quick access to. I like to clip the 2L to the outside of my hiking backpack. I'll keep my phone, wallet, and flashlight in there. As we move up sizes, you can see what you're able to stuff in there and still close the bag down properly to make it waterproof. 
A 5-liter dry bag is the most common size hikers use. It's a bit of a sweet spot in size because it's not too large to where you'll have to hunt for your stuff inside. It's still small enough to fit inside a backpack as well. With this size, you can easily keep a camping stove or bring along your larger camera like a DSLR. If you're not sure about what size you're going to need when first picking out a dry bag I recommend 5 liters.  Even if it turns out that the size is too small and you need a bigger bag it will still be easy to find a use for a 5-liter dry bag.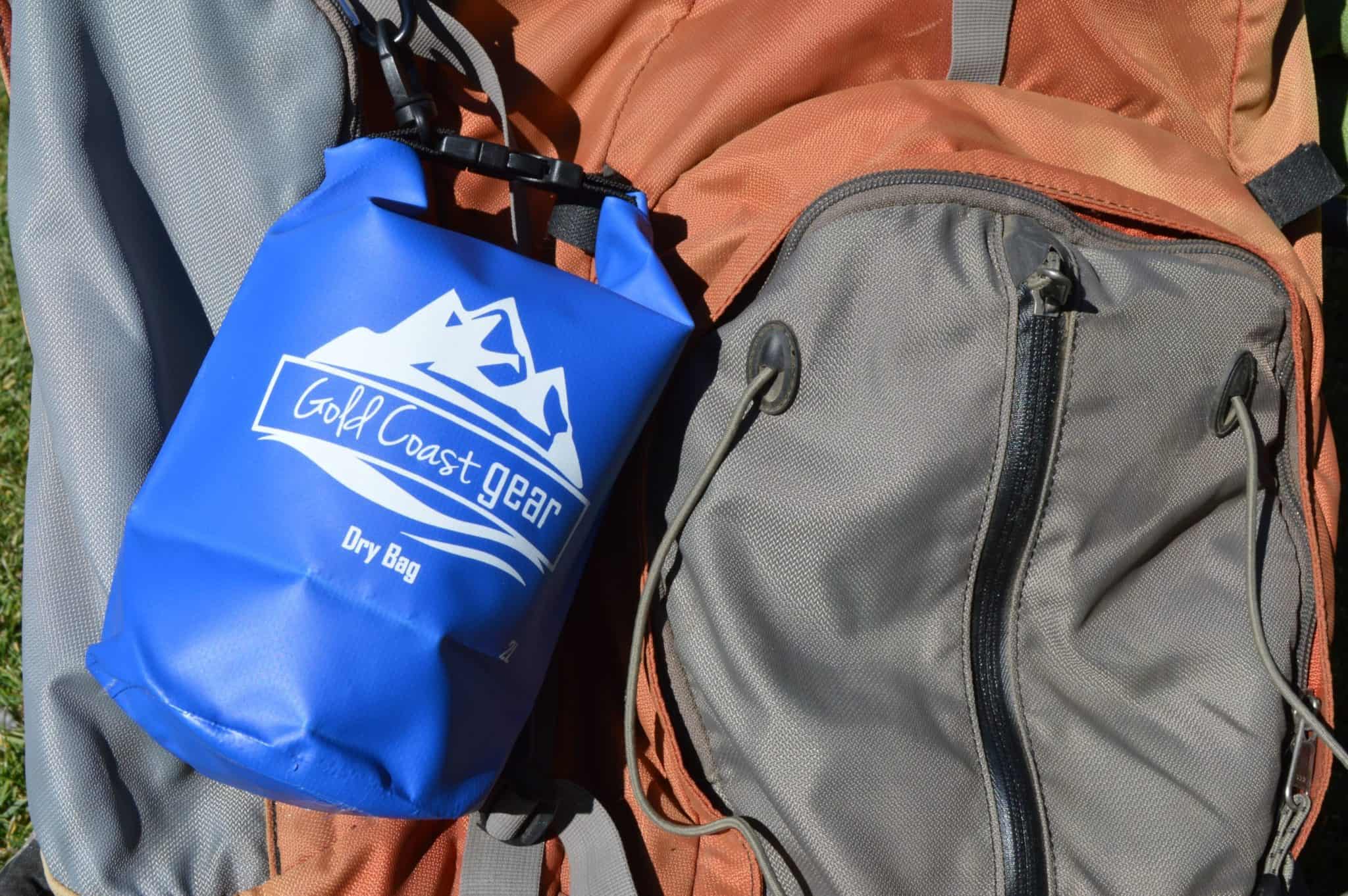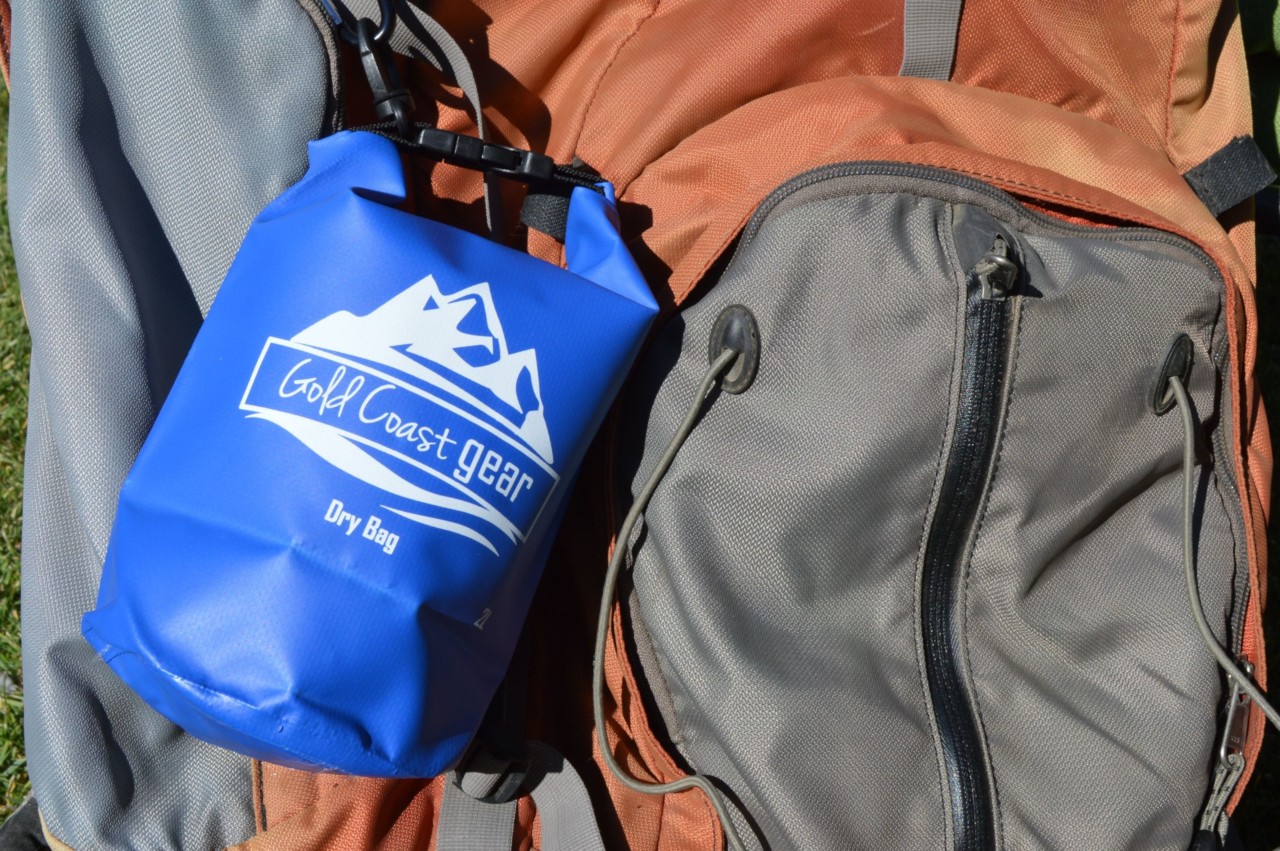 If I'm going to be day hiking, I definitely want a bag with a shoulder strap. I'd want two shoulder straps for 30 liters and up. What's nice about this 30-liter backpack is the padded straps and the compartments on the outside. I take this bag fishing with me because I could attach my telescopic pole to the outside.
Consider if you're ever going to be washing clothes while camping. You might want an extra bag or larger size. Dry bags are a great way to have fresh socks and undergarments while out on the trail. I have a full article about the best way to wash clothes while camping here.
Larger Dry Bags Above 30 Liters
Waterproof dry bags over the standard 30 liters are in a different category. Due to the large size of these bags, a waterproof duffel bag is more appropriate. These bags are also called boating bags because the primary use is not for carrying like the dry bags above, they will be transported short distances then sit in a boat or kayak. Since they still need to be watertight, let's look at waterproof zippers and waterproof roll-top duffel bags.
A true waterproof zipper will not leak, but the problem is many so-called "Waterproof Zippers" are merely water-resistant and will let water leak in if they are exposed in the rain long enough. Manufacturers do this to save on cost because true waterproof zippers are expensive. Water-resistant duffel bag won't be able to last very long if waves are crashing into it. While they can take a quick dip in the water or rain falling on top, that's not what they are made for.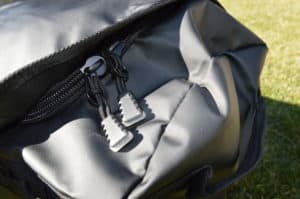 Another downside is that waterproof zippers are stiff, so they don't slide easily like the normal zippers we're used to. This can be a real pain in cold weather as the zippers will be even stiffer. Lubricating the zipper can help with this stiffness. MIER recommends and sells a lubricant for this. If you do choose a duffel with a waterproof zipper over a roll-top, I'd recommend the MIER Waterproof Duffel pictured below. The zippers on this duffel are waterproof, not just water-resistant. You can see the current price for this duffel bag on Amazon here.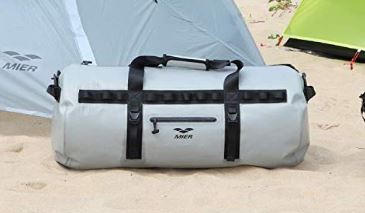 Large Waterproof Roll-Top Duffel Bag
The roll-top bag has some nice advantages to zipper closing bags; Roll-top bags can be closed without taking off your gloves in cold weather. The top is never going to wear out like a zipper or be stiff when opening it. A downside of the rolltop duffel bags is they are not able to lock.
While the 50-liter bag will fit in a carryon, this might be a concern if you're travelling with the bag and want it to remain lock while in the city. They will also be a little bit heavier due to the extra fabric for the top. Pictured below is the Aqua Quest waterproof roll-top duffel. It's also lightweight while still being a full-featured bag. You can see the current price for the Aqua Quest duffel bag on Amazon here.
Stuff Sack or Dry Bag?
If you want to prevent a piece of gear from getting wet like your camera, a dry bag is what you're looking for. If you're not too concerned with something getting damp or wet, you might want to bring a few stuff sacks with you. I typically carry three in my backpack. These three are different colors, so I can quickly determine which items are in separate bags. While they're not waterproof, they usually have a drawstring for quick access. With the added benefit of the drawstring, stuff stacks are typically cheaper than dry bags and lighter too. The trade-off is that they're not as robust, they only last a few seasons before they start getting holes in them.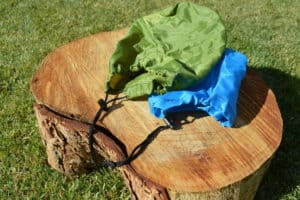 After you determined what kind of dry bag fits your needs, check out alternative ways of using them here, Dry Bag Uses and Alternative Uses.
If you found this article useful, thank you. Please check out our store. You see our full category of dry bags with lifetime warranties here.