We know the conventional ways of using a dry bag,
keep camping, and hiking gear dry.
Dry bags are essential when traveling for a few days or more. There's nothing worse than opening your bag to find your gear is soaking wet from that last heavy downpour. Dry bags are indispensable, so let's look into some alternative uses for dry bags. Some of these are great ideals, while others seem a little far fetched like using them as kettlebells.
Really
, how many times do you go camping to lift weights? Let's start with one of my favorites.
Washing Your Camping Clothes in a Dry Bag
A dry bag can be a little portable washing machine. Put a few clothes in, add some water with a little bit of soap then close the top of your dry bag. You're going to need to leave some air in the bag to slosh the clothes around. Theirs dedicated washing dry bags if washing your camping gear become a habit. Scrubba and Laundrez are two popular dry bag portable laundry systems.
If the clothes need a
really
good scrubbing, use a smooth rock or dog toy for agitation.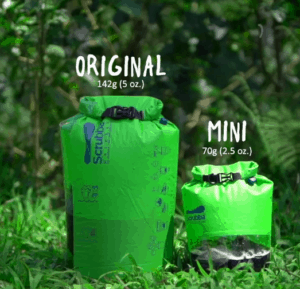 Separating Dirty Clothes From Clean Ones
I've seen people do this at the gym before. Separate sweaty, nasty clothes for the clean ones. This will keep the odor from the damp clothes out of the campsite. It helps to have two different color dry bags for this.
Keep Your Electronics in a Small Dry Bag
We love being outdoors, but there are a few things we need from the modern world. The camera is a must, along with something to keep it charged. I use a foldout solar panel, but I know a portable battery will do the trick, as well. It can go bad to worse if this gear gets wet, so keep them in a small dry bag.
We're going to be bringing a dry bag with use anyway so why not use it as a pillow too. I love when items have a dual purpose, and this was one of the first things I found out a dry bag can pull double duty. I like to wrap my sweater over it, so it's nice and comfy.
Transporting Water
Dry bags are already waterproof, so they make a nice scoop and bucket for bringing water to camp. Don't use water purifying tablets in them, put the water in a different container for that. Collapsible water containers are made for this and should last a few years. I'd also recommend NOT using a dry bag for water storage. Platypus, CamelBak, Nalgene, and others offer inexpensive water bladders made for storing water.
Use a Dry Bag as a Bad Compression Sack
A compression sack is a type of stuff sack that's used to reduce the volume in a particular camping or hiking item. They're used to reduce the bulk of a sleeping bag in your pack. These usually come with a few straps to cinch down the sack pushing the excuses air out.
Unless a dry bag has a valve or some other means, it's going to be hard to get that extra air out so that I wouldn't recommend it. If you need a compression sack, I've heard Sea to Summit makes some great bags you should check out. I haven't used this brand compression sack, but I will be testing them soon.
You can check out Sea to Summits high quilty compression sacks on Amazon here.
Close It Up With Air and Use a Dry Bag as a Seat
I have done this, but I'd only recommend using a dry bag as a seat if it's a thick rubber kind of dry bag so it won't get a hole in it. It would suck to get a hole in an ultralight dry bag that isn't as thick. A dry bag can also be used as a kneeling mat if your knees are sore. Not all dry bags are created equal, so be sure to check out this post about the different kinds of dry bags. Here's an article I wrote on how to choose a Dry Bag.
Collecting Kindling
Once at your campsite, it's nice to get everything set up before relaxing. Collecting kindling is usually on the list of things to do, so why not use a bag to do it. Once again, I would choose a thicker type of bag for gathering up wood.
Floating Fishing Day Bag
I use a dry bag as a day bag when going around the lake fishing. It's helpful in case I slip and take a quick fall in the water. I keep a few things I don't want to get wet, windbreaker, socks, a snack if I'm out far from camping for a long time. If the dry bag does fall in the water, it's going to stay afloat so I can retrieve it.
Hiking Day Bag With A Shoulder Strap
Many hiking backpacks have a detachable day bag that's convenient to have. I like to use it once I get camp set up, but if your backpack doesn't, or you don't want to separate a vital compartment on your hiking backpack, a dry bag with a strap is an excellent alternative. For a light load, one single shoulder strap should be enough. Most dry bags sold don't come with a shoulder strap, so make sure the one you buy is included.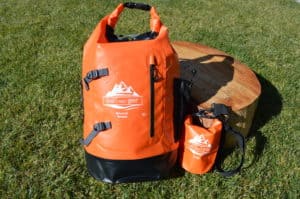 Hiding Your Food (bear bag)
An approved bear-proof canister is mandatory in some national parks and wilderness areas. If your not in one of those areas or you find yourself not having one, dry bags can be used. A bear hang is an improvised system of cord, dry bags, or any stuff sack, and sometimes carabiners and pulleys used to suspend food in a tree.
This is an outdated method, and if done incorrectly a bear will get your tasty meal. I've done it successfully, but here is a good article about why this is a bad ideal Argument Against Hanging Bear Bag.
A Boat Anchor
Who likes to carry a three-pound anchor when camping and kayaking? They do sell dedicated kayaking bag anchors on Amazon, check prices here. These bags look a lot like dry bags, and we already have them, with us. So let's make another use of them. Fill the dry bag with some smooth rocks or sand, tie some rope, and use a carabiner, and we have ourselves an anchor. The dry bag used should be a thick bag as the reviews for these show sometimes they rip, no ultralight dry bags for this.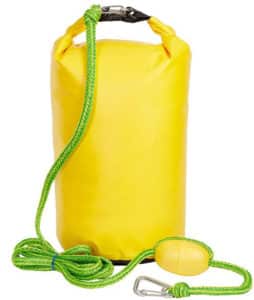 As I find different uses for dry bags, I'll update the list if you have some suggestions for everyone to leave a comment below!