One of the best ways of connecting with the family is by going out in nature. A family vacation to the outdoors can break up the usual family routine of stale vacations and activists. When going camping, you're going to need a family tent that will meet the needs of all members. The tent should have plenty of room, be comfortable, and won't break the bank.
We found that, on average, a well-built family tent with excellent features cost $226. The lowest end family tent recommend is The Wenzel 8 Person Klondike Tent for $160. On the upper end, it's The Eureka Copper Canyon 6 -Person Tent at $305
Let's first look at the size of the tent. This is going to be the first determining factor in what tent you'll end up with.
Family Camping Tent Size
You're going to want to buy a larger size than what the manufacture says. There's no standard for tent sizes, so they verify between manufacturers. Considering the standard 4 person tent will only comfortably fit two adults. You can see why buying one size larger than what's needed will be ideal.
When a tent says that it's made for 6 people, that means it suitable for 6 small people with no personal possessions inside.
Beware of odd floor plans. Take a look at the floor plan and how many rooms. Think where your family members will most likely be sleeping. Who will be next to each other and if it will work out for everyone? Make sure you plan to have enough extra space for everyone's backpacking gear inside if it starts pouring rain.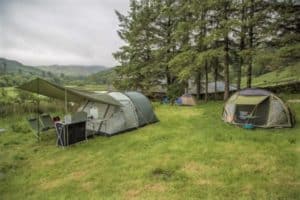 For a family of 5 or 6, a floor size of around 16 x 7 or larger should give enough room for everyone with there backpacks, camping bags, etc.
Tent Weight
Unlike how many people will fit inside a tent, tent weight is a standard. ASTM International takes the guesswork out for manufactures in determining Minimum weight and Packaged weight.
Packaged weight is the total weight of the packaged contents off the shelf.
Minimum weight is the combined weight of the tent body, rainfly, and tent pole.
Some brands such as MSR call the minimum weight "fast and lightweight" to illustrate that things in the packaged weight are not needed on the trail. This would include other items that came with the tent, such as tent stakes, extra guy cords, stuff sacks, and repair kit.
Family camping tents are just large and heavy. These are not small hiking tents concerned about every ounce. Don't worry too much about weight assuming your car will be close by with a short hike to the campsite. The size of the tent matters most for comfort and livability.
Camping Tent Material
This is a whole subject onto itself, but most tents are going to be made of nylon or polyester. Both of these fabrics are synthetic. Polyester, while not as strong as nylon, does have some advantages in UV performance. Nylon is pound for pound tougher than polyester.
A spec you can look at for tent fabric is Denier. The (D) at the end of the number is referring to Denier. Denier is a metric used to describe what the thickness or density of the material is. The higher the Denier, the stronger the fabric, but only if we're talking about the same type of fabric.
This does not translate directly across all fabrics, though. Generally, for tent fabric, it's a metric for understanding the durability of the tent. Each fabric is also inherently different in strength like we discussed with Nylon vs. Polyester.
Don't get too concerned about tent material for entry-level family tents. Material is more of a concern when getting into lightweight or ultra lightweight backpacking tents.
Shape of a Family Tent
Camping and hiking tents come in a few different configurations. A cabin style is the most ideal with straighter vertical walls as it allows for more headroom. A dome shape tent will be better in windy areas, but this shape sacrifices headroom. If you know that regions you'll be camping will tend to be windy, consider the dome shape.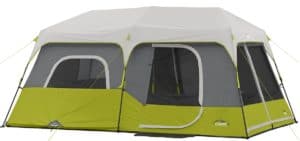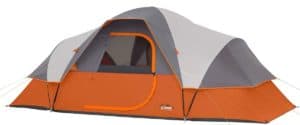 Headroom
Some tents, such as The Coleman 8-Person Montana Tent, have two different styles. The big difference being the headroom. They don't make it perfectly clear that their "Elite" model is slightly larger with more headroom, regular 6'2 ft vs. 7 ft elite model. Make sure to look at all the dimensions before deciding. 
Easy Tent Setup
I've set up a few tents, and every new shelter takes some patience before the task becomes easy and fast. I recommend that you set up your new tent in the yard first before you go camping.
This will give you a chance to make sure everything was included, and make setup a lot faster at camp. Since you're going to practice setting up your new tent first, don't be too concerned with an "easy tent setup" feature from manufactures.
3-Season vs. 4-Season Tents
For the first time family tent buyer, a 3 season tent is going to be perfect. All the recommended tents down below are 3 seasons. While not ideal for winter camping, most of the time, you'll be camping in warmer months with your family.
Even if you do want to go camping and hiking during the winter, there are a few ways around only having a tent for warm months. I go through complete detail about winterizing your tent in this article here. 
Even people with a need for a winter tent are going to have multiple shelters. 4 season tents are heavy, hotter, and much more costly than 3 season tents.
If you want to see the full break down of different shelters for any season, check out my article here all about tents.
What Are the Best Tent Features
This is the funniest part of researching for a new tent, finding the perfect features that will meet your family needs.
Doors – With a few different people in the tent, someone is going to have to get up in the middle of the night. Having doors on each end will make sure others don't get disturbed or stepped on at night time.
Height – I know this was mentioned already, but extra headroom is a feature to pay attention too. The Browning Camping Big Horn tent mentioned below has the most headroom at 7.2 feet out of all the recommend tents.
Rainfly – The sidewalls and rainfly have a large gap from the mesh wall to let the wind blow inside. All the mesh and open-air prevents condensation buildup and keeps the tent cool during the hot summer nights.
Vestibules – This is a nice feature if you don't mind the extra weight. If the weather is terrible and you need to stay in your tent for extended periods, a vestibule is quite nice. A great benefit is being able to cook without getting rained on. This is where I also store my backpack for the night.
Mesh Panels – Ventilation inside tents help cut down on condensation. The walls can be folded down, but the mesh panels remain to keep insects out.
Pockets and Storage – Most midrange tents are going to have side storage. Some have an extra storage area at the center of the roofline.
A tarp isn't a feature, but I think it's a must-have to protect your investment. A good quality family tent can last the entire childhood of your kids, so why not have something simple to protect it like a tarp. They come in all sizes and colors, but make sure to get one with larger dimensions than the footprint of the tent.
What About Getting a Few Smaller Tents for the Family
Depending on the age of your children, it might be better to have several smaller tents. As a kid gets a little older, around nine and up, they will like the idea of camping in their own tent. This will also give some more privacy for everyone in the family.
If this is something you're interested in, check out my guide on buying smaller (nonfamily) tents for everyone. Tent buyers guide with examples here.
Camping Tent Recommendations
All of these tents will complement a small or larger family with well thought out features and durability.
Coleman Weather Master 6 Person Tent –

32 lbs
The Coleman Weather master measures 11 x 9 feet with 6-foot 8-inch center height. With mesh walls from the floor to the roof, the tent has excellent airflow, and view with the wall covers off. The removable rainfly provides a small porch for extra shade and a place to keep some gear in the rain. The floor plan is large enough for two queen size inflatable mattress.  You can see the current price and all the features on Amazon here. 

CORE 9 Person Instant Cabin Tent –

30.5 lbs
The CORE equipment 9 person cabin tent measures 14 x 9 feet with 6.5-foot center height. The key standout feature has to be the quick set up time even with one person. You'll be able to set this tent up in under five minutes once you get the hang of it. It features two rooms and wall storage.
A small complaint but worth noting is the windows. There is a large window next to the front doors, as well as the front door windows, that do not zip up on all the way to the top. They stay open, which will aid in venting; however, it's a bit odd. You can see the current price and all the features on Amazon here.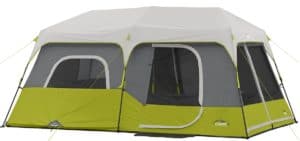 Tahoe Gear Ozark 3-Season 16 Person Large Family Cabin Tent –

43.7 lbs
The Tahoe Gear Ozark is a huge well made tent measures 16 x 15 feet with 7-foot center height. The center height is impressive at 7 feet, and anyone will be comfortable walking inside this tent. Sixteen people can fit inside, but realistically only 12 would be comfortable, including camping gear.
A con is that set up is on the steeper side. Another is the center divider between room is not removable. While this may not be a big deal for most families, it's important to note that you'll be stuck with split rooms. You can see the current price and all the features on Amazon here.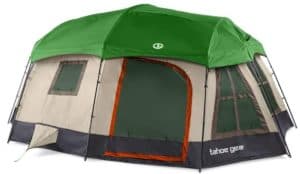 Browning Camping Big Horn Tent –

35 lbs
The Browning Camping Big Horn tent measures 10 x 15 feet with a 7.2-foot center height. This is another tent with a high center height for tall people. It has two rooms divided and has almost straight walls maximizing the shoulder room. With the big open mesh roof, ventilation and air crossflow shouldn't be a problem.
Going through all the reviews for this tent, it is the most well-reviewed out of all the family tents mentioned here. The only downside I can find would be a thin footprint. I highly recommended using a tarp under any tent, so this shouldn't be a problem. You can see the current price and all the features on Amazon here.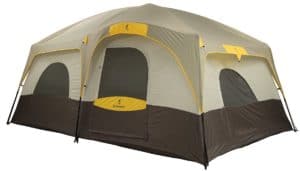 Eureka Copper Canyon 6 Person Tent –

25 lbs
The Eureka Copper Canyon tent measures 10 x 10 feet with 7-foot center height. This tent is a little smaller than the others mentioned but has a generous center height. Be aware that there is NO center divided, only one large room. Only one room can be a deal-breaker for many families due to the lack of privacy.
A major downside to this tent is the way the rainfly sits. If you open the door while it's raining, some water will run down onto the floor. They could have pitched the rainfly out a little further to prevent this. You can see the current price and all the features on Amazon here.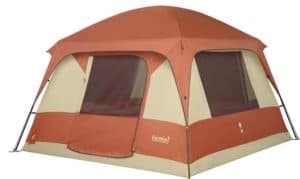 Core 11 Person Family Cabin Tent with Screen Room –

32.6 lbs
The Core 11 Cabin Tent measures 12 x 10 feet with center height at 7.1 feet. In the main area and the screen room measures at 8′ (front) x 9′ (back) x 7′ (width).  The stand out feature is the extra screen room in the front. When you're not using the front room as sleeping quarters, unzip the large front windows and enjoy panoramic views. You can see the current price and all the features on Amazon here.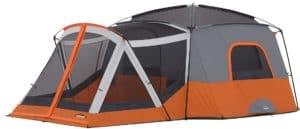 Wenzel 8 Person Klondike Tent –

27.3 lbs
The Wenzel 8 Klondike Tent is another one with a screen room. This tent measures 16 x 11 feet with a center height of 6.5 feet. While the windows are smaller than the other tents mentioned here, the walls do have some large vents down low for air crossflow.
A downside is a feature that's included in many modern tents. That's the small electrical cord access hole. This tent doesn't include one if that's a feature you rely on. You can see the current price and all the features on Amazon here. 
I hope this guide has helped you decide the best camping family tent that meets all your needs. If you have any suggestions, feel free to leave them down in the comments.