Duffel bags are gaining more popularity in the outdoor world. Duffel bags are popular among all kinds of campers. They're easy to load, carry and they're built rugged to take a beating. I like duffel bags because their efficient at using space, while your gear is easy to access.
Your duffel bag should be able to take a large volume of gear while still being water-resistant or waterproof. Every camping duffel bag should be highly functional and comfortable with a few different ways of holding and strapping on to your body. 
Hiking Backpack vs Duffel Bag
When hiking long distances there's no replacement for a proper backpack. A duffel can have shoulder straps, sternum strap as well as a hip belt but I wouldn't want to hike miles even with a light load. With that being said there's still plenty of advantages with a duffel.
When empty a duffel folds down to a small size, smaller than a hiking backpack. With large-size duffels, it's easy to load up all of the family's camping gear and throw in the back of the truck. With a giant main compartment, they're easy to unload at the campsite.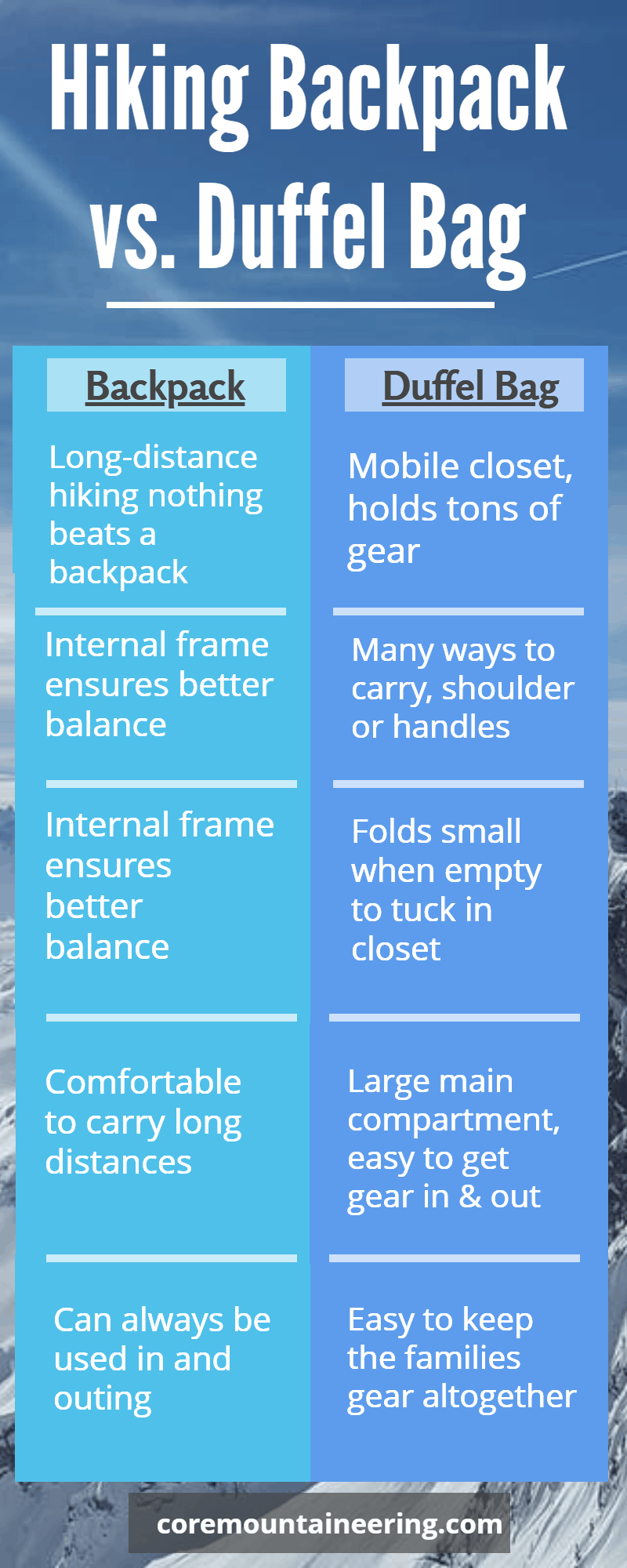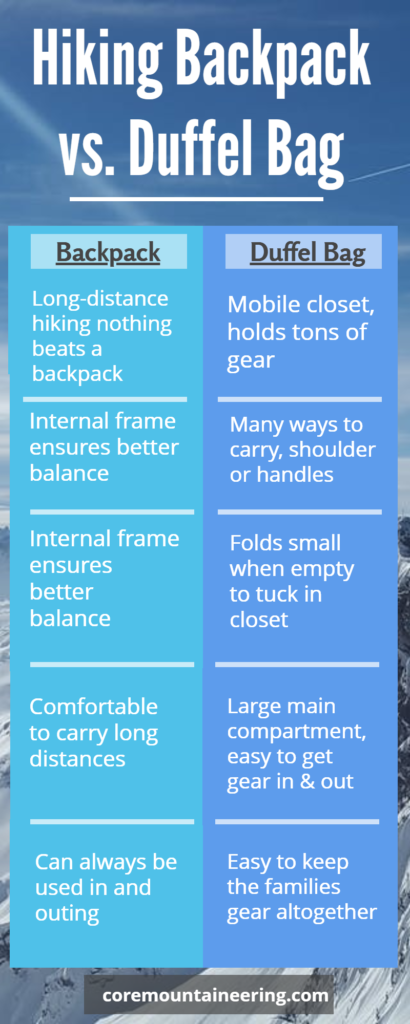 Compare Sizes
Any recommendation on size is going to be subjective for your needs while camping. That being said, the smallest capacity duffel I'd recommend is 40 liters. Anything smaller than that a dry bag is it better bang-for-the-buck. With this size, it can also fit as carry-on, especially the ones that are soft enough to shift shape slightly.
A small 40-liter duffel bag is going to fill up quickly. So The sweet spot in size is between 60 to 70 liters. With the size, you should stay under 50 lb which is right under the comfortable spot for carrying a load a good distance. 
If you're not too concerned with weight and you just need to carry a ton of gear 90 to 150-liter duffel bags will do the job. These are great for winter camping due to the extra clothes we have to bring. With the large main compartment pulling winter gear out is fast with less hassle fishing around in small compartments.
These large duffel bags will be made from the same material as the smaller ones so they will be just as durable. With the increase of price and size, they should come with a few different features and compartments for stuffing smaller items into.   
Ways to Carry a Duffel Bag
Your duffel bag can be spacious and carry every piece of gear you ever need but if it's not easy to transport what good is it. Every duffel bag should I have a large shoulder strap you can sling over one side or crossbody.
This is going to be the primary way of using it walking a short distance. Many duffel bags and anyone I would recommend also has padded shoulder straps. This is where it gets more into hiking and deciding if the convenience of a duffel bag outweighs the little bit of pain of hiking without a proper backpack.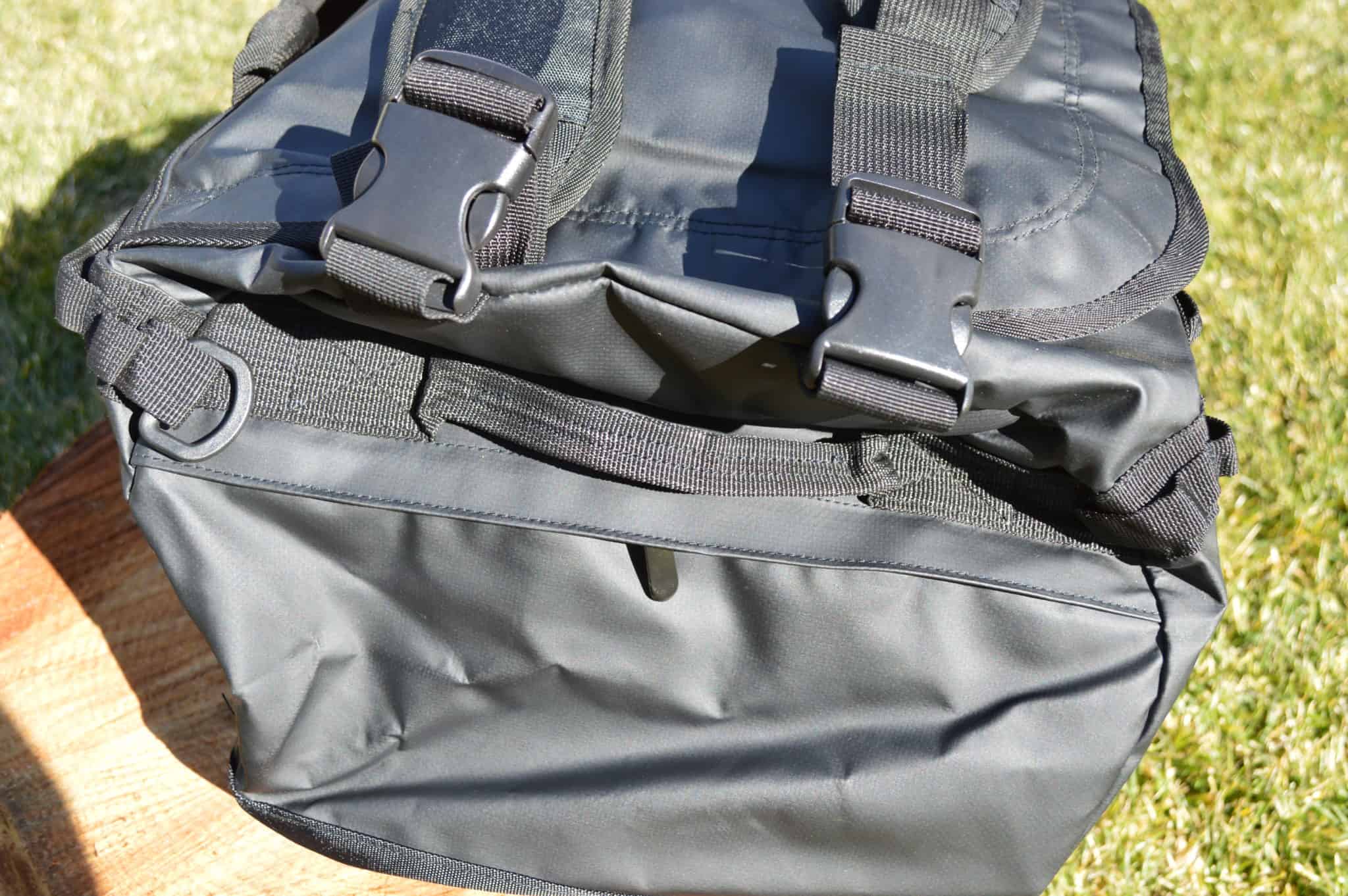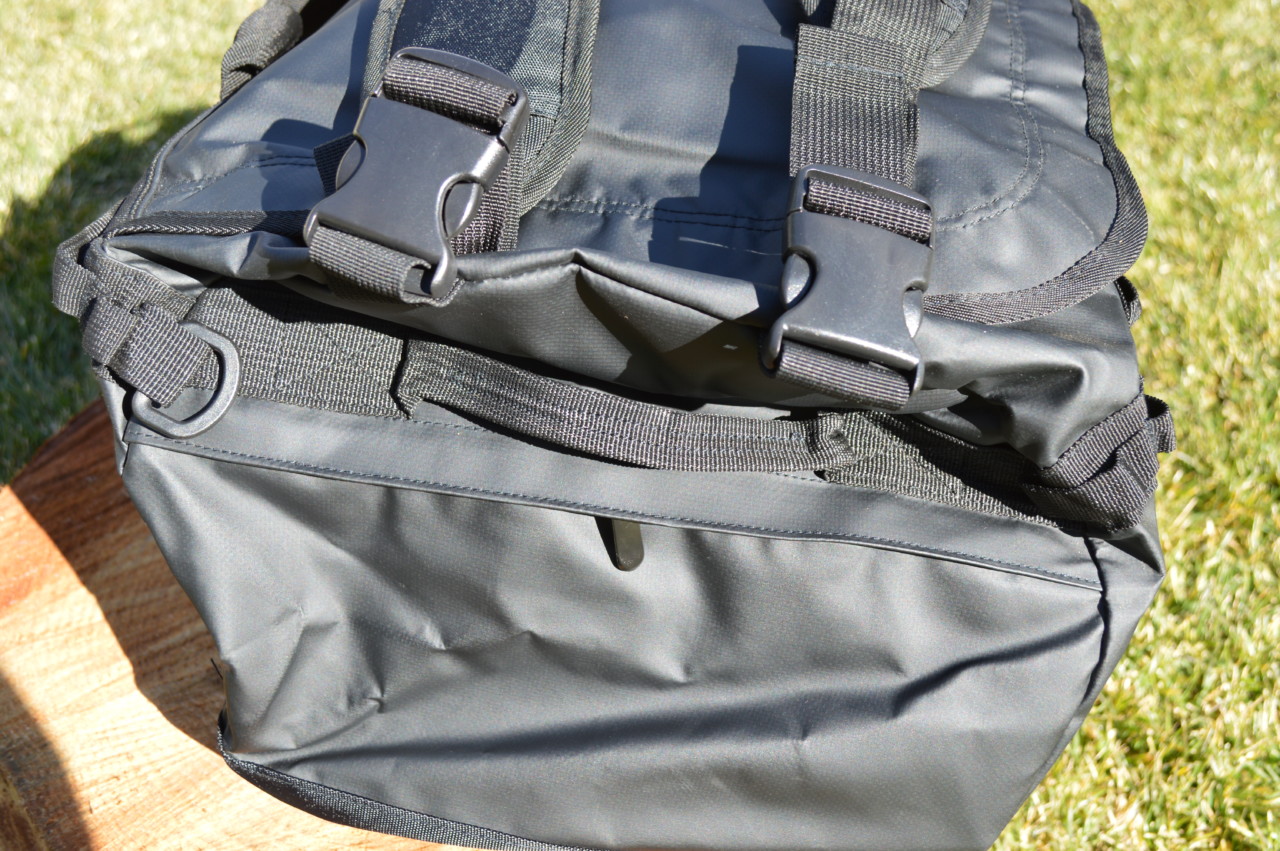 Some nice robust side handles on each end with a handle on top makes the bag easy to grab. Robust handles are a must, I absolutely dislike the feeling of a cheap handle while grabbing either hiking backpack, duffel bag or dry bag.
While I'm pretty gentle with my gear it would be a nightmare scenario ripping a shoulder strap or handle while I'm miles up a mountain.
With all these options for carrying and moving a duffel bag, it's easy to see the convenience and ease of using them.
Water-Resistant
Most camping duffel bags material is waterproof but the zippers are not. This means the bag will be able to take light rain and a quick splash in the water with your gear remaining dry. Take a look at this picture where the duffel bag is water-resistant with the zippers hiding under the lid.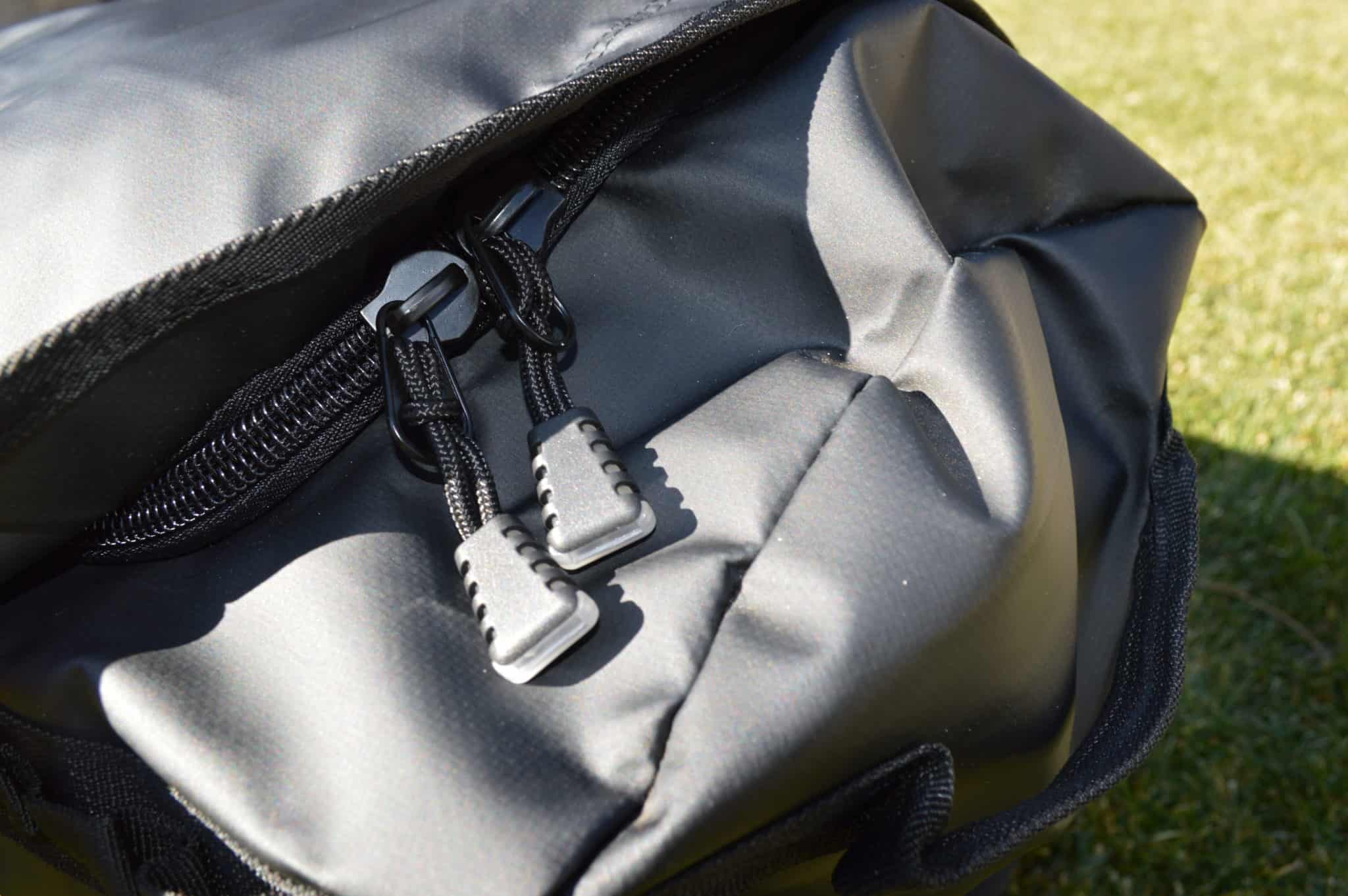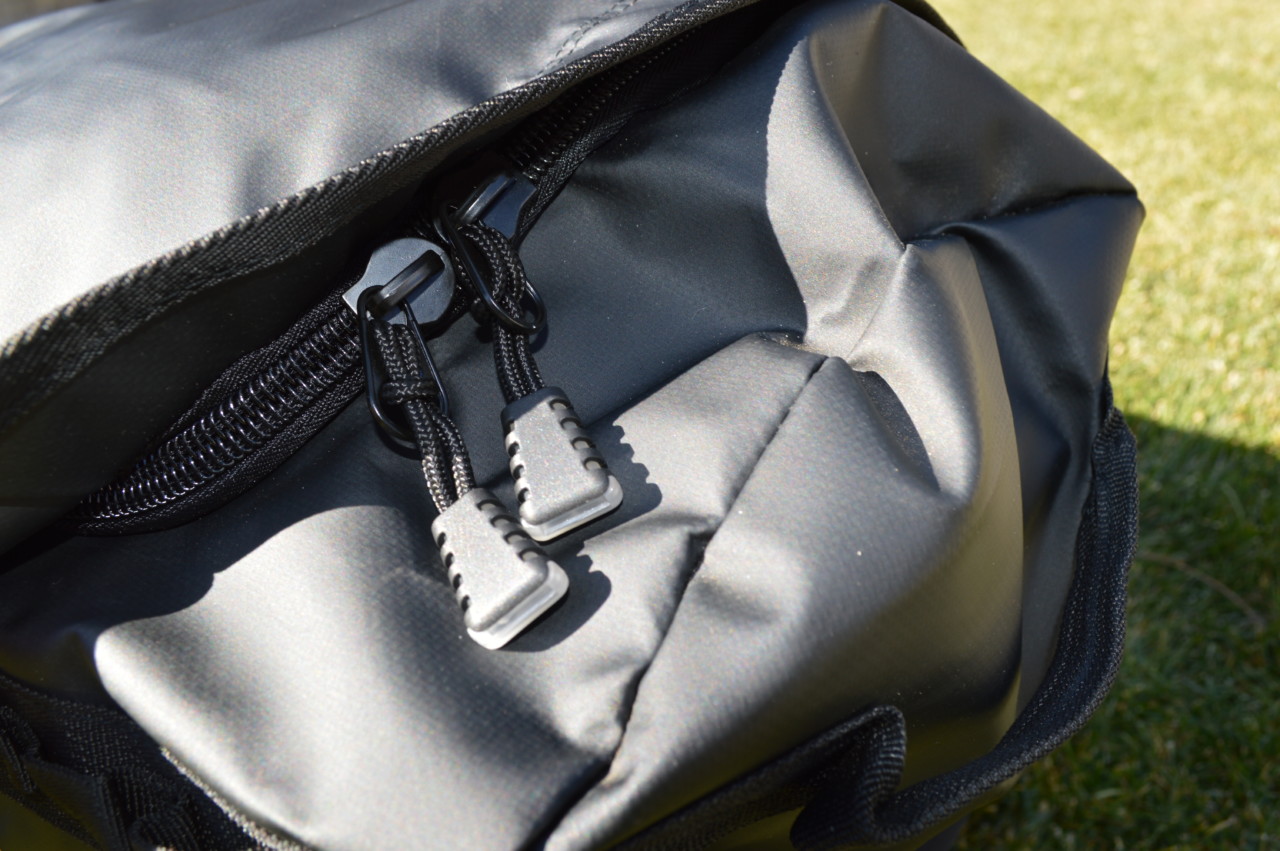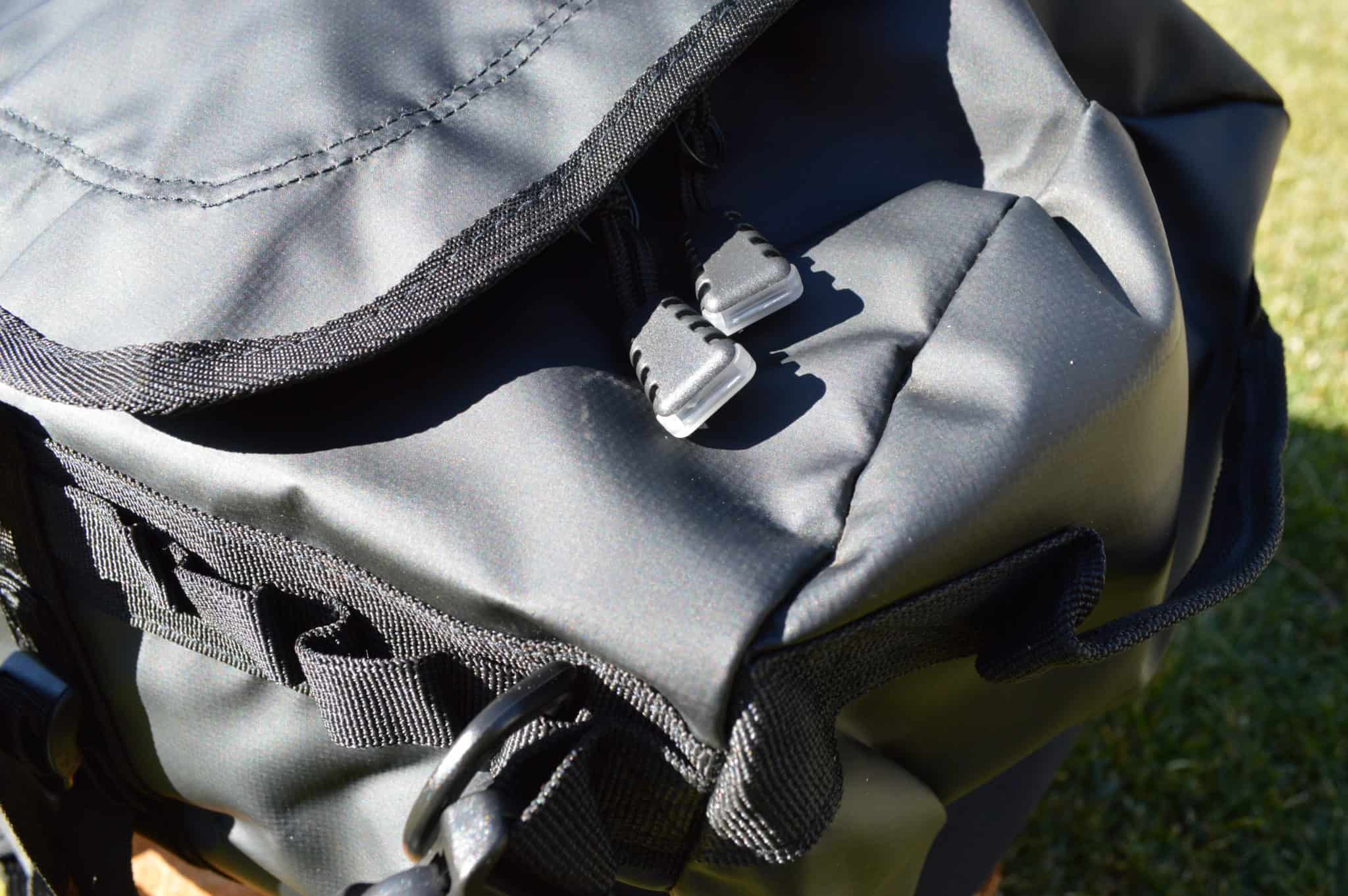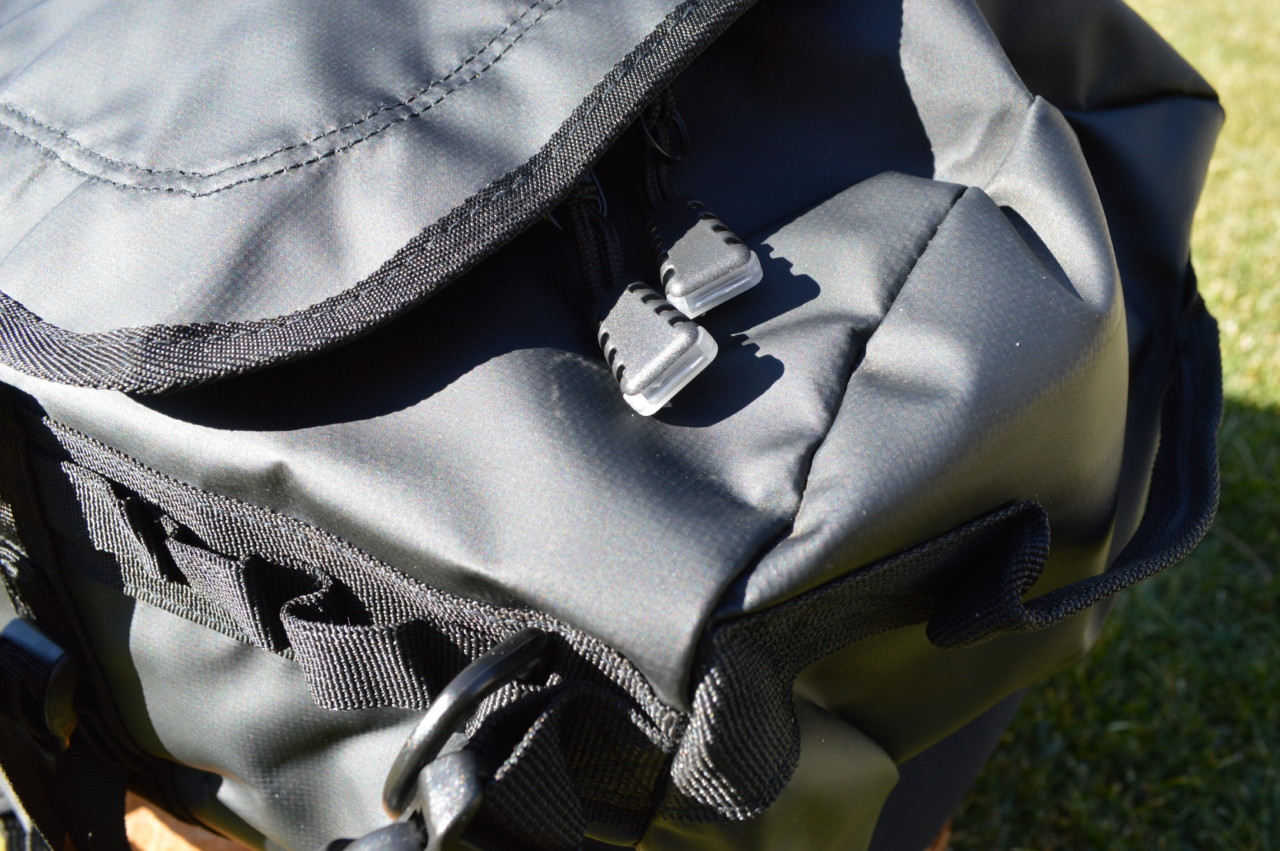 Although the zippers aren't waterproof in a rain your gear should still stay dry. These water-resistant bags are great for double duty traveling and camping. I've used mine for years and never had a problem with water getting inside my bag. 
Water Proof
If you know you'll be on the river or lake and "water-resistant" won't be good enough then a waterproof duffel bag is a great option. The two best options are a zipper waterproof bag or a roll-top duffel bag. A true waterproof zipper will not leak but the problem is many so-called "Waterproof Zippers" are merely water-resistant and will let water leak in if they are exposed in the rain long enough.
Manufacturers do this to save on cost because true waterproof zippers are expensive. Another downside is that waterproof zippers are stiff, so they don't slide easily like the normal zippers we're used to. This can be a real pain in cold weather as the zippers will be even stiffer. Lubricating the zipper can help with this stiffness. If you do choose a duffel with a waterproof zipper over a roll-top I'd recommend the MIER Waterproof Duffel pictured below. The zippers on this duffel are waterproof, not just water-resistant. See the current price for this duffel bag on Amazon here.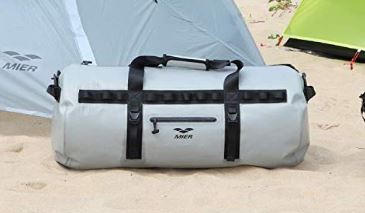 The roll-top bag has some nice advantages to zipper closing bags, Roll-top bags can be closed without taking off your gloves off in cold weather. The top is never going to wear out like a zipper or be stiff when opening it. A downside of the rolltop duffel bags is they are not able to lock. 
While the 50-liter bag will fit in carryon this might be a concern if you're traveling with the bag and want it to remain lock while in the city. Pictured below is the Aqua Quest waterproof roll-top duffel. It's also lightweight while still being a full-featured bag. See the current price for the Aqua Quest duffel bag on Amazon here.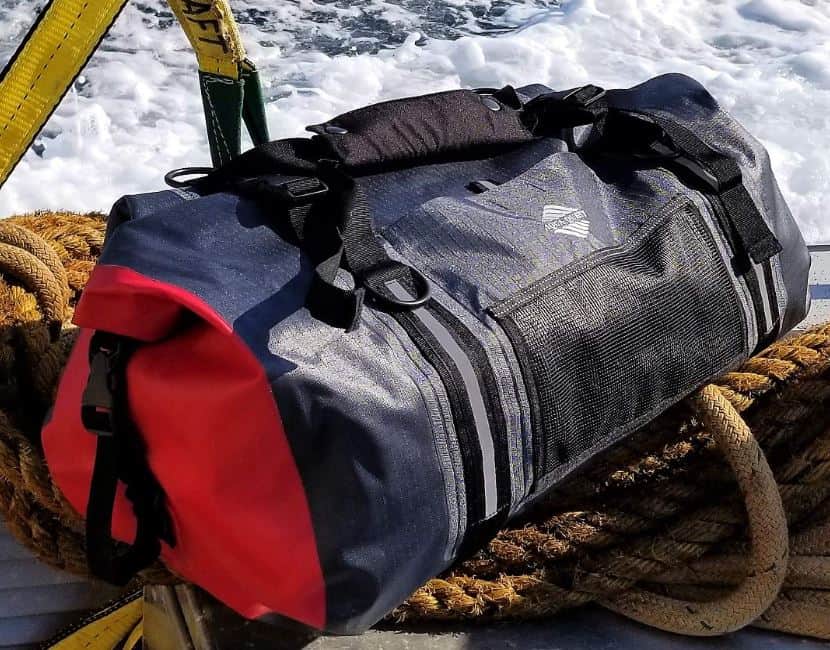 Strength of Backpacking Material
There are a few different materials that duffel bag manufacturers use. Industrial grade 600D TARPAULIN PVC is common. 600D is referring to the thickness of the material and many bags have a thicker bottom at 1000D. The (D) at the end of the number is referring to Denier.
Denier is a metric used to describe what the thickness or density of the material is. The higher the denier, the stronger the fabric but only if we're talking about the same type of fabric. This does not translate directly across all fabrics though. Each fabric is also inherently different in strength. For example, 450D nylon is actually stronger than 600D polyester.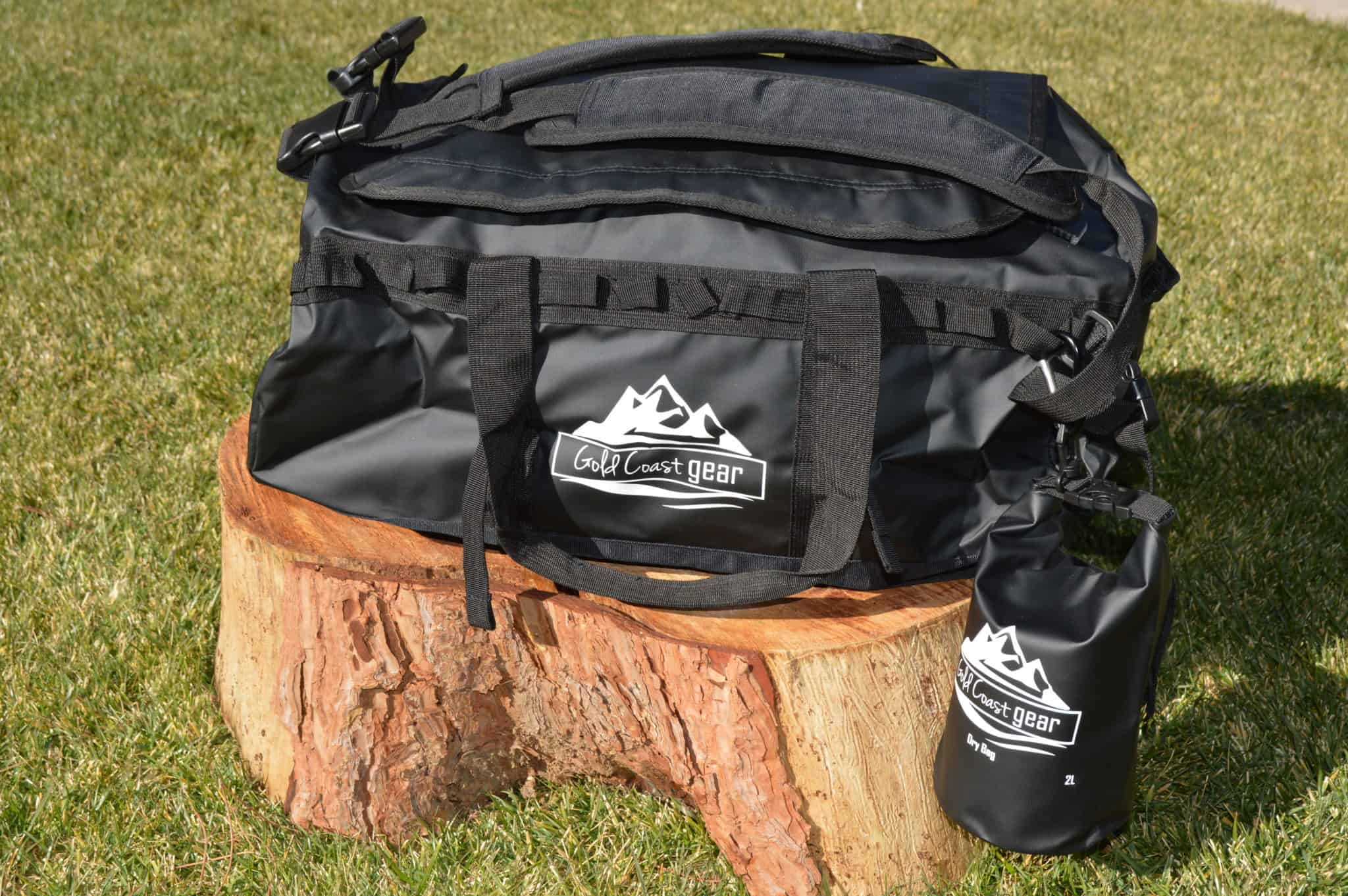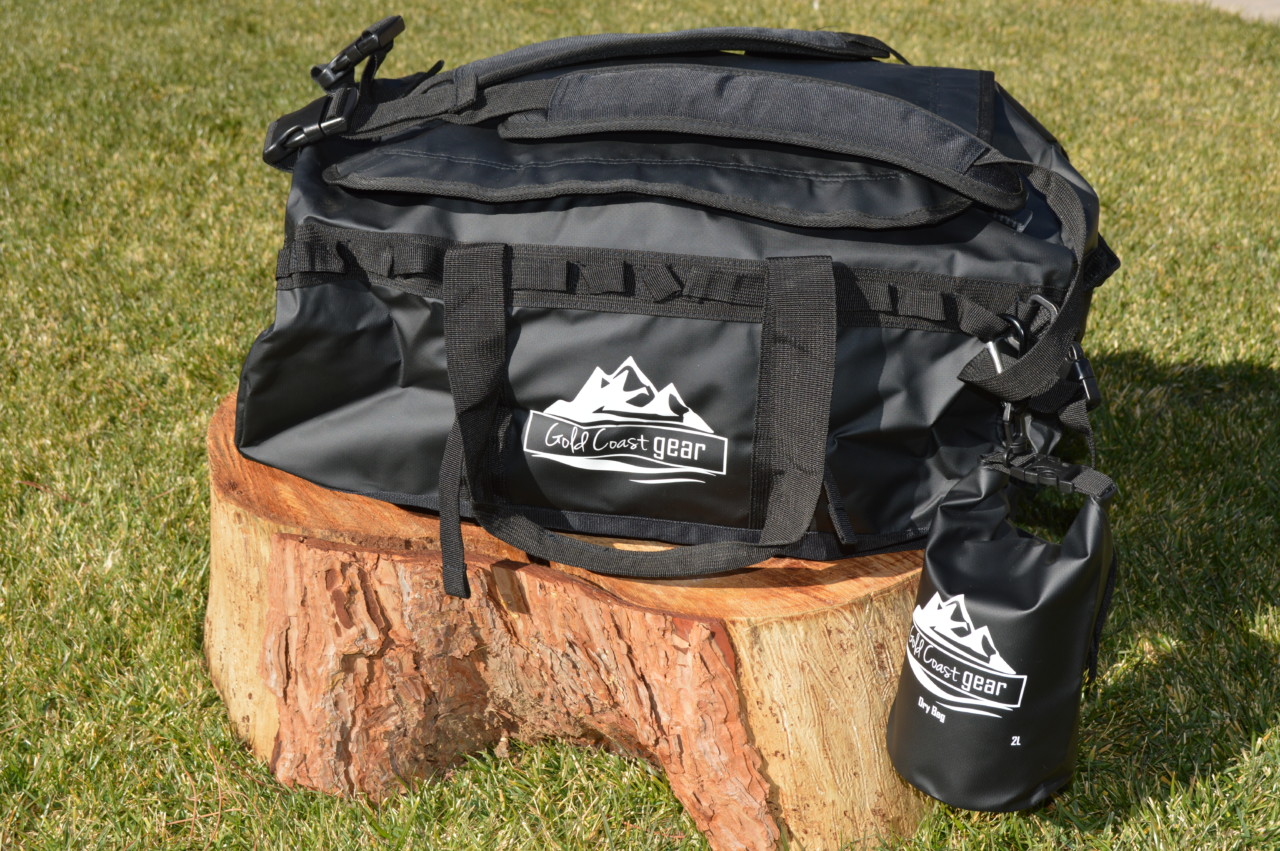 Polyethylene tarpaulin is made from a fabric that is multi mesh and is coated with a sheet of polyethylene. Because of its strength, flexibility, rot-proof and waterproof it's used in many applications. The top of a big circus tent is this material to weatherproof the area. For these reasons we use this material in our dry bags and duffel bags we make. 
The best selling camping duffel bag is The North Face Base Camp duffel. It's constructed from 1000D Phthalate-Free TPE Fabric Laminate, 840D Jr. Ballistics Nylon. This is a thick heavy-duty material. The bottom of the bag is Double-layered ballistic nylon, providing waterproofing and flexibility. For these reasons and the great reputation of Northface their Base Camp duffel has become the standard bag.  See Amazon for the current price for The Base Camp Duffel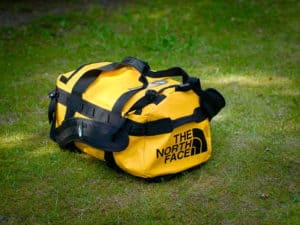 If you want to read a great write up about the different materials used in camping backpacks and bags check out the blog post at Pangolinswitchpack – The definitive guide that you never wanted for backpack fabrics. 
Duffel Bag With Wheels
While you're not going to be rolling around your bag in the dirt at a campsite a duffel with wheels can be a versatile traveling bag.  Most 40L or 45L duffel bags will fit as carryons for budget airlines.  I've already mentioned The North Face duffel being popular among duffel enthusiast, they have a variant duffel bag with wheels as well.
The North Face Rolling Thunder is their best selling duffel with wheels. This is also small enough for carry-on.  Keep in mind that with the added weight of the wheels and frame, it is on the heavy side at 7.28 lbs.  See Amazon for the current price for The Rolling Thunder.
If your hiking long distances a hiking backpack is still king. A backpack can always be used on an outing but a duffel bag is covenant when appropriate. You can think of a duffel as a mobile closet for all your gear. With a large main compartment, gear goes in and out easy, making the times a duffel can be used, a pleasure.