My first backpacking tent was a three-person, six-pound beast that quickly turned into just a car camping tent because it was simply too heavy to carry. Now, I have upgraded to a Big Agnes Copper Spur HV UL2, which checks off most, if not all, of the features I was looking for in a backpacking tent.
The most important of these features was the weight. Choosing a tent with the appropriate weight is important in keeping your overall pack weight low. That poses the question: how much should a backpacking tent weigh?
While the general rule of thumb is that each backpacker should carry between 2-3 pounds in tent weight, you should consider some other features that will factor into the weight of your backpacking tent and overall livability on the trail.
Packed Weight Versus Trail Weight Versus Fast Fly Weight
When you are looking for a tent to purchase, you will notice a few different weights: packed weight, trail weight, and fast flyweight. According to the Appalachian Mountain Club, Packed weight refers to everything that is included in the tent, including extra guylines, user manuals, repair kits, stuff sacks for the tent/poles/stakes, etc.
Most of this extra stuff you will not need on the trail. This brings us to trail weight, also known as minimum weight. Trail weight is the weight of the tent, rainfly, and poles.
These weights do not reflect the actual weight of what you might carry on the trail, depending on the extra things you choose to carry. Then there is fast flyweight. Fast flyweight is the weight of the fly, footprint, and poles meaning leaving the tent canopy at home.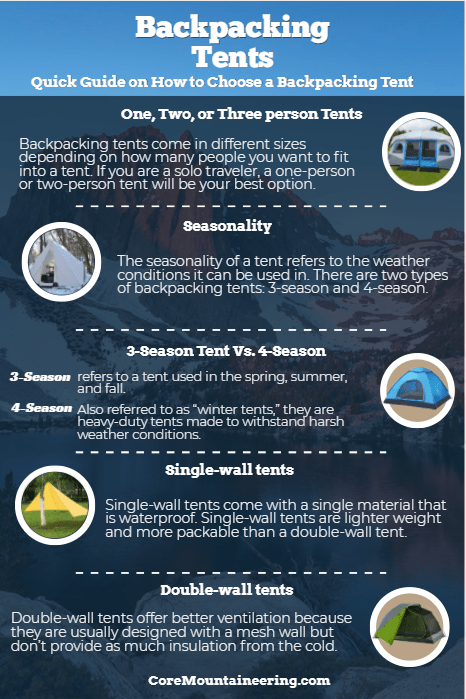 Backpacking Tent Size
Tent size can mean a few different things. It can refer to the number of people designed to fit in the tent, or it can mean the actual size of the tent's interior when set up.
One, Two, or Three person Tents
Backpacking tents come in different sizes depending on how many people you want to fit into a tent. If you are a solo traveler, a one-person or two-person tent will be your best option.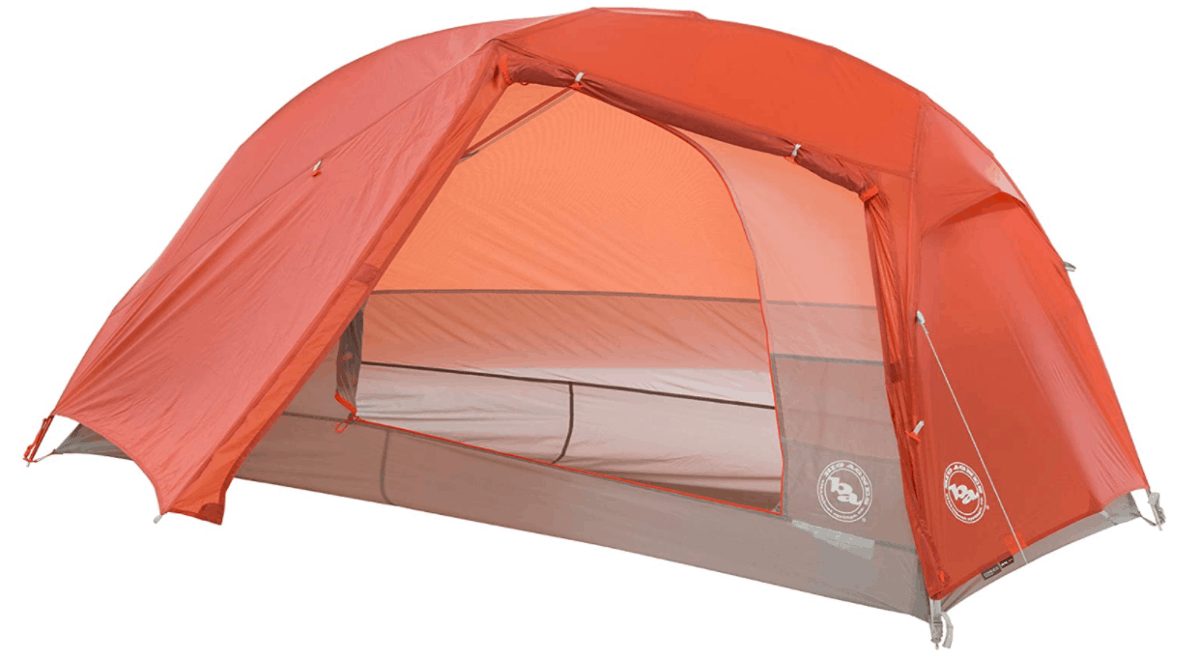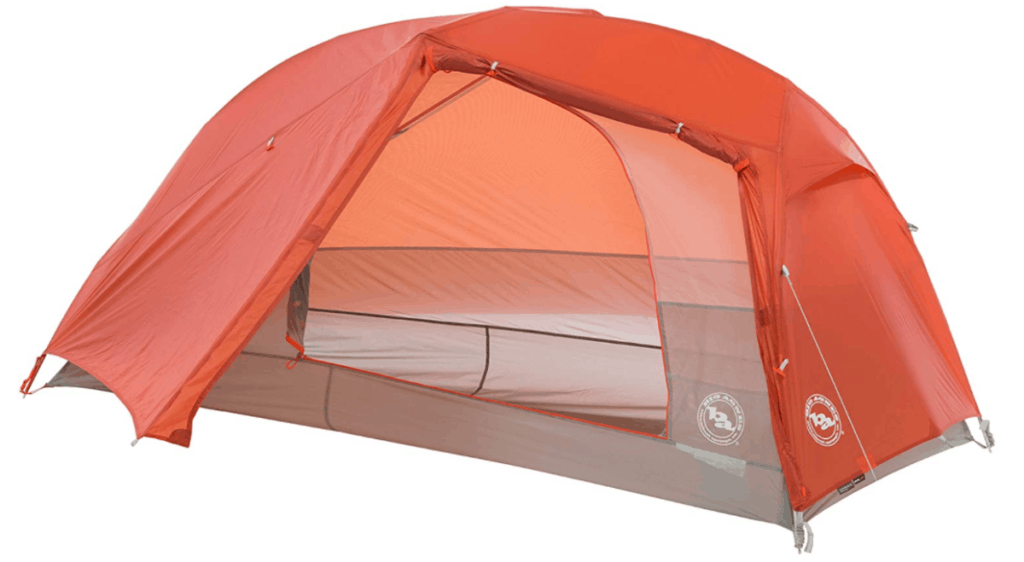 Check to see if the Big Agnes Copper is still available on Amazon here.
While a one-person tent will save you weight, there will not be much room to store your pack inside your tent. If you want more space, interior storage and are willing to sacrifice some weight, choosing a two-person tent will give you the room you need.
If you are traveling with another person, a three-person tent will fit two comfortably with room for gear. You can split the weight up between two people by dividing the tent, rainfly, footprint, and poles.
Peak height and Floor Space
You should also consider the peak height and the floor space of the tent. Peak height is the amount of space (measured in inches) between the floor and the tent's highest point.
This number will help determine if you can crouch, sit, or stand up in your tent. The floor space is measured in square feet and will determine if you can fully stretch out while sleeping in your tent. Floor space in a tent typically runs between 25"x80" but if you are taller, try to aim for two feet of extra space.
Tent Construction
Tent construction refers to the technical features and build of the tent. This includes seasonality, double- or single-wall tents, tent set-up, and pole materials. These features play a role in the weight and livability of a backpacking tent.
Seasonality
The season and location you plan on going backpacking will determine the kind of backpacking tent you will want to purchase. The seasonality of a tent refers to the weather conditions it can be used in. There are two types of backpacking tents: 3-season and 4-season.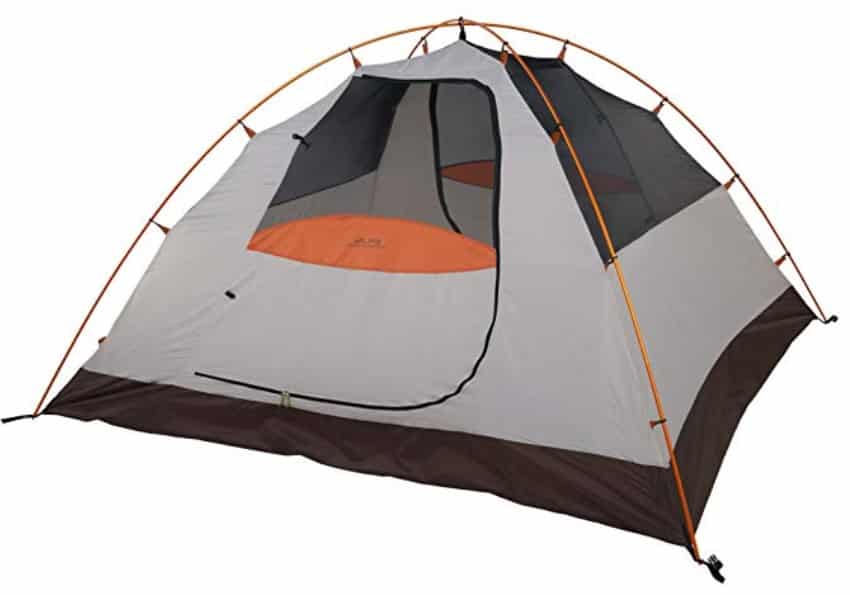 Check to see if the ALPS Mountaineering tent is still available on Amazon here.
3-Season Tent. A 3-season tent refers to a tent used in the spring, summer, and fall. These tents are designed to be durable and lightweight, often with mesh incorporated into the design to allow for airflow. Three-season tents protect from rain and wind.

Most backpackers opt for a 3-season tent because of the lightweight build, and they tend to be more affordable than 4-season tents. Unless you plan on camping in intense weather conditions, you will not need more than a 3-season tent.

4-Season Tent. If hiking mountains and harsh weather conditions are in your backpacking forecast, then a 4-season tent is the way to go. Also referred to as "winter tents," 4-season tents are heavy-duty tents made to withstand harsh weather conditions such as high winds and heavy snow.

The trade-off for choosing a 4-season tent is that it tends to be heavier because of the double-wall style and the larger size to store insulating gear. If you plan on spending a lot of time backpacking at high elevations, then a 4-season tent is a must.
Double Versus Single Walled Tents
Tents also come in two designs: double- or single-wall. Both have their pros and cons in terms of weight, weather resistance, and comfort.
Double-wall tents come with a breathable layer and a waterproof layer–the rainfly. These are the most common types of backpacking tents.

Double-wall tents offer better ventilation because they are usually designed with a mesh wall but don't provide as much insulation from the cold. Some double-wall tents also provide a fast fly option, making setup easier and quicker. The trade-off is these tents typically run heavier than their counterparts.

Single-wall tents come with a single material that is waterproof. These are most often used in winter camping and mountaineering because it provides more warmth retention and less ventilation. These tents are prone to interior condensation because of this. Single-wall tents are lighter weight and more packable than a double-wall tent.
Backpacking Tent Set-Up
The set-up type of your tent will play a role in the weight of the backpacking tent. There are major differences in each type of tent you should consider to determine if a tent is right for you. These features include set up, weather protection, weight, interior space, ventilation, and more.
Freestanding Tents. A freestanding tent receives its support and structure from tent poles rather than stakes making it easy to assemble and move around. Freestanding tents typically have good ventilation and an advantage of more interior space. Additionally, they usually come double-walled.

While easier to set up than a non-freestanding tent, the poles and dual-wall construction can increase a backpacking tent's overall weight.

Non-Freestanding. Most popular for backcountry dwellers due to their ultralight nature, non-freestanding tents require staking for structure, which can take some practice to get the hang of.

While most non-freestanding tents come with poles, they are also designed to be set up with trekking poles, which can decrease the tent's overall weight if you backpack with trekking poles. Non-freestanding tents are single-walled.

This makes them lighter in weight and easier to pack; however, condensation is the enemy. Condensation is much more likely to form on the interior of these kinds of tents.
Other Tent Considerations
While size, seasonality, and set-up type are the primary considerations you should factor into backpacking tent weight, looking at other features can determine the tent's livability on the trail.
Remember, this will be a home away from home. Here are some other things to consider when purchasing your backpacking tent if you are concerned about the weight.
Doors. Having two doors will make a tent heavier than a one door tent. If you share a tent with someone, it might be nice to have two doors, so you don't have to crawl over the other person. If it's just you, consider a one-door tent.

Interior Storage. A place to stow your hat, cellphone, or water bottle is always a nice perk to have in your tent. While it may add extra weight, it is a nice perk to have included in your tent. You can also choose to buy a gear loft separately.

Footprints. Footprints can extend the life of a tent because they offer a waterproof, durable layer between your tent and the ground. Some backpackers choose to leave the footprint at home to save weight, but if you are backpacking in a wet or rocky area, it might be worth the extra ounces.


Backpacking Tent Options to Save Weight
While there are a ton of backpacking tent options available, if you want to save weight, consider some of the options below:
Backpacking Ultralight Tent
If you want to stay light on your feet while bringing comfort to the trail, then consider an ultralight tent. These tents run on the expensive side because of the high-tech materials used to guarantee the "ultralight" in the weight, making them tend to be three-season tents.
Some of these tents can be set up using trekking poles or have the fast fly set-up option.
Bivouac or "Bivy" Shelters
Bivy, short for bivouac sac, is one of the lightest options out there for solo backpackers. A bivy is a waterproof, narrow sack designed to fit just you and your sleeping bag with not much room for anything else, leaving your gear exposed.
Designed for climbers, weight-conscious backpackers, and mountaineers, a bivy is a good option if you are willing to sacrifice comfort for minimalism.
Backpacking Tarp Shelter
A tarp shelter is a single-wall shelter made with a waterproof and/or mesh material so you will stay dry and have ventilation.
You can either purchase a tarp tent, or you can buy a tarp for more customization. Tarp shelters can be set up with trekking poles and are a great ultralight option if you want versatility in your backpacking set up.
Hammock
If your primary backpacking destinations include forest and warmer temperatures, then consider a hammock. Similar to a double-wall tent, these ultralight options are suspended from a tree instead of secured to the ground.
A backpacking hammock typically includes a nylon sling with a bug net and a tarp to hang overhead. While typically a little heavier than the options listed above, hammocks are easy to pack and set up as well a great Leave No Trace option.
Wrapping Up
For me, the Big Agnes Copper Spur HV UL2 has a packed weight of 3lbs 1oz, which means I can leave some things at home to reduce my trail weight. I chose not to sacrifice comfort by opting for a three-season, double-wall, and freestanding tent.
In general, you want to choose a backpacking tent that is no heavier than three pounds to keep your base weight at a minimum, but remember, your choice in a backpacking tent is based on more than just the weight.