The footwear you choose to hike with is an essential piece of gear because you will be hiking miles on your feet. It has been drilled into our minds that you need sturdy hiking boots with good ankle support that are waterproof when you go hiking or backpacking.
Do you really need ankle support for hiking? It's the age-old question of amateur and experienced hikers alike. Overall, we've found there's no difference in ankle support whether you wear a hiking boot or low-cut trail runner.
With that said, with this guide to hiking footwear, you might just find that there are other factors to consider besides ankle support.
What You Should Really Focus on in Hiking Footwear
Hiking footwear comes with a plethora of features, making it hard to pinpoint precisely which features are the most important. Here are the qualities you should focus on when making your selection: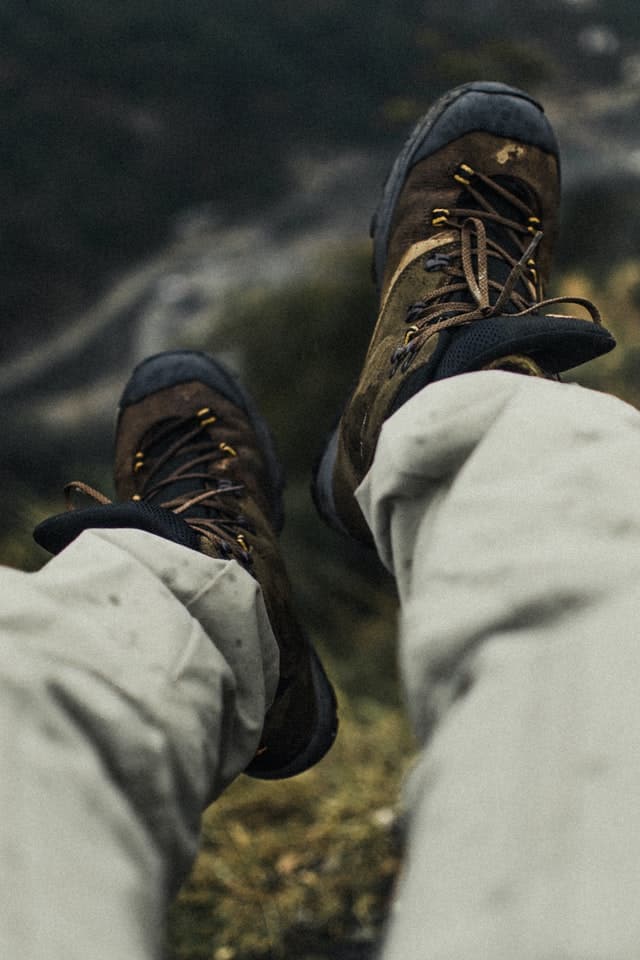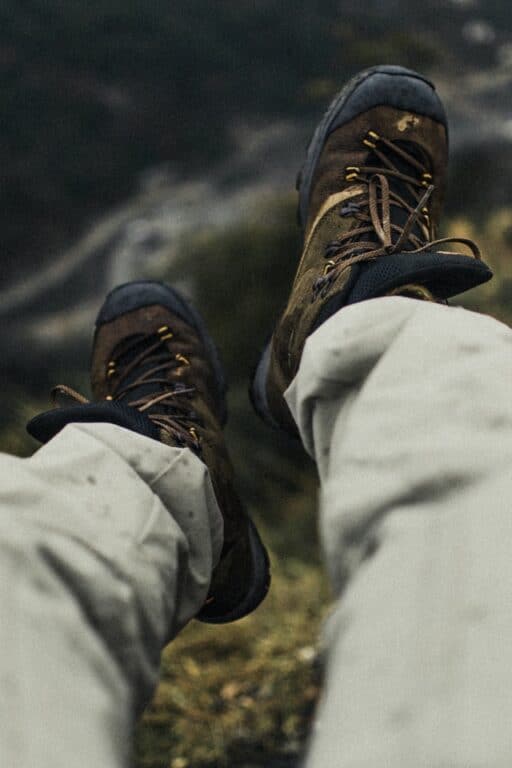 Do They Fit?
The most critical aspect of choosing hiking footwear is fit. You want to make sure that you get shoes that fit correctly. Properly fitted shoes should hug your foot snugly to provide support, especially at the heel.
A wide-toe box is necessary to keep room around your toes. Depending on the shoe brand, you may have to go up in size to get a properly fitted shoe.
If your hiking footwear is causing blisters, even after breaking in, it is time to reevaluate your shoes' fit.
Don't let an uncomfortable hiking shoe or boot ruin your trail experience.
If you're having a problem with blisters on the trail check out our article, Do Hiking Sock Liners Prevent Blisters? What Hikers Really Use.
What is Your Hiking Ability
Your shoe preference may change depending on your hiking experience. If you're new to hiking, your pack's weight might make it hard to stay upright while hiking.
This means you might need something with wide, thick soles, such as a hiking boot, to maintain stability with each step. If you are experienced at hiking, you might have a preference for what you prefer.
What is the Terrain You Will Be Hiking On
The terrain you are hiking on plays a significant factor in the hiking footwear you should choose. Sketchy talus or scree (a pile of loose rocks) filled trails will require a bulkier shoe with extra support and durability to handle wear and tear.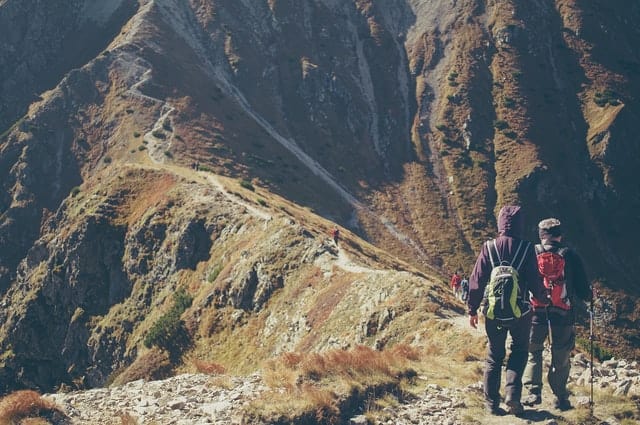 A gentle hike through a forest might only require a lightweight pair of hiking shoes or trail runners. If you are hiking in cold, snowy terrain, a waterproof boot or shoe might be preferred to keep those feet dry.
What Activity Are You Participating in
Trail running, day hiking, and backpacking all require different physical demands, which may affect your footwear choice. If you are trail running, then you will want to opt for a trail runner.
According to How Stuff Works,
You expend 4.7 to 6.4 times more energy carrying weight on your feet than carrying that same weight on your back.
Trail runners focus on speed, so a lightweight shoe option is essential in saving energy. 
Backpacking and day hiking requires a heavier load on your back, which may mean you want more support in the form of a hiking boot. Alternatively, you may want to save energy by choosing a lightweight shoe option such as hiking shoes or trail runners because you will be putting a lot of miles on your feet.
In fact, in a 2019 study from thetrek, found that over three-quarters of Appalachian Trail long-distance hikers ended up wearing trail runners over hiking shoes (11%) or hiking boots (about 10%).
Choosing the right shoe for your activity of choice might not make or break your experience, but it sure can make it more enjoyable.
How Much Are You Willing to Pay for Footwear
How much you are willing to pay can be a significant factor in your decision to purchase hiking footwear. Heavy hiking boots come with many features that protect your feet, including waterproofing, extra grip on the soles, and ankle support that not only prevent your ankle from twisting but keeps twigs from slipping their way into your shoe.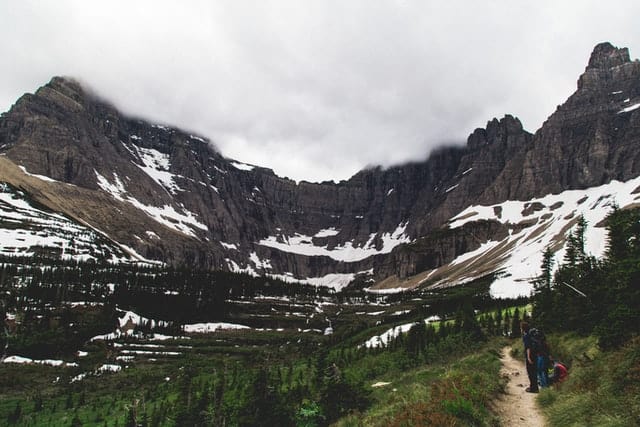 This additional protection comes with a hefty price tag, especially boots made of leather. Hiking shoes and trail runners are typically easier on the wallet because they do not have the heavy-duty features that a heavy duty hiking boot does.
This does not mean that they are less effective, but the price you're willing to pay will be a determining factor in your choice of hiking footwear.
The Myth About Waterproof Shoes
You might be thinking, what about waterproof shoes? Waterproof shoes don't work as well as you think. They don't allow for breathability and have a prolonged drying time, increasing the chances of developing blisters on a hike.
A breathable shoe allows for a quicker drying time.
Consider saving those waterproof shoes for winter hiking and opt for a breathable, quick-drying shoe for the other three seasons.
Footwear Choices
Before deciding if you need ankle support for hiking, understanding the differences between the different options can help better inform your decision when choosing hiking footwear.
Hiking Sandals
No longer just reserved for the beach or summer days, sandals have been gracing the trails thanks to thicker soles, secure webbing and straps, and better arch support.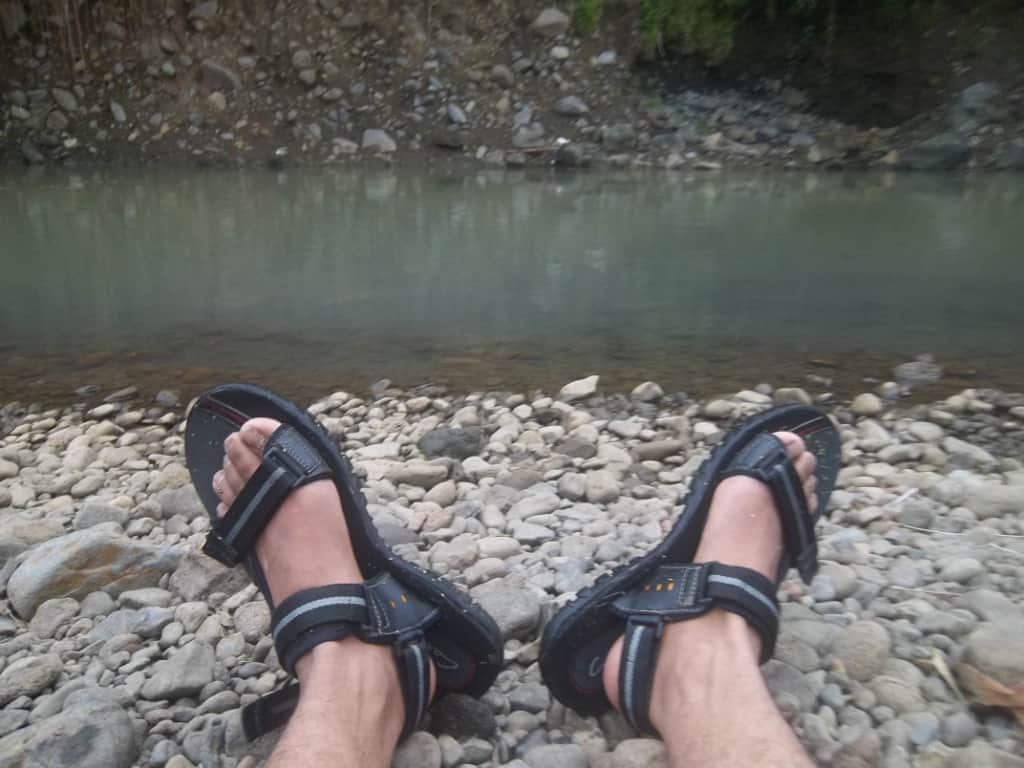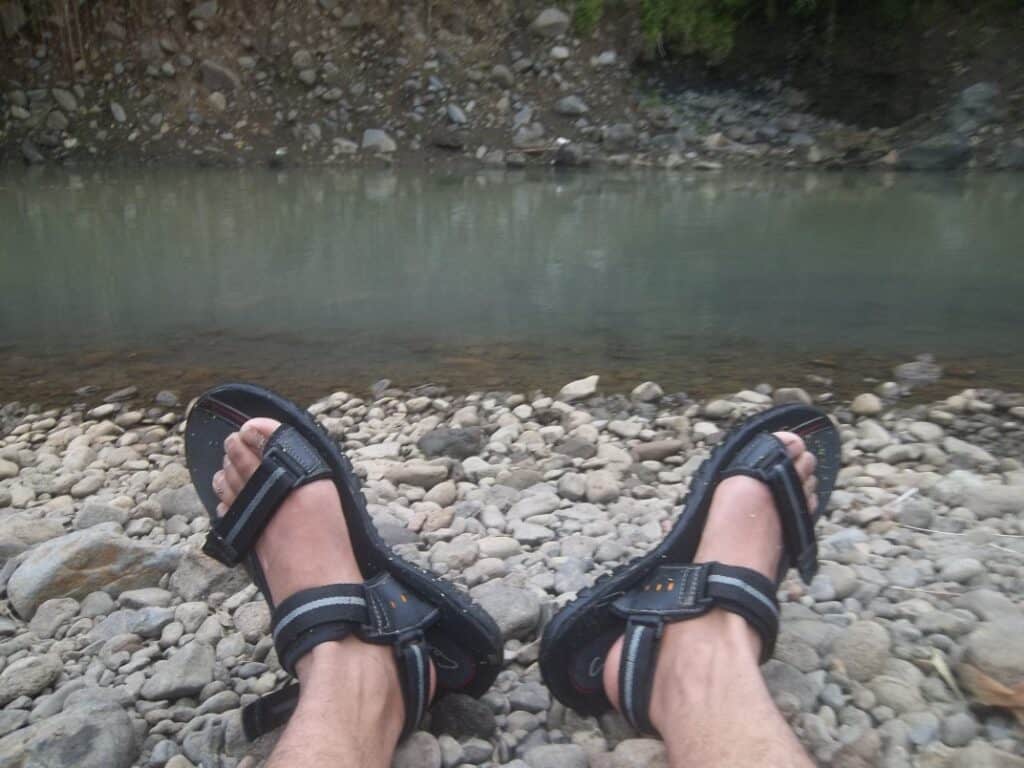 They have been increasing in popularity among thru-hikers; these three-season hikers are best used on trails with water crossings and in hot climates where wool socks and boots can be too hot. 
Pros of Hiking in Sandals
Goodbye blisters! 

Wet feet plus abrasion from hiking shoes are a recipe for blisters. Hiking sandals give your feet some fresh air. Keep in mind that the straps on your sandals can cause hotspots, but those are much easier to care for in sandals.

Lightweight

. As we mentioned before, the more weight you are carrying, the more energy you use. Sandals tend to be lighter than hiking shoes and boots. Opting for a one-pound pair of sandals is equivalent to removing four to seven pounds off of your back.

Water crossings

. The beauty of sandals comes in when you encounter water crossings on your hike, so your feet will dry quickly, leaving you more comfortable on your hike. 
Cons of Hiking in Sandals
Abrasion

. Sandal straps can rub your feet raw when they get wet. Dry off your feet or bring some athletic tape to bandage your feet after water crossings.

Lack of protection

. There is no barrier that protects your feet from the environment when hiking in sandals. This leaves your feet vulnerable to loose rocks, sun, cold, and even animal bites.


In a snap because of a broken strap

. Unlike hiking shoes, where you can keep hiking despite a hole or broken shoelace, you need all of the straps intact for a hiking sandal to be useful. Consider bringing duct tape with you if you choose to hike in sandals.
Trail Runners
Trail runners are just your typical running shoes on steroids. They are designed to provide a good grip on dirt and rocky surfaces. They also offer more support than your standard running shoe.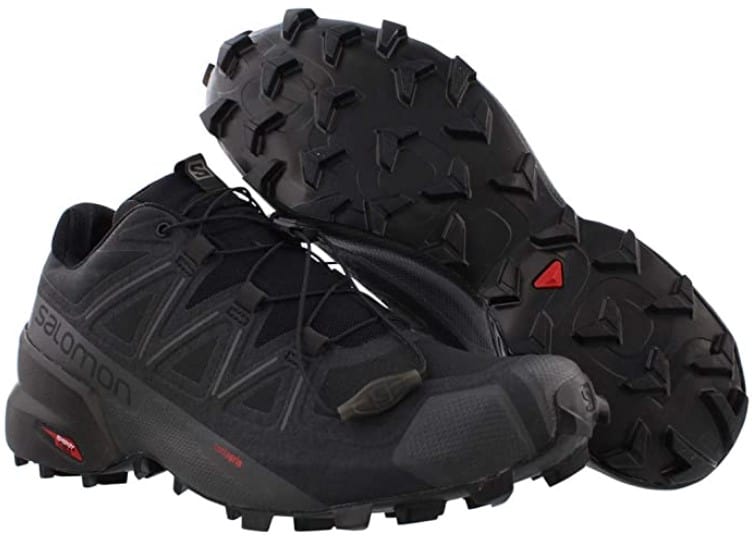 While trail runners are designed to be more durable than regular running shoes, they are not as durable as a hiking boot. Here are the pros and cons of trail runners:
Pros of Trail Runners
Lightweight

. If you plan on hiking at a brisk pace or want to save energy, trail runners are the better choice.

Ready out of the box.

 Trail runners don't require much break-in time. If you want to start your hiking adventures as soon as your shoes arrive, trail runners are usually comfortable right out of the box.

Cost

. If money is tight, trail runners tend to run on the cheaper side than hiking boots. A decent pair of trail runners costs between $80 and $150.
Cons of Trail Runners
Durability

. Trail runners typically last 400 to 500 miles; whereas, a quality pair of hiking boots can last upwards of 1000 miles. If used for thru-hiking, backpackers can go through six pairs of trail runners.

Less stability

. Soles of trail runners are less stiff than hiking boots, which can cause your foot to twist side to side.

Less protection

. If you have ever hiked in trail runners and hit a rock or tree limb with your foot, you know it hurts. Additionally, because trail runners are low cut at the ankle, they do not protect debris from entering your shoes.
Hiking Shoes
Hiking shoes are hiking boots, except they are cut at the ankle. They offer the same support and protection as a hiking boot without the bulky, heavy feel of hiking boots. 
Pros of Hiking Shoes
Comfortable right out of the box

. Like trail runners, hiking shoes don't require much of a break-in time, if any at all. If you're in a hurry to hit the trails, hiking shoes might be for you.

Versatile

. Hiking shoes are an excellent middle ground between trail runners and hiking boots. They are lighter and more comfortable than hiking boots, yet sturdier than trail runners.
Cons of Hiking Shoes
Protection.

 Just like trail runners, hiking shoes are low-cut, which means that your ankles are exposed to abrasion from the environment and as well as that pesky debris that can find its way into your shoe.

Durability

. Hiking shoes typically use a combination of a soft fabric and leather, which means they will probably last a few hundred more miles than trail runners but a few hundred miles less than a hiking boot.
Hiking Boots
If you plan on hiking off-trail or want more support with each step, you might want to consider hiking boots. When it comes to hiking boots, there will be two main options: midweight and heavy duty.
A midweight boot is probably what you think of when you imagine a hiking boot. A heavy duty boot is typically the choice of mountaineers who plan on bushwacking or hiking on particularly hard terrain. Here are the pros and con of hiking boots include:
Pros of Hiking Boots
Better stability

. Hiking boots are equipped with wide, rigid soles that will provide stability with each step on rocky terrain and wet surfaces.

Durability

. Weight is sacrificed for thicker, more durable materials. They will have thick soles and a leather upper that will help the boot last longer. A good quality hiking boot can be expected to upwards of 1000 miles.

Protection.

 Thicker materials not only mean better durability. They also mean better protection for your toes. When you hit a rock or log with your toe, you are less likely to feel it.
Cons of Hiking Boots
Cost

. For a pair of quality hiking boots, plan to spend between $150 and $300.

Longer break-in period

. Due to the thicker materials, don't expect your boots to be comfortable straight out of the box. Ideally, you will want to wear them around casually or on shorter hikes before embarking on a longer adventure.

Weight

. Opting for a pair of hiking boots means sacrificing on weight. Midweight hiking boots typically run between two to two and a half pounds, while heavy duty hiking boots weigh between two and a half and three pounds.
So, Do You Really Need Ankle Support
This brings us to our original question: do you really need ankle support. According to a 2014 study of the effect of high-top and low-top shoes on ankle inversion, there is no difference in ankle support whether you wear a hiking boot or low-cut trail runner.
So, what should you focus on instead? In the end, your personal preference and the kind of hiking you will primarily participate in should be your deciding factor.