My favorite thing to do after a long day of hiking is laying down in my sleeping bag. With so many options and different kinds, how do you choose the right one? Your choice is going to come down to the weight, warmth, and cost of your sleeping bag.
You can get the warmest, comfiest sleeping bag at the expense of weight, but we all know every ounce counts when hiking. We can also get a thin and very lightweight sleeping bag, but comfort at the end of the day is important too.
How Much Should You Spend on a Sleeping Bag
There's a high end and low end when it comes to camping gear (just like most things in life). Sleeping bags range from under $50 to well over $1000. A brand I recommend that has outstanding value is Outdoor Vitals. They specialize in high-value quality sleeping bags at reasonable prices. 
The Outdoor Vitals Summit sleeping bags is the highest quality bag you can get for your money. I'd put this sleeping bag up against bags selling hundred of dollars more. Check out the current price of the Outdoor Vitals Summit sleeping bag on Amazon here.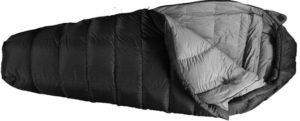 What Are the Different Types of Sleeping Bags
You'll have a ton of options if you're car camping or you're not going to be carrying your bag too far. A large synthetic sleeping bag with a nice Poly-Flannel liner like the Teton Sports Celsius XXL sleeping bag is rated one of the most comfortable bags. You're paying for this by toting around 7 pounds, though. It's a massive bag, so it better be comfortable.
On the other hand, we have the goose-down fill F30F Solo Quilt from Zpacks coming in at under a pound. Two different sleeping bags for two different types of camping. There are sleeping bags that try and hit and all-around best instead of extremes, so let's look at down vs synthetic insulation next.
Down vs Synthetic Insulation Sleeping Bags
With all things being equal down has a higher warmth to weight ratio than synthetic insulation. If the sleeping bags weigh the same down is just going to keep you warmer. Another plus for down is it's more compressible than synthetic insulation. When compressed in a compression sack, a down bag is going to take up less space.
Every time we compress our sleeping bags, it's slowly breaking down the material, the individual fibers, down is going to last longer than a synthetic insulation sleeping bag. With that being said, not all synthetic insulation will break down the same, and some are more durable than others.
The Disadvantages of a Down Sleeping Bag
One of the most significant disadvantages of down is moister, what happens when your down sleeping bag gets wet? I have an old down sleeping bag, and if it gets wet, it's useless. There are now hydrophobic down sleeping bags that, when wet, will still maintain their loft, keeping you warm.
With this treatment, it's many times better than standard down for a moist or damp environment. I haven't found the need to upgrade to one of these treated hydrophobic down sleeping bags because I'm in a dryer area.
Some pros of synthetic sleeping bags are, they retain warmth when wet, generally cheaper than down, and are easier to care for. Synthetic is going to be hypoallergenic.
If you want to dive deeper into sleeping bag fills, I wrote a detailed article about choosing the best fill for a sleeping bag here.
I'd recommend down if you are weight and space-conscious, as well as meticulous about keeping your bag dry.
You'll want to choose a synthetic insulated sleeping bag if you're going hiking in wet, snowy, or soggy environments a lot and not too concerned about space and weight.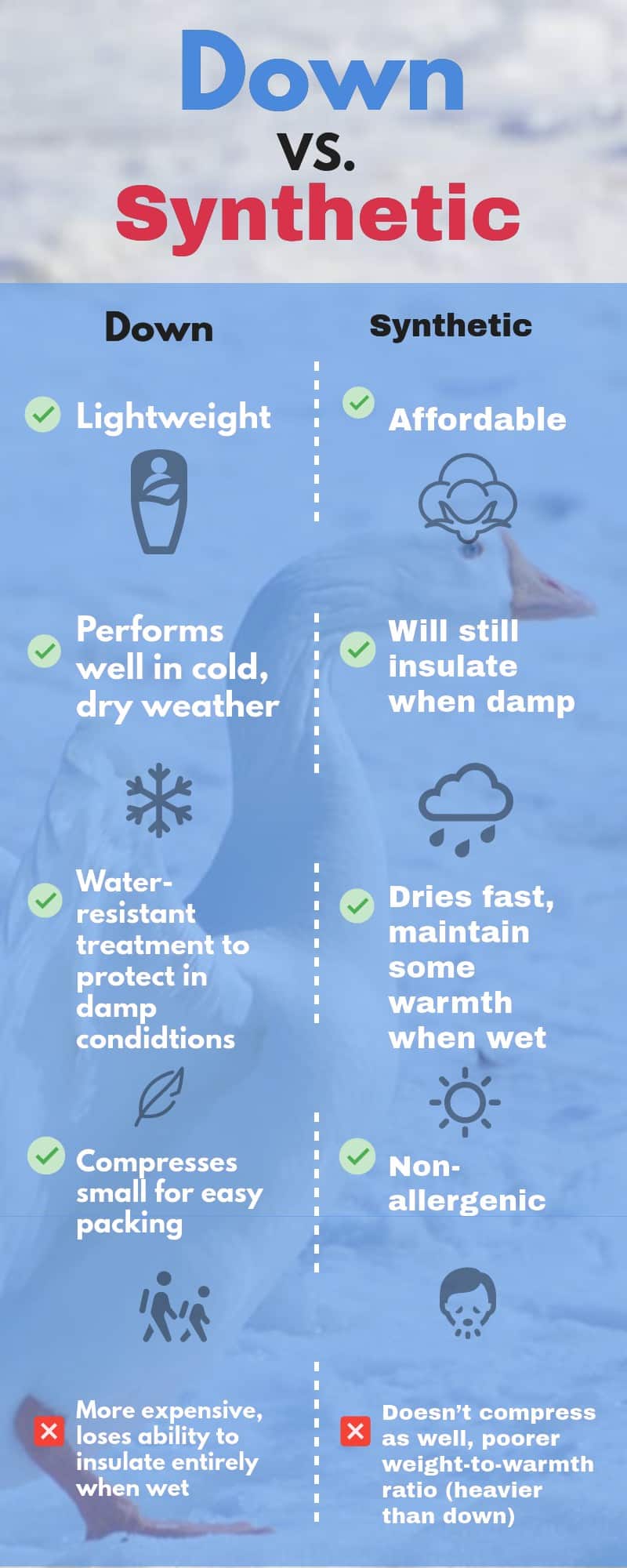 Sleeping Bag Temperature ratings
When looking at a sleeping bag, check the ISO rating for the temperature rating on the bag. This rating represents lap-tested temperature results for all brands. Do note that these ratings are for adults only, and there's no rating and testing for children and babies.
We're going to be looking at these few ratings:
Comfort Rating
This indicates the lower limit of the comfort range, down to which a sleeping bag user with a relaxed posture, such as lying on their back, is globally in thermal equilibrium and just not feeling cold.
Limit Temperature
 Lower limit at which a sleeping bag user with a curled up body posture is globally in thermal equilibrium and just not feeling cold.
Extreme Temperature
The very low temperature where the risk of health damage by hypothermia is possible.
| Bag Type | Temperature Rating (°F) |
| --- | --- |
| Summer Bags | +35° and higher |
| 3-Season Bags | +15° to +30° |
| Winter Bags | +15° and lower |
There are different ratings for men and women, but most of us know if we are hot or cold sleepers. Manufacturers do make women-specific sleeping pads, and a good sleeping pad is necessary for comfort and warmth. I'm typically a hot sleeper, so most of these ratings are going to be spot on for me. I even keep the bottom zipper open for my feet, even on freezing nights.

What's the Best Shape for a Sleeping Bag
The shape of the sleeping bag comes down to comfort and need. While I prefer an envelope or rectangular style of bags if I was ever to go ultralight, I'd be sleeping in a mummy bag.
Mummy Sleeping Bag
Mummy sleeping bags are narrow at the feet, and they have less heat loss down there. Most don't have feet zippers, so if your feet get hot at night, I'll just roast. In this shape bag, you'll be sleeping snugly without much movement. They are lighter than envelope bags, making them ideal for ultralight hikers.
Rectangular Sleeping Bag
This is also known as an Envelope bag, is going to give more room than a mummy sleeping bag. Due to their larger size, they are perfect for people with large frames. One of my favorite features is the two zippers, one at your feet to cool off at night. Although, envelope bags are bulkier and heavier than mummy bags.
Semi-rectangular sleeping bags
These are a mix of the two. They are great for camping and hiking and still roomy enough for comfortable sleep.
Large double-wide sleeping bags
These large sleeping bags can fit two people. These are definitely for car camping as some of them come in over 15 pounds.
Women's sleeping bags
Slightly narrower at the shoulders and wider in the hips. Since women tend to sleep colder than men, you might want to look for a colder rating. But like I mentioned above if you're a cold or warm sleeper be sure to keep this in mind when looking at temperature rating.
Sleeping Bag Features
Now let's look at some features to consider when purchasing a sleeping bag. Keep in mind that every feature adds weight, so only add features that you find valuable. Not all these are necessary, but adding a few creature comforts to your bag can add to your enjoyment when camping.
Outer Shell Most outer shells are going to be made out of polyester and nylon. These are made to be comfortable, durable, and breathable. Most manufacturers are going to apply a water repellent to help resist water. Rip-stop shells are made from nylon or polyester but are more substantial to make it stronger so it won't tear.
This is an excellent material for dry climates and can stand up to rough terrain. Gore-Tex and Dry-loft shells are going to the most expensive material in sleeping bags. It's water-resistant but still comfortable and breathable.
Wool and cotton were used on many old sleeping bags, and while wool is effective in repelling water, it's heavy. I'd only recommend wool and cotton for indoors camping, where you'll never encounter rain or moisture.
Inside Liner Material The liner inside your sleeping bag needs to be comfortable and still breathable. Nylon and polyester are smooth and won't feel scratchy or rough on your body. This material is breathable and won't get as hot throughout the night as fleece will.
Fleece is known for its warmth and great for winter and freezing nights. It's going to trap your body heat in so well you might wake up hot. I'd recommend an envelope-style sleeping bag with this material so you can unzip the feet while sleeping to let the heat out if necessary.
Silk sleeping bag liners are less common on the trail. While they are soft and smooth, they are not as durable as nylon and polyester. Silk bags are also expensive, so be careful not to tear them. If you enjoy the feel of silk, try a sleeping bag liner.
Cotton and flannel are durable and breathable. They're easy to slip in and out of without worrying about tearing them. Another plus is they're easy to clean, and if they do get damaged, they can easily be repaired easily.
Other Features of Sleeping Bags
Hood, This is going to keep your head nice and toasty. I have found it unconformable at times, but I love it when the temperature drops below more than expected. Some have a pull cord to adjust the hood to make it tighter around your face on those freezing nights.
The draft collar adds insulation around the neck and shoulders to keep the heat inside.
A two-way zipper is just like it sounds. This will allow you to unzip for ventilation on your feet. For me, this is a must, one of the reasons I like envelope sleeping bags.
Zipper baffle or draft tube is insulation behind the zipper. This helps keep the heat from escaping out the zipper.
Pillow pocket can improve your comfort while you sleep. You can put a pillow, clothes, or a dry bag in there to prop your head up. Many sleeping pads have a cushion built-in, but those are not the most comfortable.
Zipper shield is an anti-snag feature. It's annoying when closing and opening, and your zipper gets consistently snagged. This will shield the zipper with a guard.
Stash pocket will be near the top of your head or a little further down. It's a small pocket for lip balm or a little flashlight.
Sleeping pad holders keep the sleeping bag tight on your bag while you sleep. Some sleeping bags have these loops built-in. If you slip around on your sleeping pad a lot, consider getting a sleeping bag with loops built-in.
Sleeping Bag Accessories
Compression Sack
Many sleeping bags are going to come with a stuff sack. This bag compresses your sleeping bag down so it won't take that much room in your hiking backpack. For down sleeping bags, it's not recommended to store them in these compression sacks. They will need to be stored in a large laundry bag to keep the feathers lofty.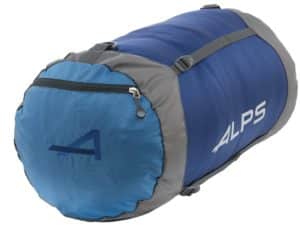 If you damage your stuff sack like I did try to use it as a food bear bag, there a wide selection of spare bags to look at. I have an ALPS Mountaineering compression stuff sack, but I've read good things about Sea to Summit Event Compression Dry Sack as well.
Sleeping Bag Liners
Liners are a bit of a "must-have". The bag liner will keep your sleeping bag clean and reduce wear and tear. These don't usually come with sleeping bags, so you can choose what material best fits you.
Large Storage Bag
for storing your sleeping bag uncompressed. Leaving your down sleeping bag in a compression sack for long periods can impair its ability to loft fully, rendering it ineffective.

Sleeping Pad
This is a subject all on its own, but I included it here because the sleeping bag and sleeping pad work together. The pad is a crucial part of the pair because a sleeping bag alone won't provide enough insulation. There are a few different types of sleeping pads, and just like bags, you'll choose from a balance of comfort, weight, and insulation.
Manufactures use R-Value to measure the pad's ability to insulate you from the cold ground. It's the measure of thermal resistance the pad has. The higher the R-Value, the more effective the sleeping pad is.
Types of Sleeping Pads
Air pads

You blow air into them or use a small air pump. These are comfortable, lightweight, and roll up to a small size. They come in a wide range of insulation for winter or summer camping. The higher R-Value pads have extra layers in them. One big downside is air sleeping pads can be punctured easily, so you'll have to watch out for sticks and sharp rocks.

They should all come with a small repair kit you can keep in your hiking backpack for a quick fix.

As a side sleeper, I find air pads uncomfortable, my hips tend to hit the ground, and the ones I've tried have been noisy and crinkly; waking me up as I move.
Self-inflating Pads

also called open-cell foam pads. They use open-cell foam that has an open-core construction. This allows the air to sit inside. As the pad unrolls, it "self inflates," although you'll still need to blow some air in it to top it off.  Just like the air sleeping pads, they can be punctured, so keep your repair kit handy.

The self-inflating pad is the one I use when I'm camping. Costs are reasonable; they're comfortable and provide a lot of insulation.
Foam Sleeping Pads These are the large foam pads you see strapped to the exterior of hikers backpacks. They are rolled or folded and don't need to be inflated so that they won't get punctured.
These pads can take a beating and are great for the person that doesn't want to worry about their sleeping pads popping. Another great thing about them is that they are always ready for a quick break. With no setup and their durable nature, you can lay or sit down anywhere.
One of the best sleeping pads I've found is the Wellax self-inflating sleeping pad. Check out the current price on Amazon here.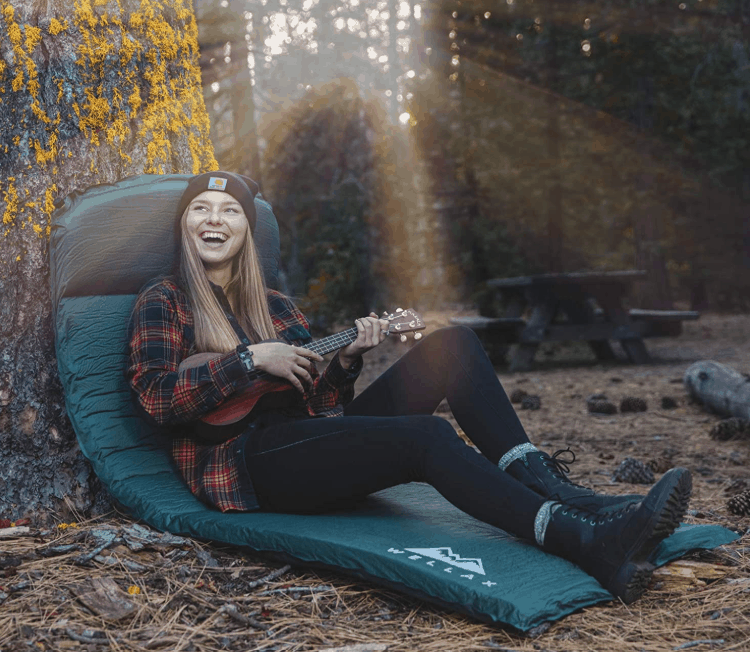 The best way of telling what sleeping bag is going to be right for you is trying a few out, but I hope this guide helps narrow it down.
If you want to read more about Down vs Synthetic, I go into more detail in this article.