Look, not everyone loves camping. I wasn't always an avid camper. Once I had moved on from summer camps, I craved the taste of expensive hotels. Thankfully, I rediscovered camping.
Not only is it incredibly fun, but camping is a pleasurable way to enjoy many of the best destinations across the country. Luckily, it's also easy to make camping both bearable and, dare I say, enjoyable.
Enter glamping!
Glamping is the melding of glamorous with camping—the addition of desirable amenities to your outdoor sleeping experience.
Usually, glamping involves a fortified structure equipped with luxuries like water, electricity, appliances, and some kind of restroom.
You can usually find "glampgrounds" or glamping structures in popular areas where the amenities have already been set up for you. Think of popular state and national parks in places like the mountains, the beach, and the lake. 
Get Started Glamping
Booking glamping is pretty similar to booking vacation rentals. However, you can do your own version of glamping even when heading out to a more remote spot. What you need to do is glamp your tent, check for amenities, and bring your favorite comforts.
For a list of locations that have everything ready for you, I found Glamping Hub to be a great resource.
There are plenty of ways to glamp-up your camping experience. Here are just a few to get you started.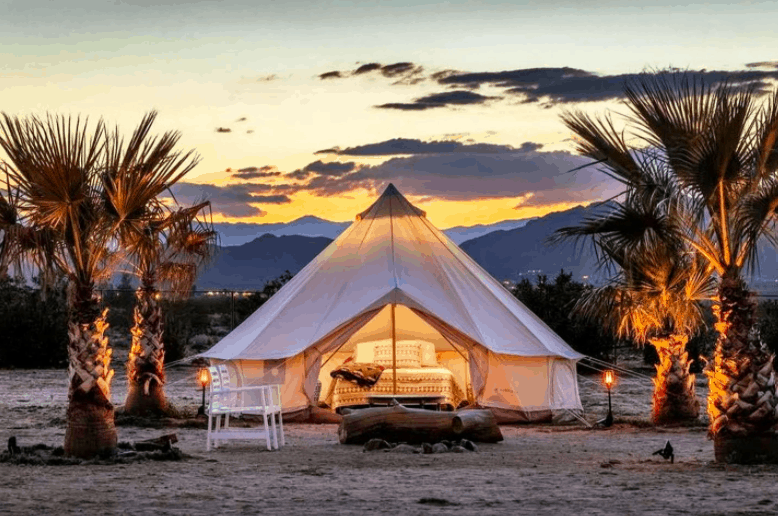 Tips For Making Your Camping Trip Bearable
Comfort is key here. When you camp or glamp, the more comfortable you are, the more enjoyable the experience. As you know there are a ton of benefits to camping and getting outside. You can check out a great list of 35 Amazing Benefits of Camping if you're looking for more reasons to set up camp.
The good news is, there're lots of gear and bonus accessories available to help boost your comfort when sitting, eating, and sleeping while camping. 
Consider Renting or Buying a Glamping Tent
For those who dislike camping, the list of grievances usually starts with the tent—think canvas structures that provide little support or respite from the weather.
We wrote a great article where we called the top 7 outdoor rental companies in the US. We received quotes from all of them for common camping gear and received insight into their customer service. All of them ship nationwide.
Glamping tents are heavier, sturdier structures.
If looking to get your own, you can buy or rent. Make sure to pay attention to the size and weight of the tent since you'll be transporting it in your vehicle. Also, make sure to read the comments about how easy (or hard) it is to set up.
Here's a list of glamping tents so you can get an idea of what's out there. Invest in a quality sleeping bag: Sleeping bags have come a long way. Many offer wind protection and intense insulation.
Teton and Coleman are both quality and cost-effective brands. Still, many are available, look for the temperature rating (how cold it can sleep), and it's overall weight (you will be transporting it, after all).
Get an Inflatable Air Mattress
You will thank me. Inflatable air mattresses are portable, and many come with air pumps. You'll get a night of much better sleep from a cushion of air than a hard, cold, lumpy ground.
It's the next best thing to a real bed. You can find various airbed sizes on Amazon, but I particularly like this Coleman Air Mattress.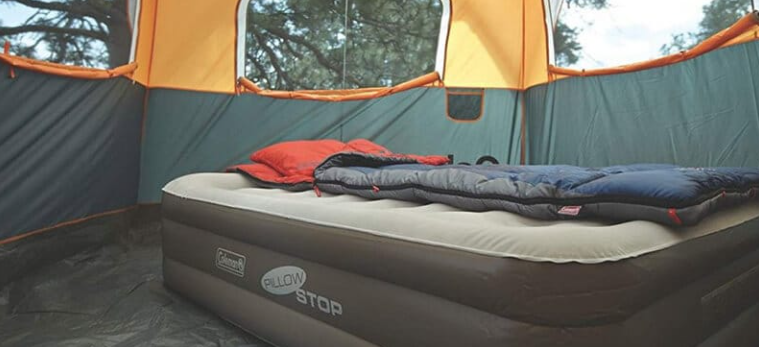 Invest in a Great Camping Cooler
Many brands have a high capacity, air-tight coolers that will keep ice for days. Even though they're on the larger size, many come with durable wheels that make portability easy. It's an investment well made. Yeti and RTIC are good brands.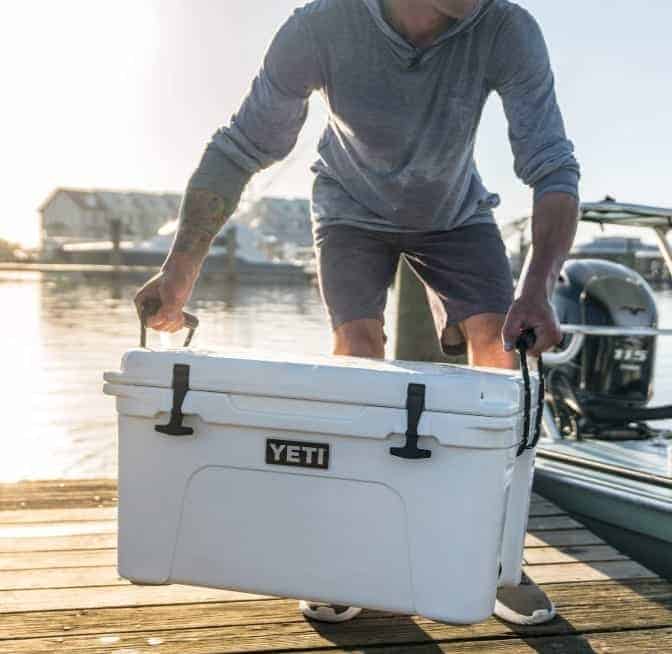 I like this YETI cooler because it's also bear-resistant. Since these coolers have to go through rigorous testing, you know they're tough. Check availability of the YETI Tundra 45 Cooler on Amazon here.
Bring Scented Candles
Yes, you read that correctly. Scented candles can double as insect repellants when you get ones with citronella oil. Coleman has one that lasts 70 hours and comes with a reusable cap, available on Amazon.
Don't Forget the Chairs
Even if your campground offers picnic tables, they might be dirty and uncomfortable. Bring chairs. Ones that fold or ones that are inflatable (a surprisingly comfortable option). Don't forget cushions, and it's a bonus if you can use them inside your tent as well as outside.
Extreme Comforts makes the best-padded cushion for chairs, transport. You can check if they are still available on Amazon here.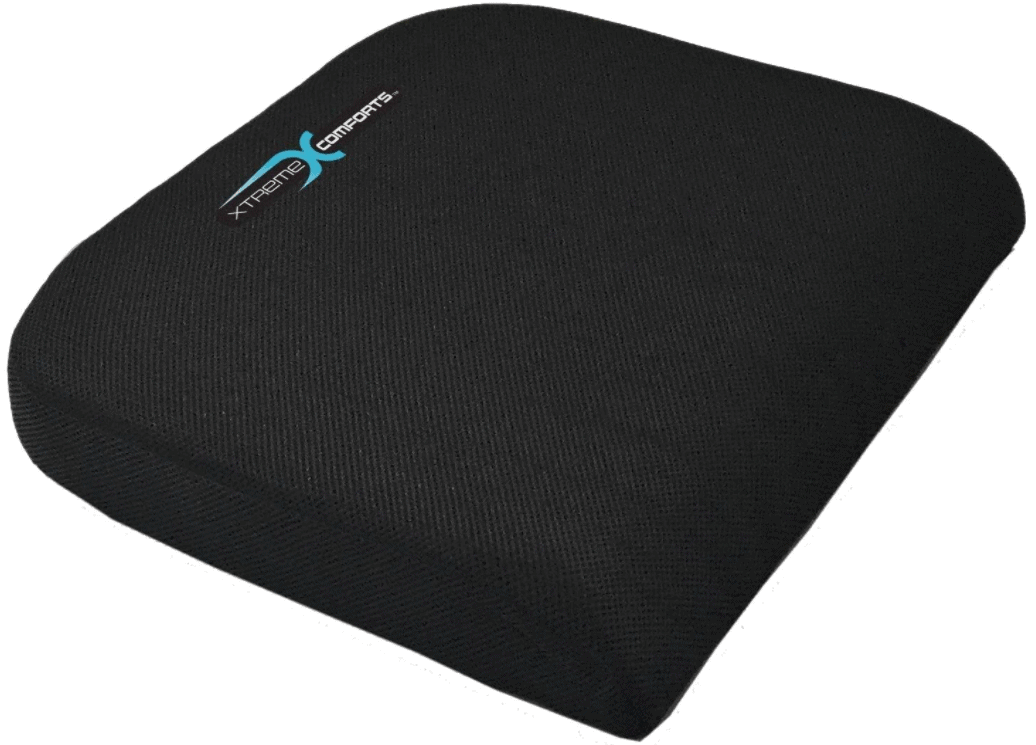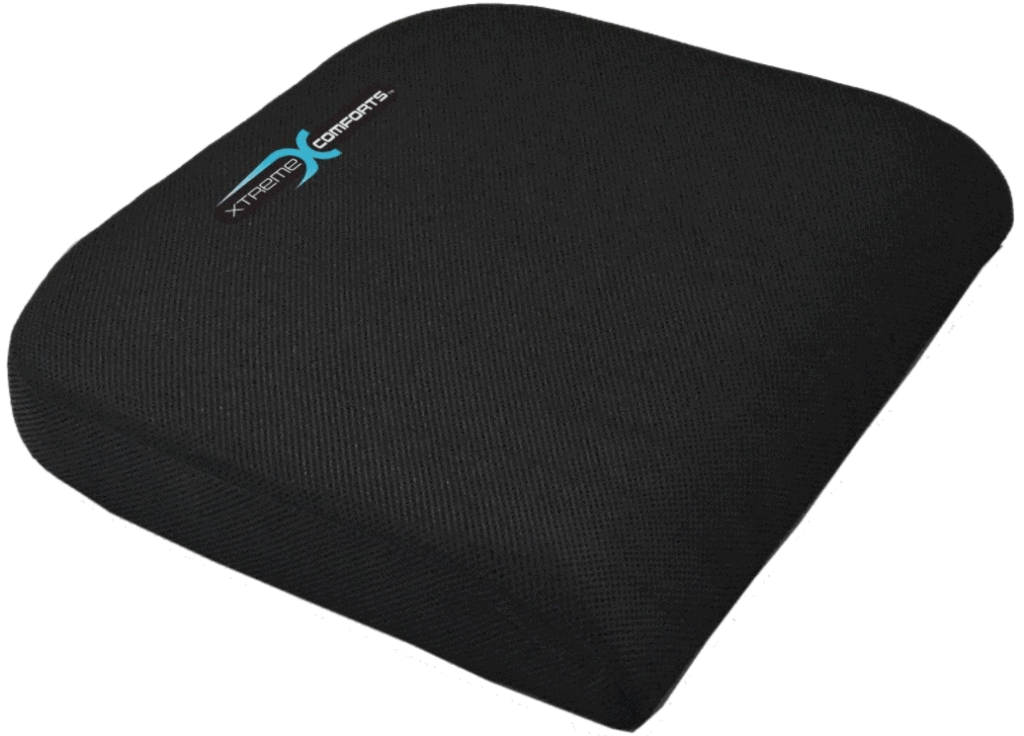 Consider a Folding Table or Two
You'll want to place your food, drinks, and other valuable items off the ground. Don't assume your campground has usable tabletops. Bring some folding side tables to hold your valuables.
For the fully glamped experience, look to getting a folding picnic table with chairs. There are plenty of folding tables available on Amazon or Costco if you have one nearby.
Outdoor Rugs Work Wonders
Yes, outdoor rugs. I'd even bring one for outside and one for the tent floor. Rugs roll up for easy transport and offer you someplace comfortable to relax versus sitting on the ground.
Plus, you can wash them when you get home, so they're ready for your next trip. Just make sure your rug is water-resistant, as the ground can be damp. You can find some incredible outdoor rugs on Amazon here.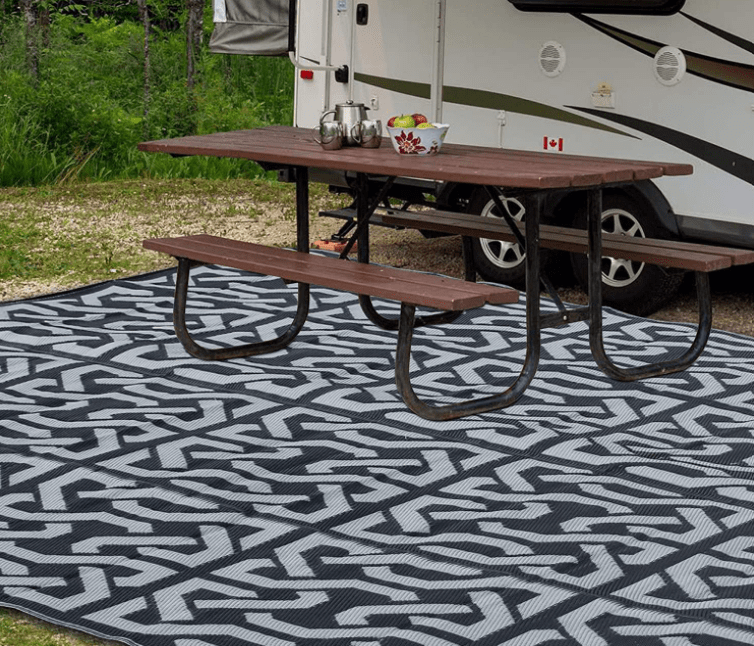 Research the Campsite for Amenities (or Lack Thereof)
Don't wait until you roll up to a campsite to find out there's no bathroom. Do your research. Amenities vary depending on the campground. Know what is available and what isn't and choose accordingly.
If you're camping with a pet, be sure to find out if they need to be lashed or not. Generally, "pets allowed" really just means "dogs only." If you'd like to bring another pet, it's best to call ahead.
Recreate Your Home
For most of us, the most uncomfortable part of camping is sleeping on the ground in a tent. But that's not all camping is. In fact, nowadays, there are many comforts that can make your sleeping arrangements similar to what you have at home.
Look around your room. What can you bring with you? Sheets, a comforter, and extra pillows? Check. The more comfortable textures in your tent, the warmer you'll be. But what about the ambiance?
Bring along a solar-powered portable speaker so you can enjoy music. Just don't disturb others nearby. And lastly, consider bringing an eye mask. Your tent probably can't block out the sun when it first rises, but your mask can keep you snoozing in the dark. 
I use this waterproof, solar-charged speaker. You can see if it's still available on Amazon here.
What About the Bathrooms?
You can't have glamping without access to a real bathroom. Not everyone wants to spend days outdoors without a shower. To be able to enjoy camping, you need access to facilities.
Thankfully many state and national parks have bathrooms and shower houses. Some even have access to electricity. Verify before you travel. You can also find plenty of private campgrounds, like KOA, that have amenities.
How Do I Cook Food
Don't think of camping food as just hot dots and potato chips. You can eat a variety of meals while camping; it's all in how you prep. Make as much as you can ahead of time—think fruits and fresh salads, sandwiches, and wraps.
If you have items that need a hot flame, like meat kabobs and even eggs, then you can either cook over a fire (if your campground has a fire pit or BBQ), or you can bring a portable cooking stove. 
Now a word on camping stoves: there are plenty of types available, just be sure to read the fine print about usage and never use an open flame inside your tent.
You need to thoroughly research how to use a camping stove before you do so and please make sure you are fully aware of the safety guidelines. You can check out our post on what you can put your camping stove on.
Also, don't forget the little things. Make sure to pack some standard kitchen utensils, including plates, silverware, and plenty of paper towels.
Is There Wi-Fi
Having a reliable and fast internet connection is difficult in the wilderness; let's be real. But that doesn't mean it's impossible.
If you want to get away without getting FULLY away, you can look for campgrounds that offer Wi-Fi. There won't be many, and even those that do might not have strong service. 
You do have options. You might be able to tether your access to your mobile device or use a hotspot. You can also look into a portable mobile Wi-Fi device.
Check with your cell carrier about their available mobile hotspot devices. If you are someplace that has electricity hookups, that's great; if not, you can bring your own with either a wind-up cell phone charger or solar-powered battery pack. 
Book A Glamping Trip
If you're not a do-it-yourselfer ready for the above tips, then you can easily book your glamping experience. Just choose your destination, see which campgrounds offer glamping structures for rent—your results will usually give a price per night.
Glamping structures range from sturdy cabins to yurts, teepees, trailers and RVs, treehouses, and even certain types of tents. Amenities differ between types and locations, so be sure to see what all is offered in the rental. 
To discover glamping options, look for available camping rentals in your preferred destinations. Many travel sites now promote their rentals as "glamping" accommodations, so you should find plenty of options.
Before you book, here are some questions you'll want to be answered:
Are there bathrooms? Are they inside or outside? Are they shared or private?

Is there electricity? How many electricity outlets?

Are linens provided, or must you bring your own?

Is it pet-friendly?
Wrapping Up
Hopefully, there's enough here to get you excited about trying camping, whether you're entirely new to the experience or have sworn it off.
What can't be captured are the natural wonders you will encounter when you venture out into nature. Leaving our hectic lives behind and entering the outdoors is a soul-cleansing experience and one you'll thoroughly enjoy, hopefully with a little added comfort.