Best Camping and Hiking Coffee Gear Guide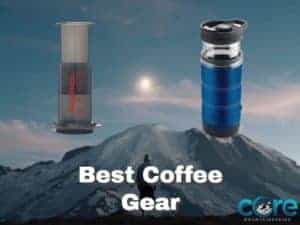 Interested in making the best coffee on the trail? Here are the best ways I've found to make coffee when I'm backpacking. I'm a huge fan of the Aeropress, even at home, this is my favorite way to prepare my coffee in the morning. It only takes a few steps to make the perfect cup,
Grind the beans
Fill the Aeropress up with hot water
Steep the coffee grounds for 4 to 5 minutes
Press the coffee down into my cup
Enjoy my fantastic cup of coffee!
Weighing in at only 6.4 ounces it's worth the added weight to take with you hiking. The unit collapses into itself making it compact, with little fuss putting it back together making coffee in minutes. It's also easy to clean, just press the coffee grounds down all the way then rinse off. See the current price of the AeroPress on Amazon here.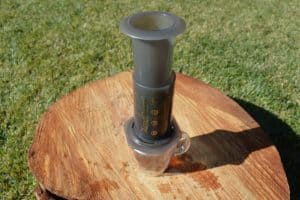 GSI Outdoors JavaPress –

9.6 ounces
French press coffee is one of the best methods of making coffee. From the article, I wrote about making coffee while camping I talked about how I love french press but I would never bring my glass coffee maker with me on the trail. The GSI Outdoors JavaPress is the best solution I've found for someone that loves their coffee made in this style. It's even better than just a plain old french press though, the JavaPress doesn't have a separate shaft for the filter and it allows you to drink straight from it. See the current price of the GSI Outdoors JavaPress on Amazon here.
GSI Outdoors Coffee Grinder –

9.3 ounces
If you enjoy your coffee from freshly ground beans then this is the perfect compact grinder. It's adjustable so whether you like a coarse or fine grind, the durable burr grinder lets you brew your favorite cup. See the current price of the GSI Outdoors Coffee Grinder on Amazon here.